AQQA [ AQ016-S-US ]
AQQA Electric Aquarium Double Sponge Filter

Free Shipping & Return On All Orders!
Mechanical and biological filtration
Super quiet and more delicate bubbles
More efficient and durable
Double ribbing shape sponges design
Easy to install and clean
High-quality bio sponges, better for increasing oxygen
Suitable for shrimps, bettas, tropical fish, planted tanks and others
Increase dissolved oxygen and cultivate beneficial bacteria
AQQA Electric Aquarium Double Sponge Filter
Description
Specification & Package
Instructions
FAQ
Electric Power Filter, No Air Pump Required
This filter is driven by powerful electric motor, air pump is not needed. High-quality motor ensures it an efficient working for a long service life.

If the water outlet is completely immersed in the water when the pump is working, the noise is about 30 dB. If the water outlet is placed higher than the water surface, the noise is about 50 dB.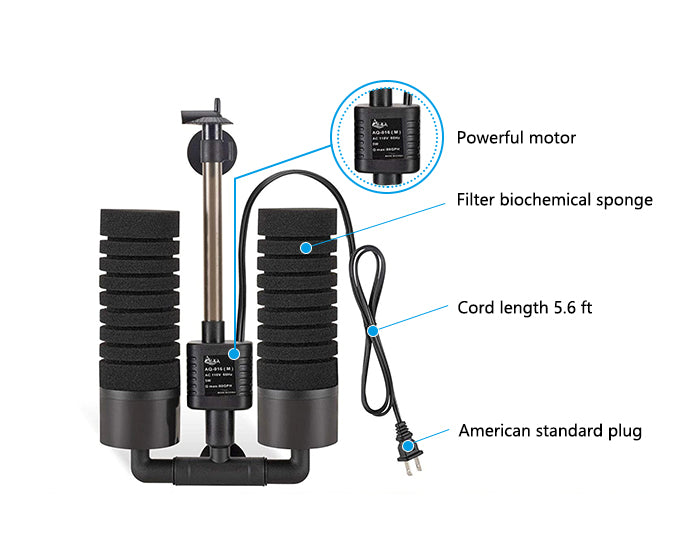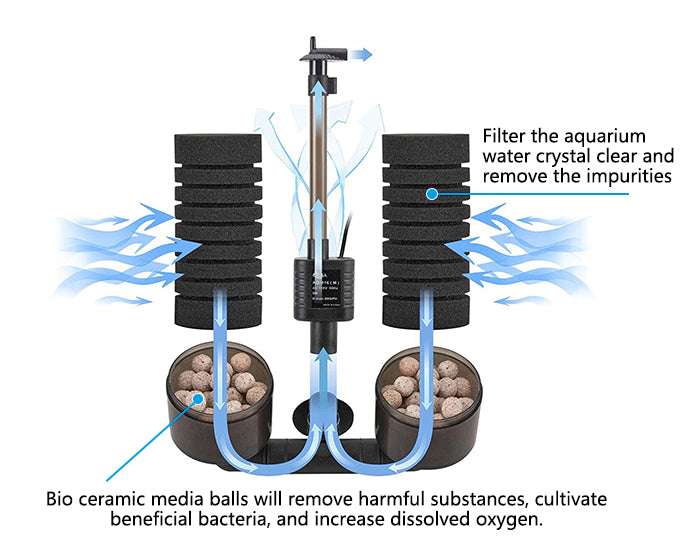 Physical Filtration and Biochemical Filtration
The ribbing design of high-quality biochemical cotton can effectively increase the sponge surface area, which will better absorb feces, debris, and residues in water.

Bio ceramic media balls help to improve the filtering effect by quickly purifying the water quality. Meanwhile, the ceramic media balls are conducive to a stable pH and a beneficial cultivation environment.
Water Outlet Height Adjustable
The water outlet is 360 degrees rotatable with 2 strong suction cups. The retractable outlet pipe enables you to either put the outlet above water surface or under water.

The outlet height range of the small size filter is from 9.4 inches to 13.9 inches.

The outlet height range of the medium size filter is from 11.6 inches to 16.9 inches.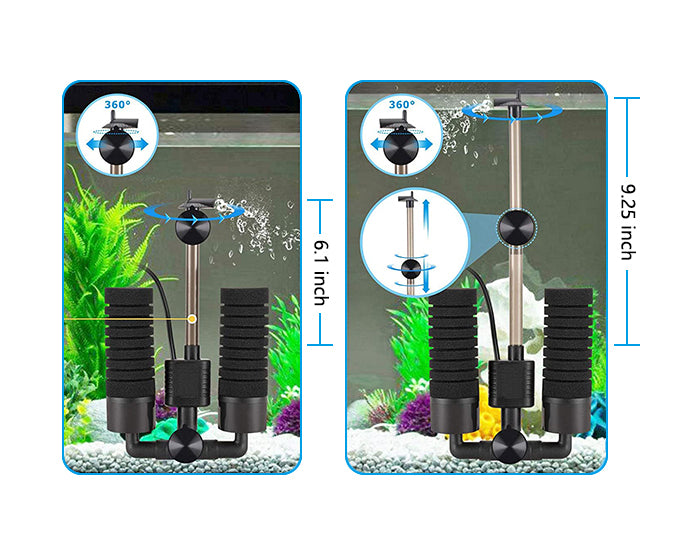 Warm Tips for Using the Electric Sponge Filter

1. The filter package comes with 4 sponges. The 2 spare sponges are hidden in the bio ceramic media balls box.

2. Before putting the sponge in the fish tank, please wash the sponge with the water in the fish tank or clean water.

3. It is recommended to clean the sponge every 2-4 weeks.

4. The surface of the ceramic ball is slightly dusty, please rinse it with clean water before use.

5. Ceramic balls can be replaced by other filter material.

6. The motor is waterproof without leakage, but can not run in dry condition. Please make sure it is fully submerged when working.
Product Parameters
Model
Size
Power
Voltage
Sponge Dimension
Inner Diameter of Sponge
Applicable Tank Size
Power Cord Length
Retractable Outlet Pipe Length
Capacity of Ceramic Pearls Container
AQ-016 (S)
S
3 W
AC 110 V / 50 Hz
1.97'' D x 4.33'' H
0.51''
10-40 Gallons
5.6 Feet
6.1'' - 9.25''
100 ml
AQ-016 (M)
M
5 W
2.36'' D x 5.12'' H
0.62''
15-55 Gallons
200 ml
Packing List
Double Sponge Filter with Media Container x1
A Bag of Ceramic Media Balls x1
Retractable Outlet Pipe x1
Spare Sponge (In Media Container) x2
Suction Cup x2
User Manual x1
Question:
Is the amount of biochemical ceramic balls used once?
Answer:
Hello, no, the amount of ceramic biochemical ball used each time can be determined by yourself, and how long the ceramic biochemical ball can be used can also be determined by yourself, by observing the changes in water quality. If you like other filter media, you can also consider replacing it.
By ETOSKY SELLER on November 16, 2021
Question:
Can the filter be attached to magnetic suction cups?
Answer:
Can the filter be attached to magnetic suction cups?
By Jeff on October 9, 2021
Question:
Can it go horizontally in a sump?
Answer:
Yes, I have mine horizontal and it works GREAT!!!! I LOVE this heater!!! I recommend it to everyone and I will be buying another for the new tank I just got. I currently have it in a 75 gallon tank with my four, 1-year old turtles: 1-yellow bellied, 1-Three Stripe and 2-Softshells. None of them bother it and it kee… see more.
By WmsFamilyMom on July 19, 2021
Question:
Is the 200W model really enough for a 55 gallon tank? Most heaters recommend a 300W model for a tank that size.
Answer:
I have the 100 watt on my 20 and 29 and it works great, I Would say the 200 watt would work for a 55 gallon.
By Jess on February 11, 2021