AQQA [ AQ012-1.7W-US ]
AQQA Lithium Battery Aquarium Air Pump

Free Shipping & Return On All Orders!
Fast charging and built-in battery
Two work modes: normal or intermittent
LED display of power
With stainless steel hook
USB charging
AQQA Lithium Battery Aquarium Air Pump
Description
Specification & Package
Instructions
FAQ
Why You Need a Lithium Battery Air Pump
If you are confused by the following troubles:

1. There is a sudden power failure, but you want the air pump to continue to work.
2. You need to move your fish tank, go out with fish, or go fishing, but there is no equipment to provide oxygen to the fish.
And so on...

A rechargeable lithium battery air pump is your life saver. The air pump is very compact, you can carry it easily when you need to go out with it. With USB charging jack, you can even recharge it with notebook, power bank, vehicle USB, or any other USB power supply.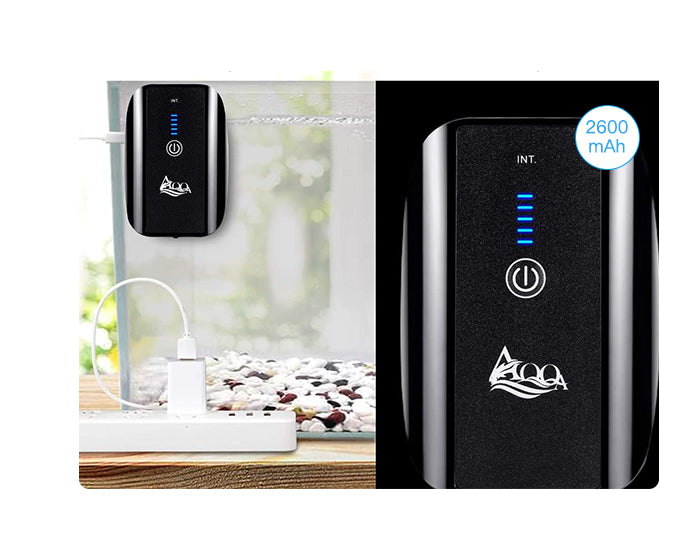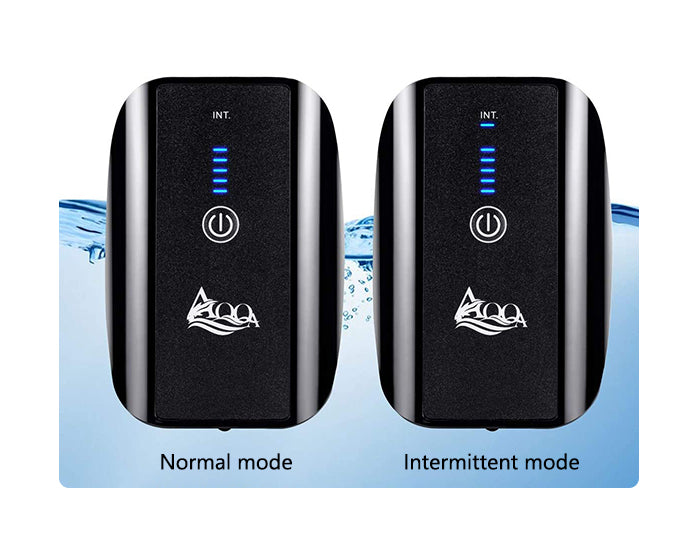 Two Working Modes
You can set the air pump to work in normal mode or intermittent mode.

Press the power button once to start the air pump, it is in normal mode by default.

Press the power button again, it will switch to intermittent mode. In intermittent mode, the INT indicator is on. The air pump works for 10 seconds and rests for 10 seconds, which can save energy effectively.
Blue HD Battery Indicator Display
Blue power light on the pump clearly shows the battery level and the working mode of the air pump.

When the air pump is working in intermittent mode, the intermittent (INT) indicator light will be on.

When charging, the 5 grid lights will flash. The indicator light will stop flashing and remain on when the battery is fully charged. The light will gradually go out along with the battery power reduction.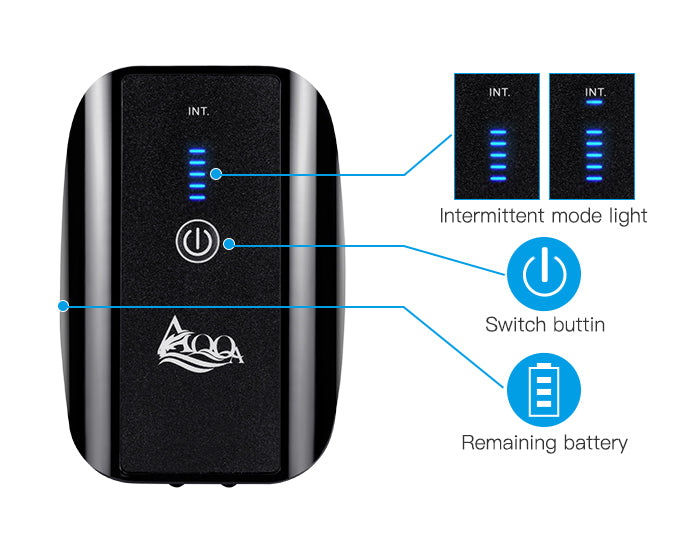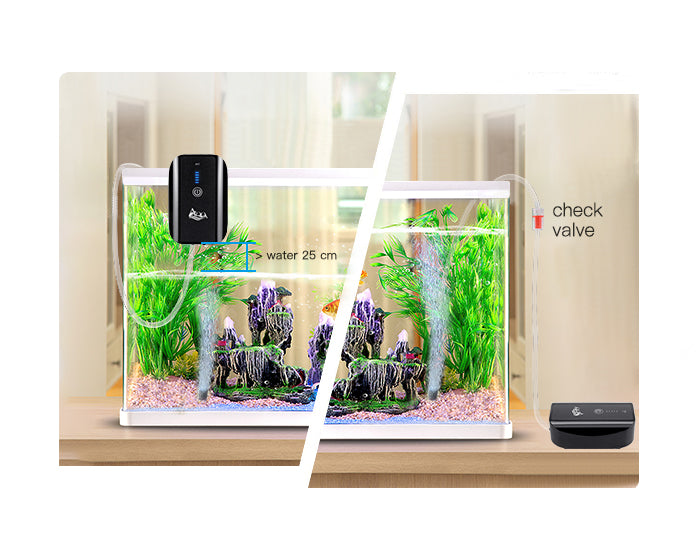 Two Ways to Install the Air Pump
There are 2 different ways to install the air pump. Both ways can effectively avoid water backflow.

Way 1: Place the air pump below the level of the water surface in the tank with a check valve.

Way 2: Place the air pump 25 cm (approximately 10 inches) higher than the surface of water.
Widely Used Compact Air Pump
AQQA lithium battery air pump is an excellent emergency aquarium oxygen pump that is suitable for both freshwater and marine aquariums, seafood stall, fish / seafood transportation, outdoor fishing, and so on.

The thoughtful design of the back hook and small size makes it very portable. It can be hung on the fish tank, seafood box, fishing bucket, etc.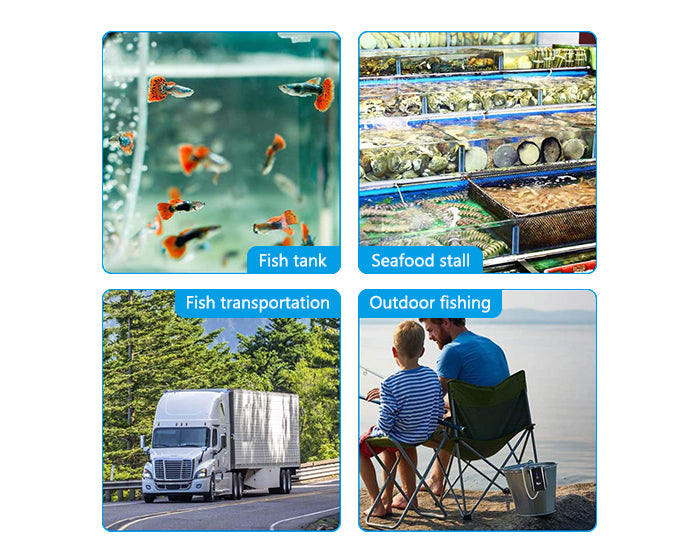 Product Parameters
Model
AQ-012
Power
1.7 W
2.5 W
5 W
Voltage
AC 100 - 240 V, 50 / 60 Hz
Max Air Flow
1.7 L/Min
2.5 L/Min
3.5 L/Min
Pressure
0.01 MPa
0.02 MPa
0.03 MPa
Noise Level
≤ 30 dB
Power Cord Length
2.5 Feet
Applicable Tank Size
Up to 100 Gallons
Up to 140 Gallons
Up to 160 Gallons
Dimension
3.9'' x 2.8'' x 1.4''
4.7'' x 3.35'' x 1.4''
Lasting Work Time
14-18 Hours
12-16 Hours
10-12 Hours
Intermittent Work Time
25-28 Hours
20-22 Hours
14-16 Hours
Battery Capacity
2600 mAh
3500 mAh
Outlet Quantity
1
2
Packing List 1.7 W Air Pump Package:
Air Pump x1
Air Stone x1
Air Tube x1
Adapter x1
Data Cable x1
User Manual x1


2.5 W and 5 W Air Pump Package:
Air Pump x1
Air Stone x2
Air Tube x2
Adapter x1
Wire Cord x1
User Manual x1
Question:
When I plug in the pump and it connected to the power supply, the charge starts at 5 blue bars and then over time loses power. Why?
Answer:
Hello, under normal circumstances, if connected to other power sources will not consume battery power unless they are not connected. You can check, if the battery power is reduced and other power sources are connected, the battery will recharge and the light will start to flash.
By ETOSKY SELLER on March 18, 2021
Question:
Is this time of use exaggerated? Can it really last so long?
Answer:
I use this for ice fishing in very cold conditions.
Unit was fully charged and only lasted half a day. Fully charged the unit again that night, the next day the unit ran all day (approximately) 9 hrs and only lost 2 bars off the battery.
Battery life is inconsistent.
By Musky hunter on April 22, 2021
Question:
Can you use a android phone charger?
Answer:
Bought this model received DOA, requested a replacement still DOA. There's a quality issue on this product.
By James L. on February 16, 2022
Question:
What size fish tank is this suitable for?
Answer:
Hello, we suggest1.7W air pump use in fish tanks smaller than 100 gallons,2.5W air pump use in fish tanks smaller than 140 gallons.Or put more than one in a fish tank.
By ETOSKY SELLER on October 20, 2021