Hygger [ HG811-Black-US ]
Hygger Mini Air Pump for Aquariums

Free Shipping & Return On All Orders!
Compact design 
Light-weight
Easy to install and use
Energy-saving
Build in a thin piezoelectric ceramic plate to reduce noise and keep ultra-quiet
Hygger Mini Air Pump for Aquariums
Description
Specification & Package
Instructions
FAQ
Compact and Super Quiet Air Pump
This small air pump measures only 2.4 inches in diameter. It is super compact, lightweight, and durable. Driven by a thin piezoelectric ceramic plate, no motor or other mechanism that makes noise, the air pump is quiet enough to be put in the bedroom, the living room, and the office.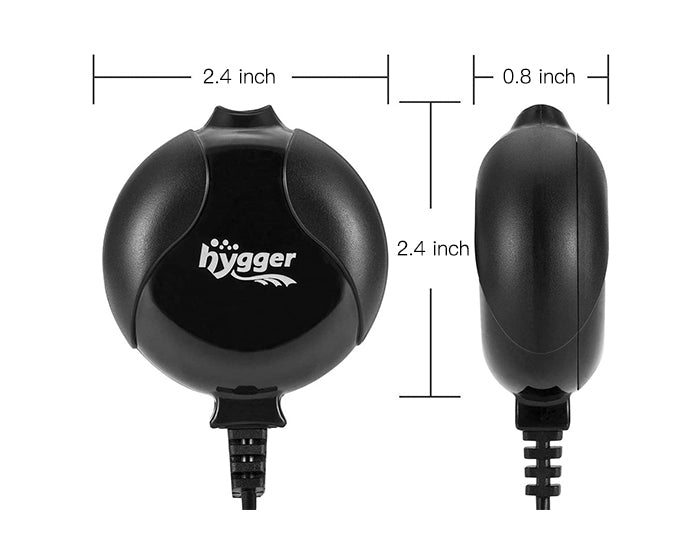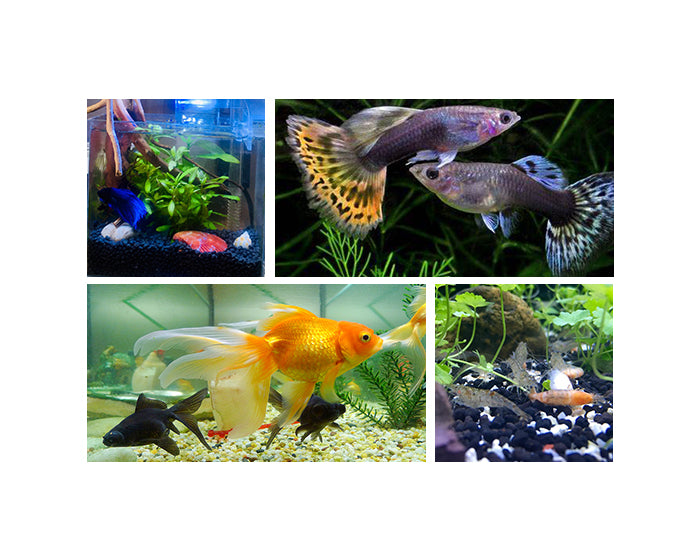 Low Energy Consumption for Small Fish Tanks
This mini air pump is very energy-saving with 1.5-watt power consumption. It is a great air pump for small fish tanks ranging from 1-15 gallons. Suitable for betta tank, shrimp tank, guppy tank, nano tank, goldfish tank, and more. A perfect tool to improve the health and well-being of your fish by dissolving oxygen.
Both Clip and Suction Cup are Included
In order to be mounted freely and firmly on your fish tank, this small air pump comes with a double side sucker and a clip to meet the needs of different kinds of fish tank.

Clip is only for rimless tank, and suction cup is for tanks with rim or not.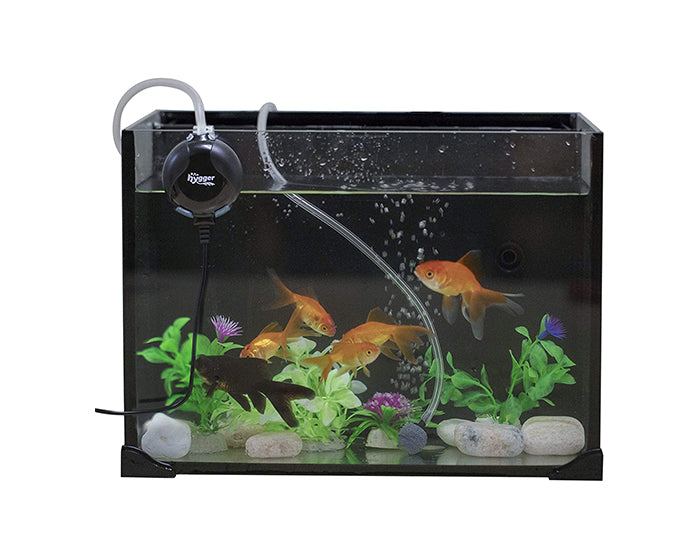 Directions for Use

Step 1: Soak air stone for about 1-2 hours before use.

Step 2: Connect air stone to air tube.

Step 3: Connect air tube to air pump outlet.

Step 4: Attach air pump onto the outside wall of aquarium tank. Please locate the pump above water level to avoid any possible water counter flow.

Step 5: Immerse air stone into aquarium tank.

Step 6: Connect power adapter to electricity socket. And you are good to go.
Product Parameters
| | | | | | | | |
| --- | --- | --- | --- | --- | --- | --- | --- |
| Model | Power | Max Flow Rate | Voltage | Noise | Pressure | Air Tube | Dimension |
| HG-811 | 1.5 W | 420 ML/Min | 110-120 V, 50-60Hz | < 35 dB | 12 KPa | 4 mm (3/16 inch) | 2.4 x 2.4 x 0.8 (inch) |
Packing List
Air Pump with Power Adapter x1
Air Stone x1
Double-sided Suction Cup x1
Silicone Air Tube (3.6 Feet Long) x1
Clip x1
User Manual x1
Question:
What the size of aquarium tank for this mini fish air pump?
Answer:
We recommend use this mini pump for 1-10 gallon tank. Maximum up to 15 gallon. Thanks.
By usmagob SELLER on October 27, 2021
Question:
Does it have to be clipped to tank or can it sit out on flat surface next to tank? Just confused because everything talks about attaching it to tank.
Answer:
Mine doesn't have a clip. It's just been lying flat and it works just fine. It doesn't have to be attached to the tank.
By slamnation SELLER on December 27, 2021
Question:
What's the difference between this and a filter?
Answer:
The only thing this does is pump air! A filter moves water through filtering media such as charcoal, filter sponges, filter floss, and bio balls, activated carbon, etc. Most filters have their own motors, and a few filters need an air pump. But this by itself is not a filter.
By Elizabeth on August 30, 2021
Question:
What is the size of the air stone in this kit?
Answer:
Measures dia 2.2cm ball shape air stone. Thanks.
By usmagob SELLER on January 19, 2021
Question:
Does the pump make an annoying buzzing noice? Is it really quiet enough for my nano bedroom aquarium?
Answer:
Mine is not silent. I hear a constant annoying hum from mine in the bedroom 8 feet away from my bed. I can't seem to make it silent.
By JS on June 23, 2021