Hygger [ HG971-Black-US ]
Hygger Aquarium Hexagon Air Pump with Accessories

Free Shipping & Return On All Orders!
Double-side suction cups
Energy-saving
Ultra-Quiet
Super small body and light weight
Unique private patent design
Easy to install and use
Hygger Aquarium Hexagon Air Pump with Accessories
Description
Specification & Package
Instructions
FAQ
A Ready-to-go and Easy-to-use Air Pump Kit
This mini air pump kit comes with everything you need to set an air pump: a dual suction cup, 3.6 ft long air tube, and a small air stone. Just connect one side of the air tube to the air stone and the other side to the air pump, and attach the air pump to the fish tank, power on, then you're good to go.

Note:
1. Please soak the air stone in water for an hour or so before first use.

2. Locate the pump above water level to avoid any possible water counter flow.

3. The pump is not waterproof, please keep it away from water and moist environment.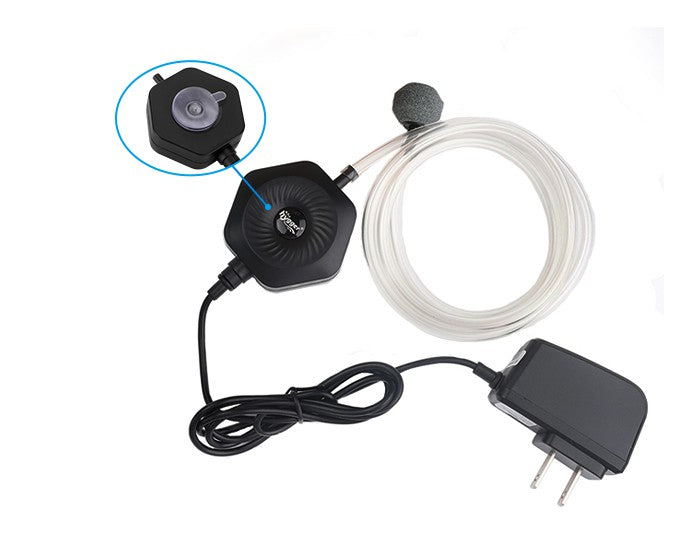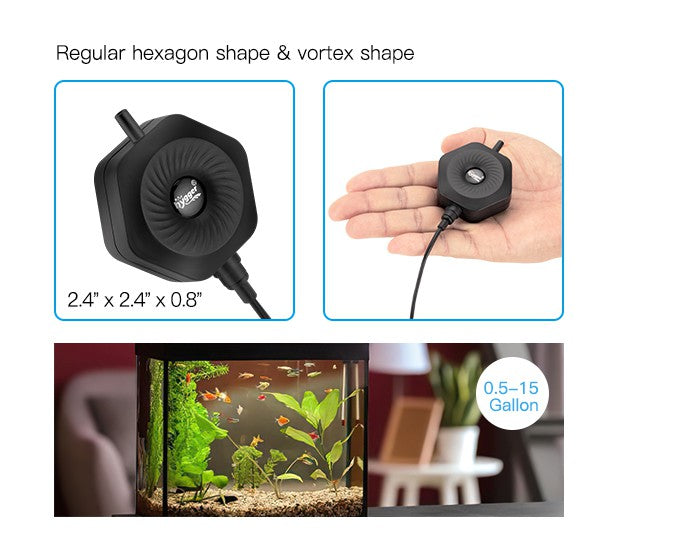 Designed for Small Fish Tanks
This hexagon air pump helps to oxygenate and circulate the water by producing a stream of little bubbles through a mini air stone. Compact tiny size (2.4'' x 2.4'' x 0.8'') is perfect for small aquariums and fish bowls up to 15 gallons, such as planted tank, betta tank, goldfish tank, and shrimp tank. It can be easily wedged in corner or attached to the aquarium outside wall by dual suction cup.
Quite Low Noise Level
Instead of using traditional diaphragms, this fish bowl air pump is built in a tiny piece of thin piezoelectric ceramic plate which reduces noise dramatically. So it operates so quietly that you can use it in bedroom, living room, office, kitchen, or anywhere else. You can barely hear the sound because it is proved to be working with a low noise level less than 33 dB.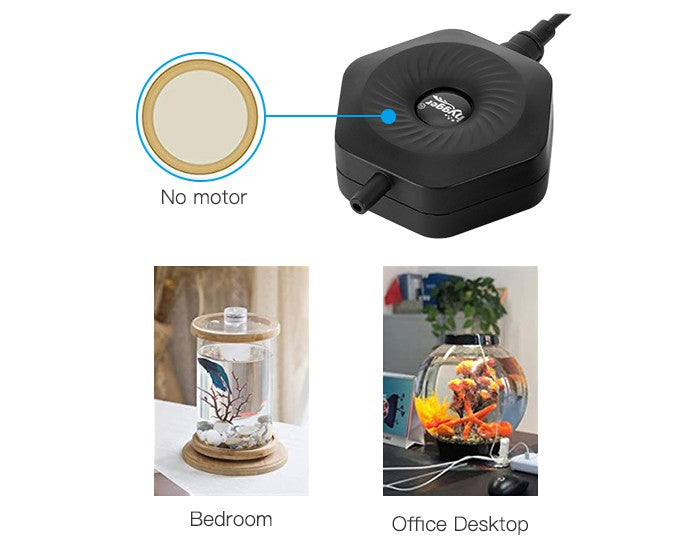 Product Parameters
Model
Power
Max Air Flow
Pressure
Noise Level
Voltage/Frequency
Power Cable
Air Tube
Maximum Depth of Air Stone Water
HG-971
1.5 W
420 ML/Min
12 KPa
≤ 33 dB (A)
American: AC 110 V / 60 Hz
England: AC 220 V / 50 Hz
3.6 ft Long
Diameter: 3/16 Inch ;
Length: 3.6 Feet
18 Inches
Packing List
Mini Air Pump with Adapter x1
Dual Suction Cup x1
Air Tube (3.6 ft Long) x1
Mini Air Stone x1
User Manual x1
Hygger Aquarium Hexagon Air Pump with Accessories
Usre Manual
Question:
Can I use this with an air bubbler decoration that already comes with an air stone attached to it?
Answer:
Yes.
By Katie A Top Contributor on March 25, 2022
Question:
Does the tube have an air filter?
Answer:
It has the air pump, the plastic tubing and an air stone. The air stone is what diffuses the bubbles. I guess you could say it is an "air filter". The water filter Is a separate thing , and that is for cleaning the water.
By Lorie on March 26, 2022