Hygger [ HG956 ]
Hygger Hand-Operated Pumps for Aquariums Aquarium Water Changer

Free Shipping & Return On All Orders!
3-in-1 Water changing, sand washing and dirt absorption
Easy to assemble and use
Ultra-quiet and powerful
Suitable for small and large aquariums
Air-pressing button
Water hose controller clamp
Adjustable handle and extensable tube design
Hygger Hand-Operated Pumps for Aquariums Aquarium Water Changer
Description
Specification & Package
Instructions
FAQ
3 Functions In One
It is a multifunctional gravel cleaner which integrated 3 excellent functions: dirt suction, sand washing, and water changing.

Dirt Suction: This aquarium gravel vacuum cleaner is equipped with a duckbill suction inlet which can be used to suck the hidden feces away easily.

Sand Washing: The sand washer has 2 thickened airbags inside, which can pump water quickly.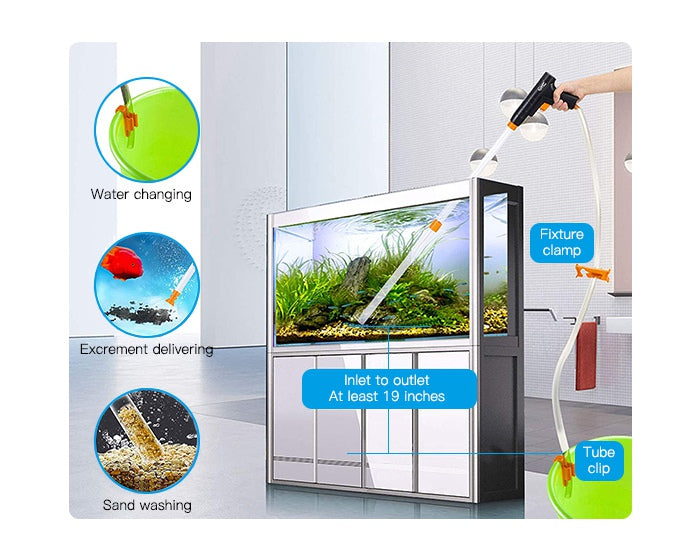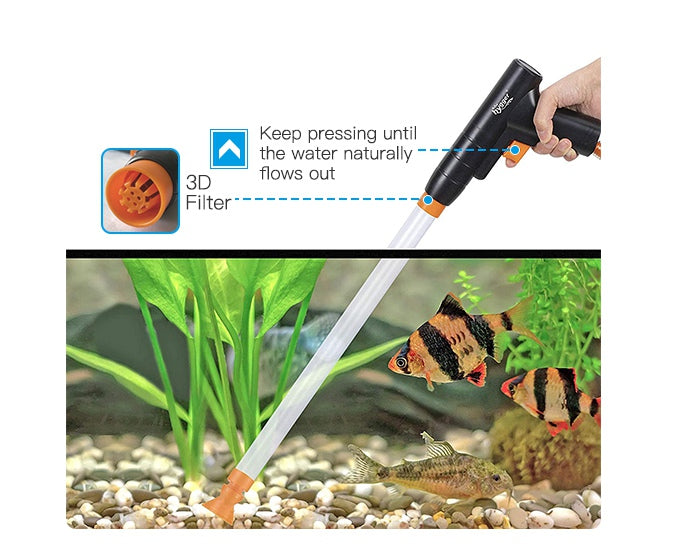 3D Filter Basket Net
The aquarium siphon comes with a 3D filter basket net which can protect your love fish and small gravel from being sucked out of the aquarium.
Suitable for Various Sizes of Aquariums
The vacuum gravel cleaner comes with spliced extension tubes. With two-stage splicing combinations, it fits for both large and small tanks. Four basic combinations are listed below for reference.

For large fish tanks, please connect 2 pipes: 2 tubes (31.4 inches long); 2 tubes + head accessory (34 inches long).

For small fish tanks, please connect 1 pipe: 1 tube (16 inches long); 1 tube + head accessories (18 inches long).

This vacuum cleaner has enough power to quickly drain dirty water, and clean every corner of the tank without getting hands wet.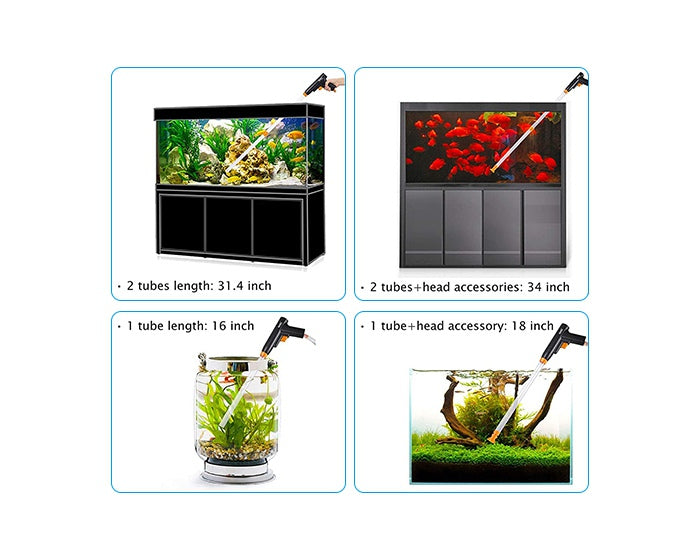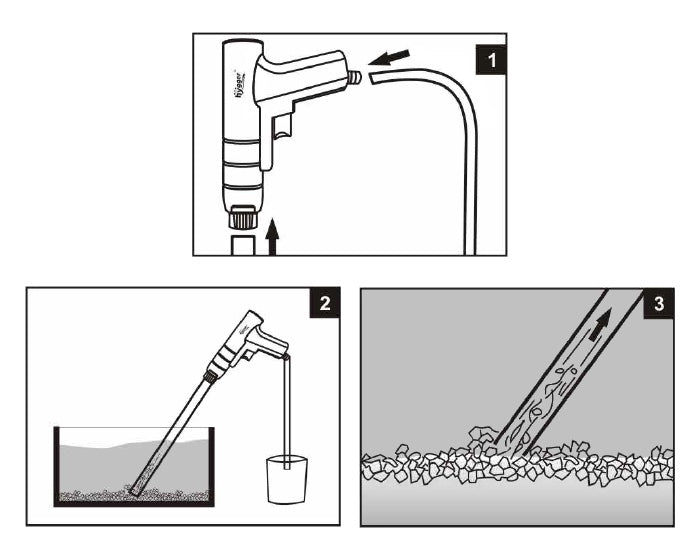 Easy to Assemble and Use
Step 1: Connect the water inlet and outlet.

Step 2: Put the extension tube into aquarium and the water outlet into a bucket.

Step 3: Push the siphon switch of the cleaner several times until the water fills with the whole outlet strap tube.

Step 4: Release the siphon switch, then water will flow out automatically. If not, continue to operate until the water flows out quickly and automatically.

Step 5: Allow the sand to move up and down in the extension tube to remove debris from your aquarium.
Warm Tips for Using the Aquarium Gravel Cleaner

1. The principle of this sand cleaner is gravity. The water outlet must be at least 19 inches lower than the water inlet when you use this gravel cleaner.

2. Due to manual measurement and length conversion, 1/10'' to 1/2'' error is allowed. Please in kind prevail.

3. Due to different strengths of different person, and the size and water depth of the fish tank, there is no clear drain flow rate. Please refer to the actual operation.

4. When washing sand: If the filter from your fish tank is powerful, you can put the outlet hose into the fish tank, and the sand is circulated in the tank without draining water. If not, it is recommended to remove turbid water directly from the tank and change clean water.

5. When too much gravel is sucked in and is about to reach or reach the top of the tube (near the filter port), lift the hard tube slightly and the gravel will fall back into the fish tank.

6. Do not use the gravel cleaner in flammable and corrosive liquid.

7. To avoid material damage, do not use the water changer in too hot (above 36°C / 86°F) or too cold (under 0°C / 32°F) water.
Product Parameters
| | | | | | |
| --- | --- | --- | --- | --- | --- |
| Model | Material | Outlet Strap Hose | PVC Water Hose Outer Diameter | PVC Water Hose Inner Diameter | Extension Tube Diameter |
| HG-956 | PP+ABS | 79 inches long | 0.7 inch | 0.55 inch | 1-1/8 inch |
Packing List
Air-pressing Control Body x1
Extension Inlet Tube x2
Extension Tube Connector x1
User Manual x1
Duckbill Suction Inlet (Debris Vacuum) x1
Outlet Hose (79-inch PVC Hose) x1
Water Flow Clamp (Flow Control Valve) x1
Fixture Clamp (Water Pipe Clamp) x1
Hygger Hand-Operated Pumps for Aquariums Aquarium Water Changer
Usre Manual
Question:
Inlet tube size (dia)?
Answer:
Hello, the inner diameter is 0.98in and the outer diameter is 1.06in, thank you.
By Jnkany SELLER on August 3, 2021
Question:
How long is the hose that can connect to a water source?
Answer:
This product cannot be used directly connected to a water source. It can only be used for water in the tank and barrel, because it uses the siphon principle. The included hose is 97in long.
By Jnkany SELLER on March 5, 2021
Question:
How to keep it from sucking up gravel then getting stuck in the tub ?
Answer:
Hello, after absorbing a part of the sand or gravel, raise the tube to wash the sand. Do not insert it into the gravel all the time. ① To isnert the tube into the sand to suck the sand (not too much);
② Slightly lift the equipment to move the sand horizontally for wash;
③ Lift the height of the tube again to return the washed sand;
④ The sand washing is circulated in this way.
By Jnkany SELLER on March 12, 2021
Question:
Can you this to clean a 20 gallon tank with rock?
Answer:
I'm assuming you mean gravel when you say rock. Never the less, yes this will clean a 20 gallon tank with ease! I'm using mine on a 125 gal tank and I'm very pleased with the results.
By Customer on June 7, 2022