Hygger [ HG912 ]
Hygger 5-hole Resin Hollow Tree Trunk Decoration for Aquariums

Free Shipping & Return On All Orders!
5 Hollow holes
100% tree trunk imitation
Made of resin
Log resin hollow tree trunk
Aquarium natural landscape
Perfect place to rest, breed and hide
Hygger 5-hole Resin Hollow Tree Trunk Decoration for Aquariums
Description
Specification & Package
Instructions
FAQ
Small Fish's Favorite
Your fish and other small aquarium pets can chase each other through the 5 holes on the trunk, which adds more fun and reduces boredom to the small animals. If you have skittish fish who like to hide, this resin wood house is your best choice since it provides a great hiding spot.

Note that this hollow trunk is only suitable for small and baby fish that is less than 5 inches, such as betta, hermit crab, crayfish, sucker fish, axolotl, guppies, blue rams, chained loach, clow fish, zebra danio, black neon tetra, ect. Larger fish may get stuck in the trunk.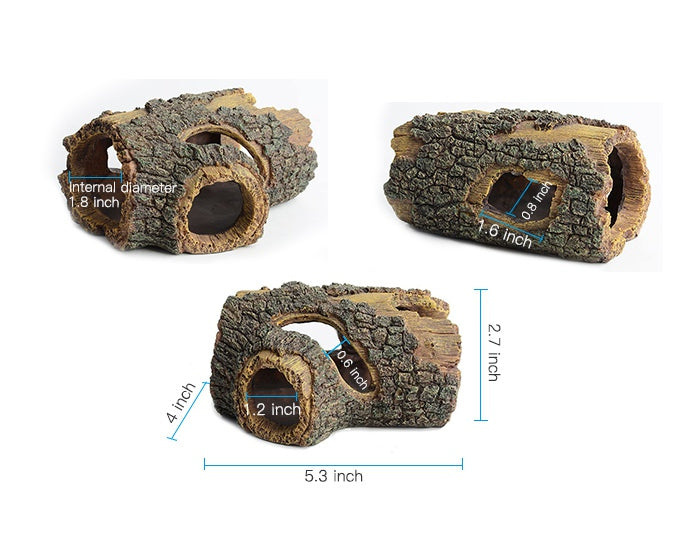 A wonderful Addition to Your Aquariums
Hygger 5-hole resin hollow tree trunk aquarium ornament is hand painted, vivid, and realistic. It creates a nature landscape underwater that will increase more fun and vitality to your simple and tedious aquarium.
Durable and Non-toxic Resin Material
This hollow trunk aquarium decoration is made from durable and non-toxic resin which is friendly for all aquariums and fish, and can be put in fresh water and salt water tank. The resin material will not die, rot, or cause algae problems.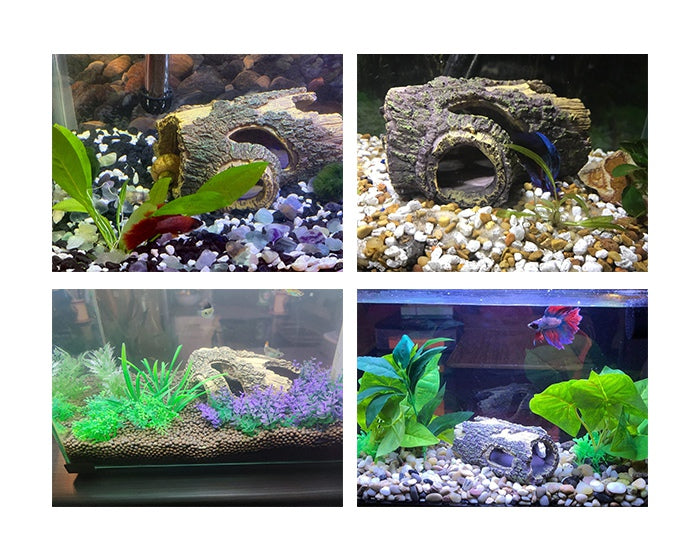 Warm Tips

1. Please soak the trunk decoration for 10-15 minutes before applying to wipe off the dust and paint smell.

2. There is no need to clean the resin ornament too often. It won't die, rot, or cause any algae problems.
Product Parameters
| | | | | |
| --- | --- | --- | --- | --- |
| Model | Material | Dimension | Weight | Appicable Tank Size |
| HG-912 | Resin | 5.3 x 4 x 2.7 (inch) | 0.42 Pound | 5-50 Gallons |
Packing List
Resin Hollow Tree Trunk Decoration x1
User Manual x1
Hygger 5-hole Resin Hollow Tree Trunk Decoration for Aquariums
Usre Manual
Question:
Can a betta get stuck in this? Mine likes to go inside cholla wood and I want a safer alternative he can't get stuck in.
Answer:
Our Betta has had no problem going through all the holes. I have it set up on a rock so he can also go under. I did use a nail file on some sharp edges but otherwise it has been a great addition to his underwater home.
By TLH on April 14, 2021
Question:
Are there any sharp edges on or inside of this?
Answer:
No sharp edges on mine. I did feel inside before putting it in the tank. It's resin, I had planned to file any sharp edges, but didn't need too. I got it for my betta & he's always in it peeking out the end. I'm happy with it.
By usmagob SELLER on April 27, 2022
Question:
Do shrimp use this for hiding when the molt. Is it that small. Thinking of adding a dwarf crayfish, and I want to if he'll be safe while molting?
Answer:
The front hole measures approx 4 cm diameter. Hope it helps.
By SELLER on July 24, 2021