Hygger [ HG003-200W-US ]
Hygger 003 Variable Frequency Aquarium Heater

Free Shipping & Return On All Orders!
Rapid heating
Dual temp sensing probe
Overheating protection
Accurate temperature control
Variable frequency energy saving
LED digital displayed
Wide compatibility
Hygger 003 Variable Frequency Aquarium Heater
Description
Specification & Package
Instructions
FAQ
Rapid Heating & Dual Temp Sensing Probe
The double heating rods are made of explosion-proof quartz glass, which is anti-corrosion, non-leakage, and non-conductive, making the water heating faster, more stable and safer. 4 suction cups make firmly installed and the ABS protective shell to ensure the safety of water pets.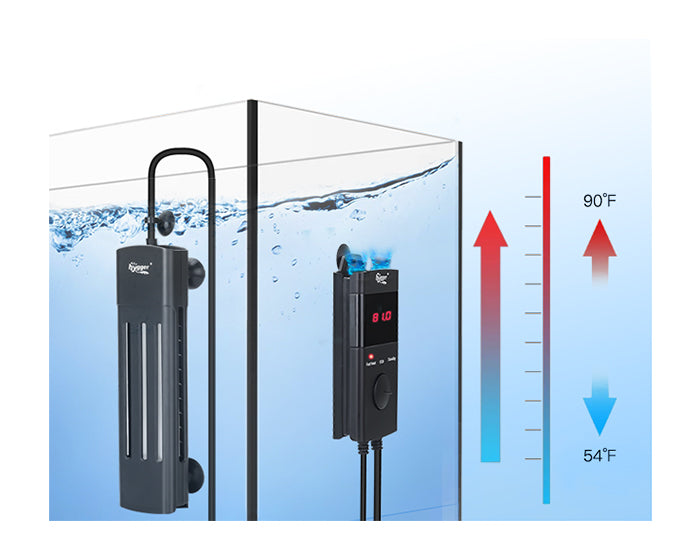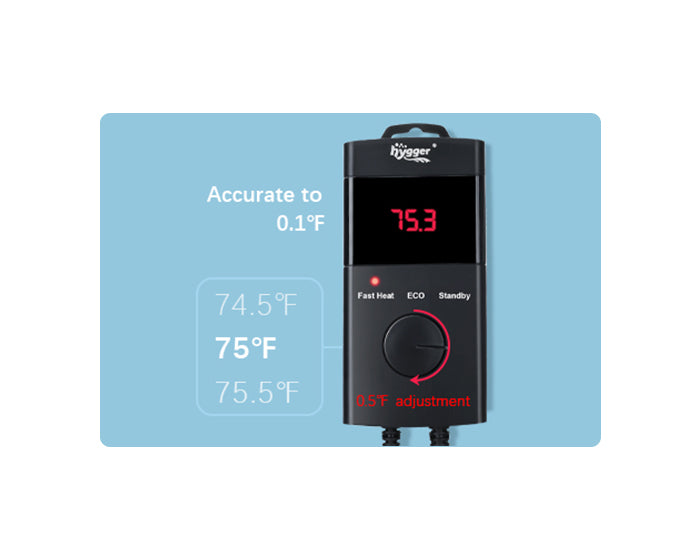 Precise Temperature Control
The adjustable temperature feature is useful in case you need to raise the temperature to treat diseases or lower the temperature to induce breeding. Unlike most heaters that use temperature dials, the Hygger Series has a simple switch on top that adds or subtracts from the set temperature in 0.5-degree increments.The heater rod temperatures range from 54°F to 90°F to prevent harm to livestock.
Auto Power Off & Abnormal Alarm
This fully submersible aquarium heater has an intelligent dual temperature probe and memory function. It will automatically stop heating and emit a warning signal when the heating rod is out of the water or over temperature when the heater rod is completely immersed in water or cools down.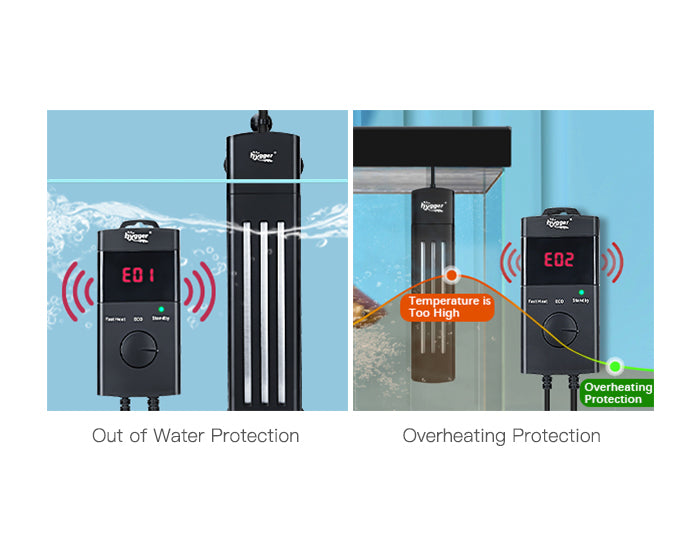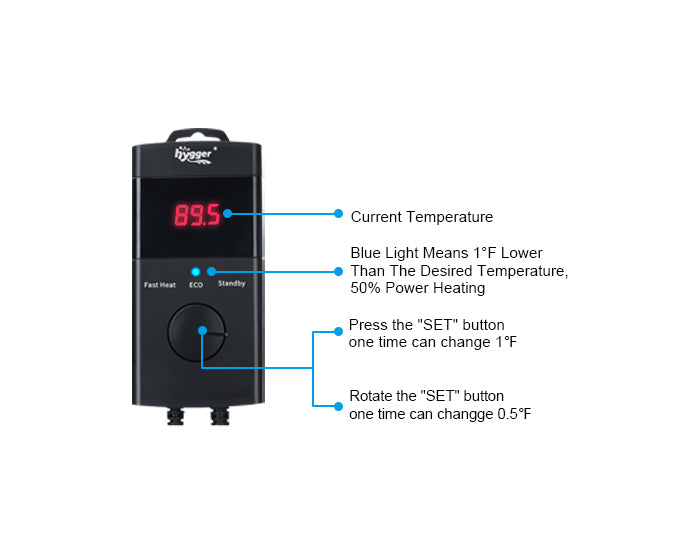 Variable Frequency Energy Saving
Intelligent variable frequency design to reduce power consumption. High-power rapid heating, low-power to maintain water temperature. When the water temperature is 1°F lower than the desired temperature, it will automatically enter 50% power heating, saving electricity and energy.
Suitable for Small Freshwater and Saltwater Aquariums
This adjustable aquarium heater can be used for almost all kinds of small fish tanks: square tank, cylinder-shaped tank, or bowl tank; tanks made of glass, acrylic, or plastic. The quartz glass heater tube is durable for use in freshwater and saltwater.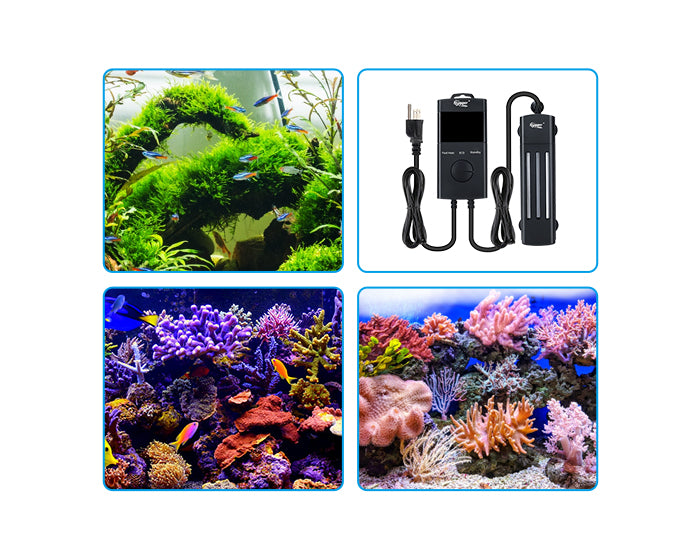 Warnings and Warm Tips

1. Always keep the heater rod fully submersible to avoid heater damage and accidental burns.

2. Unplug the heater for 15 minutes or so before water change or cleaning the fish tank. Otherwise, it would melt the case.

3. When the display shows error "E3", long press control ball and plugs in together .then can rotate the control ball to set the same temperature with the fish tank.

4. Regularly clean the heating plate. If the heating plate is attached with impurities, the heating efficiency will be reduced.
Product Parameters
Model
HG-003-200W
HG-003-300W
HG-003-500W
Power
200 W
300 W
500 W
Application
20-40Gal / 90-180L
30-60Gal / 135~270L
50-100Gal / 225-450L
Voltage
110 V / 60 Hz      220V-240V /50Hz
Control Range
4.9ft+4.9ft/
1.5M +1.5M
Temp Accuracy
±0.1°F
Heater Rod Dimension
9.21x2.48x1,34inch
9.21x2.48x1.34inch
12.36x2.87x1.5inch
Temp Controller Dimension
6.22x2.87x1.18inch
Packing List
Double quartz heater with LED digital controller x1
Suction cup x4
Magic sticker x1
User manual x1
Hygger 003 Variable Frequency Aquarium Heater
Usre Manual
Answer:
It does not come with a "hook". We added our own suction cup.
By Suzanne K on January 15, 2022
Answer:
No. Don't put the display into the water.
By Trish Farrington on January 23, 2022
Answer:
Make sure the Heating rod is totally under water they will shutdown if they are not all the way under the water and if not place turn sideways once it's under water it will restart by itself.
By Chad S. on March 14, 2022