Hygger Advanced Remote Control Aquarium Light
Description
Specification & Package
Instructions
FAQ
Wireless Remote Control with LCD Display
Easy to set the program by the 19-key buttons on the remote. It can easily adjust working mode, color, brightness, time and turn on/off within a range of 32 feet. And display show on the screen simultaneously, let you conveniently to read without touching the light.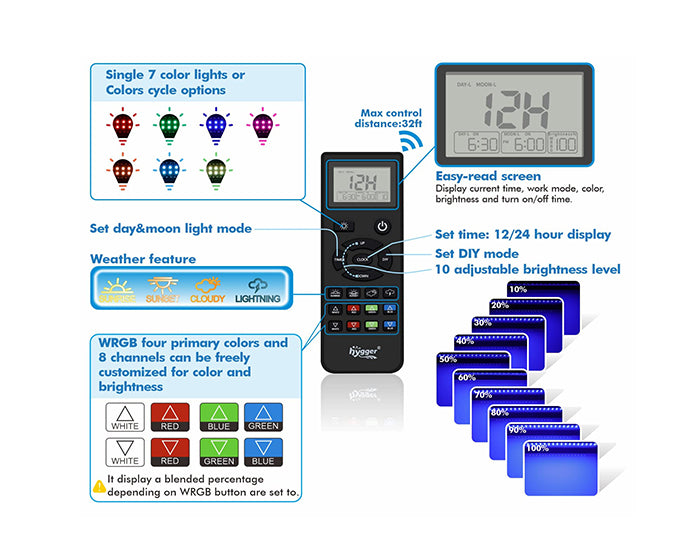 Offer Vary Customizable Options
①DIY mode: 24 hours divided into 8 phases, you can custom time, color and brightness at each phase.

②Day &moon light mode: full spectrum during the day +blue light at night, you can also create your own color bends.

③Default mode: simulates a 24-hour day's natural spectrum, providing a gradual sunrise, bright daylight, gentle sunset and 4 hours moonlight then off.

④ Weather mode: you can choose sunrise, sunset, cloudy and lightning effect add fun to your tank.
Unique Purple LED Bulbs
This 58 watt light fixtures build-in 240pcs effective growing four-row LED bulbs,which are consists of 14 purple LEDs + 96 RGB LEDs+ 130 white LEDs integrated for super bright lighting effect and, while providing a 120-degree wide beam angle to illuminate the dark corners of tank.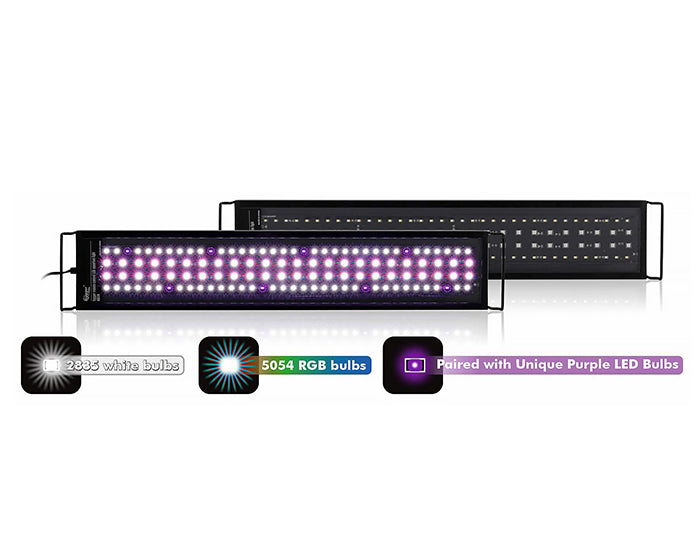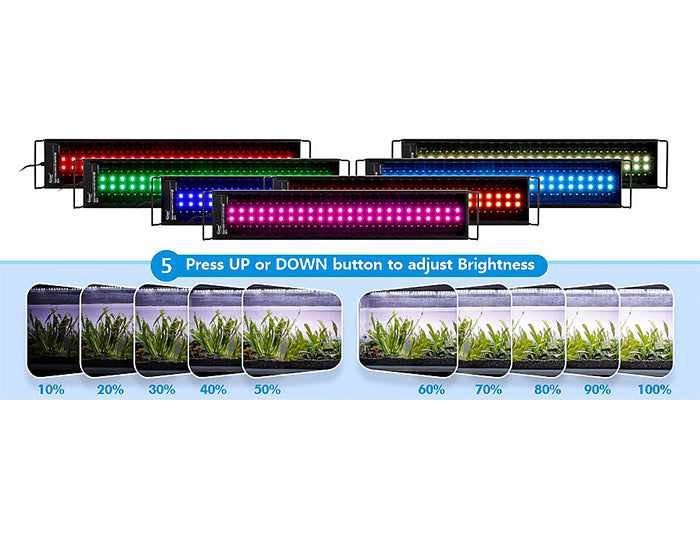 Adjustable Mode & Memory Function
It can be set red, green, blue, purple, orange, cyan and yellow 7 spectrum colors (emit all wavelengths from 380nm to 680nm) and 10 level brightness dimmable options freely adjusted lighting intensity to enough meet different stages of plant lighting needs. Memory Function make the light stay at your last setting when turn on again, no need to reset it.
IP68 Waterproof Brackets Light
Hygger LED light comes with two bracket legs to extends and fit 48 to 54inches length tank. High-quality aluminum shell improved heat dissipation capability to ensure the light running stable. High light transmission PC lamp cover with prevent water from splashing prolong the life of the lamp beads.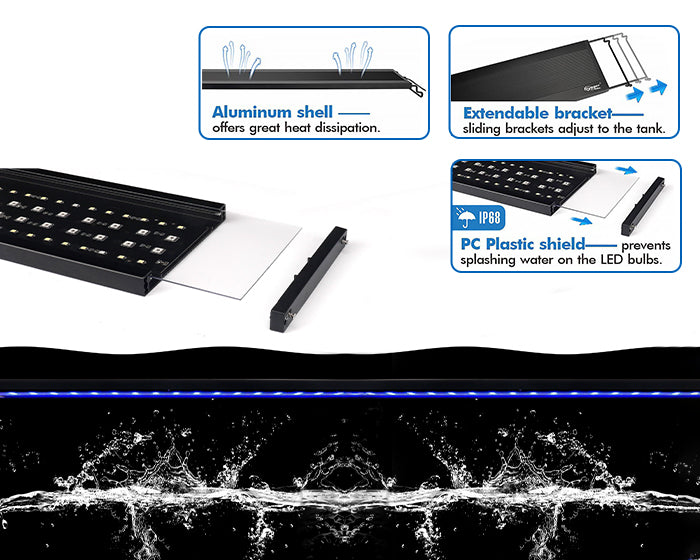 Warnings and Warm Tips

1. Please read this manual carefully before using and follow it strictly.

2. Use a matching power adapter.

3. Please keep the switch and remote away from water since they are not waterproof.

4. Please unplug the power before maintenance.

5.Please mind that the temperature range for the light is 23-113 °F.
Specification & Package
Model
HG016-18W
HG016-24W
HG016-30W
HG016-36W
HG016-42W
HG016-58W
Power
18W
24W
30W
36W
42W
58W
Application
12-18in Long Tank
18-24in Long Tank
24-30in Long Tank
30-36in Long Tank
36-42in Long Tank
48-54in Long Tank
Lumens
1000
1600
2100
2700
3100
3600
Light Size
10.8 inch
16.7inch
22.6inch
28.5inch
33.4inch
46.2inch
Power Cord
4.9ft+2.3ft
Input Voltage
AC100-240V
Output Voltage
DC20V
Package List
LED Light x1
Extendable Rod x1
Metal brackets x2
User Manual x1
Hygger Advanced Remote Control Aquarium Light
Usre Manual
Question:
Question:How to Turn On DIY Default Program?
Answer:
1.Press and hold the DIY button—the screen will display OFF— then press the UP or DOWN button to select ON to activate DIY mode.
2.Press the DIY button again to save, ready to run.
By Jnkany SELLER on August 26, 2022
Question:
How to Program Customize DIY Mode?
Answer:
1.Press and hold the DIY button to activate the DIY mode.
2.Press the DIY button again to enter setting—the screen will display L1 —then press UP/DOWN button to set L1 stage at the start and end time—press DIY button again to save setting.
3.Press WRGB button to set L1stage the color and brightness——press DIY button again to save.
4.Repeat the above operation finish timer of L2/L3/L4/L5/L6/L7.
L8 is off by default and cannot be set.
By Jun Kim on August 9, 2022
Question:
What size should i get for a 20 gallon tank?
Answer:
What size should i get for a 20 gallon tank?
By Jnkany SELLER on August 26, 2022