Hygger [ HG998-50W ]
Hygger 998 Submersible Thermostat Heater for Fish Tank

Free Shipping & Return On All Orders!
Fully submersible heater
Rapid heating
ETL certification
Easy temperature control
Overheating protection
Ideal for saltwater & freshwater
Hygger 998 Submersible Thermostat Heater for Fish Tank
Description
Specification & Package
Instructions
FAQ
Precise Temperature Control
The heater rod temperatures range from 68°F-93°F(20°C - 34°C) to prevent harm to livestock.It stops when the surrounding water temperature reaches the set temp, and starts to work when the surrounding water temp is low, and it cycles over and over again to achieve equilibrium.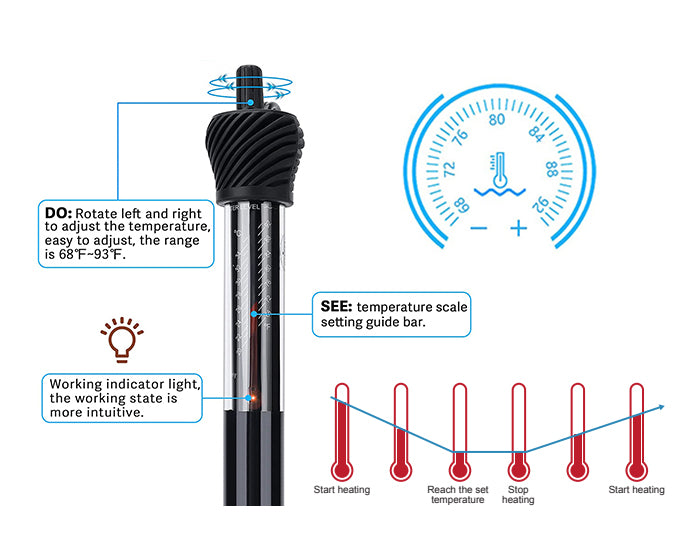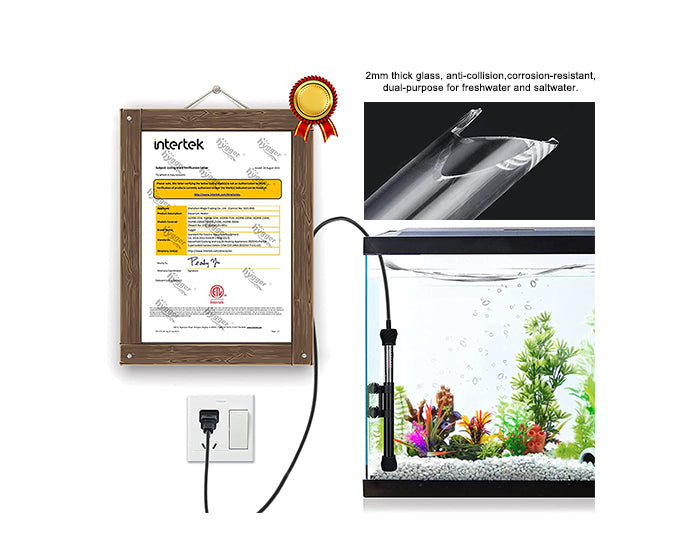 Safety Certificate - ETL Certification
2mm thickened quartz glass, 33% thicker than a normal aquarium, so heaters heat conduction is more even. Hygger provides the most effective guarantee for your fish tank, much safer for both human and animals.
Easy to Install
Fully submersible heater includes two suction cups for mounting in any suitable position horizontally or vertically.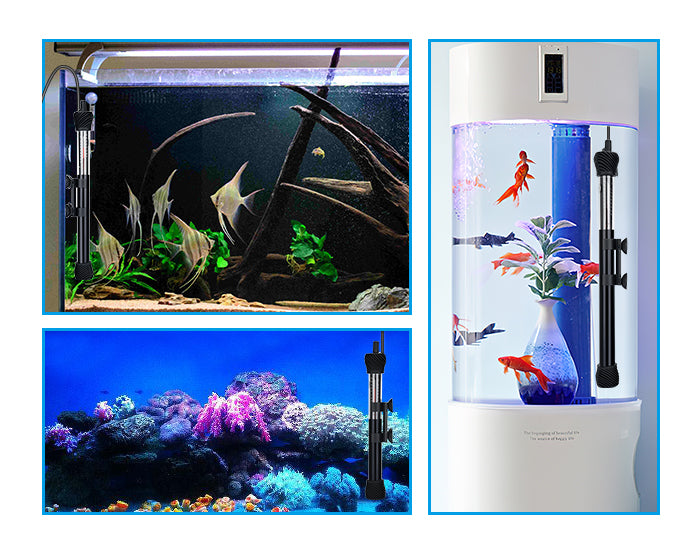 Suitable for Small Freshwater and Saltwater Aquariums
This adjustable aquarium heater can be used for almost all kinds of small fish tanks: square tank, cylinder-shaped tank, or bowl tank; tanks made of glass, acrylic, or plastic. The quartz glass heater tube is durable for use in freshwater and saltwater.
Warnings and Warm Tips

1. Always keep the heater rod fully submersed to avoid heater damage and accidental burns.

2. Unplug the heater for 15 minutes or so before water change or cleaning the fish tank. Otherwise, it may melt the case.

3.Regularly clean the heating plate. If the heating plate has impurities attached , the heating efficiency will be reduced.Do not use detergents or other chemical cleaners.

4.If you're not satisfied with our product, we will provide a 12 Month Warranty and 24 Hour Professional After-sales Service.
Product Parameters
Model
HG998-50W
HG998-100W
HG998-200W
HG998-300W
Power
50W
100 W
300 W
500 W
Application
15Gal
30Gal
60Gal
85Gal
Voltage
110 V / 60 Hz 220V-240V /50Hz
Control Range
4.9ft+4.9ft / 1.5M +1.5M
Temp Accuracy
±0.1°F
Packing List
Aquarium heater x1
Sucker x2
User manual x1
Hygger 998 Submersible Thermostat Heater for Fish Tank
Usre Manual
Question:
Can i used this for a tank that is not submerged in water?
Answer:
No, It must be completely immersed in water.
By Jnkany SELLER on October 16, 2021
Question:
Does this heater come with suction cups?
Answer:
Yes 4.
By William C. on November 6, 2021
Question:
Anyone know if this heater will fit in the protector shields/heater guards also offered on here, as both suction cups are removable?
Answer:
Hi, as for the suction cup issue, please contact the seller to ask for help.
By petfocused SELLER on April 26, 2021