Hygger [ HG943-50W-US ]
Hygger Mini Quartz Glass Aquarium Heater with External Controller

Free Shipping & Return On All Orders!
Automatically stop and restart
With built-in thermometer
Durable quartz glass
Explosion-proof & shatter-resistant
With 2 strong removable suction cups
Quartz sands with good thermal conductivity
Hygger Mini Quartz Glass Aquarium Heater with External Controller
Description
Specification & Package
Instructions
FAQ
Over Heat Protection
The aquarium heater will automatically shut off once the water temp is over 97°F, which effectively protects your fish from "cooking" in high temperature. In addition, it intelligently maintain the tank water at the constant temperature you set. It stops heating when water temperature reaches to the set temperature, and restarts heating when the water temperature is 1°F to 2°F lower than the set value.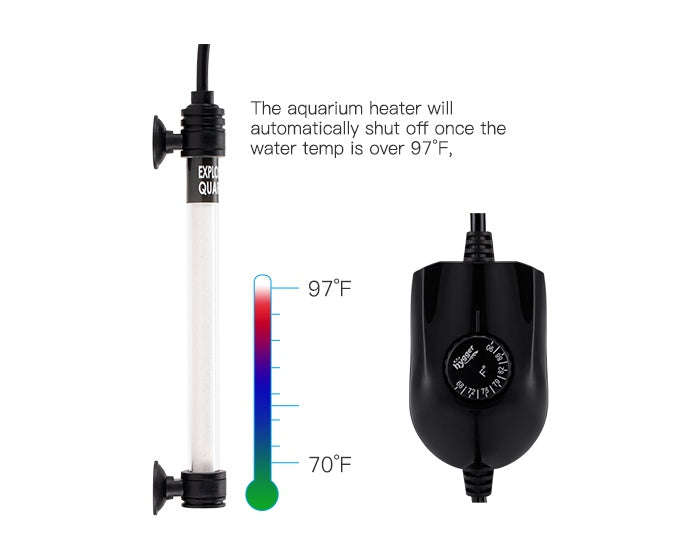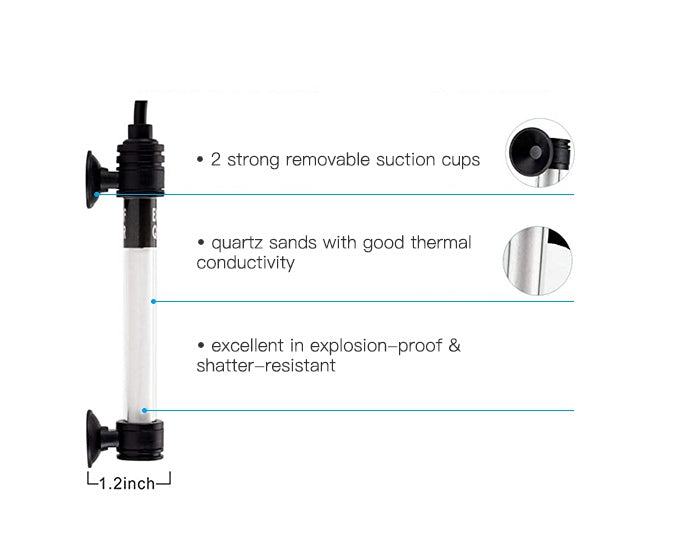 Durable Quartz Glass Heater
This aquarium heater tube is made with heat-resistant quartz glass which is excellent in explosion-proof, and can be used in fresh water and salt water aquariums. The heat-conducting media white alundum sand makes a longer service life (3 years or more).
For Small and Medium Size Fish Tanks
This is a small and compact heater that is suitable for small and medium size fish tanks, such as betta tank, shrimp tank, and snails tank. The 50 W heater is suggested to be used for 5-15 gallons tanks. And the 100 W heater is suggested to be used for 10-30 gallons tanks. However, if the room temperature is lower than 50°F, you may need to buy a larger wattage heater for the same tank.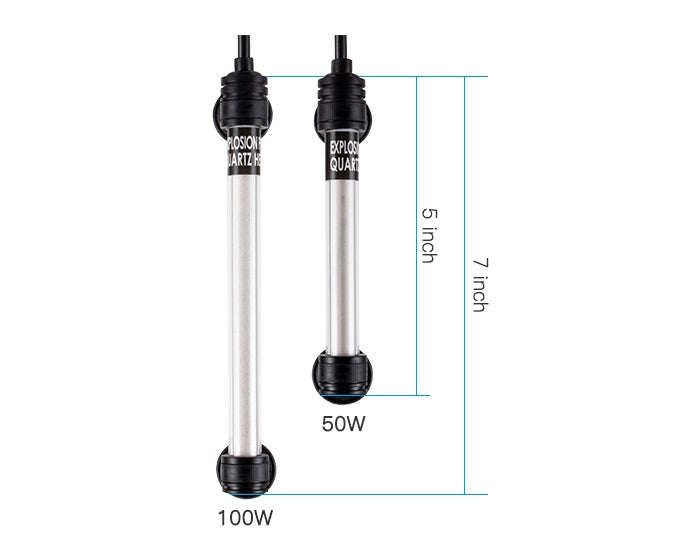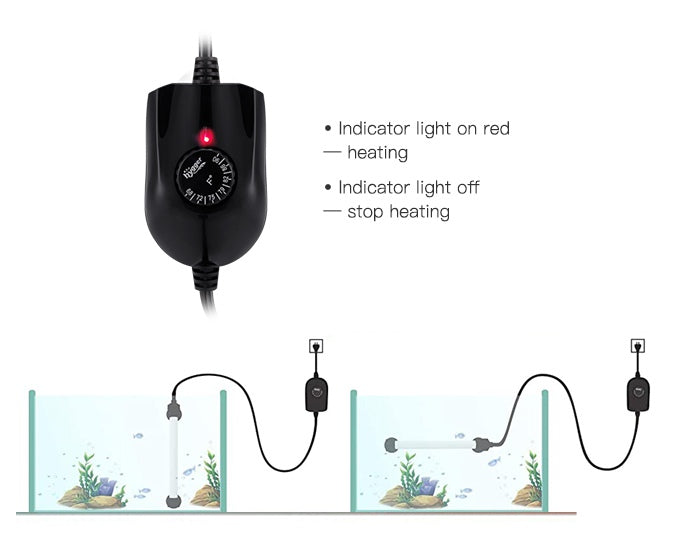 Very Easy to Set the Temperature
Step 1: Fix the heater to the tank horizontally or vertically with the suction cup. Keep it fully submerged all time when working.

Step 2: Plug the power.

Step 3: Rotate the knob on temperature controller to set it to the desired temperature. Temp range is 68°F - 90°F.

Note: The indicator light on the controller will be on red when it's heating, and will be off when it stops heating.
Warnings and Warm Tips

1. For better experience and aquarium safety, please carefully read and follow the user manual.

2. Keep the aquarium heater fully submerged in water all time when it is working.

3. Stick the heater horizontally or vertically onto the tank side near the water intake or on the way of water flow.

4. Don't bury the heating rod in sand or stones.

5. Please keep the temperature controller away from water.

6. Please don't connect the power before the heater is well installed.

7. Please wait for 15 minutes or so to let the heater rod cool down before you moving the heater or changing the water.
Product Parameters
Model
Power
Voltage/Frequency
Power Cable Length
Heater Rod Length
Applicable Tank Size
Temp Control Range
HG-943
50 W
AC 110-120 V / 60 Hz
4.6 Feet
5 Inches
5-15 Gallons
68°F - 90°F
100 W
7 Inches
10-30 Gallons
Packing List
Aquarium Heater x1
User Manual x1
Hygger Mini Quartz Glass Aquarium Heater with External Controller
Usre Manual
Answer:
Hi, wich kind of filter you want to put the heater in? Is there are enough of water in the filter to keep the heater never out of water? Please note the 50W heater is about 5inch long.
By petfocused SELLER on November 22, 2021
Answer:
I don't think so. Just adjust you temperature to 70's. Or in the green area of an aquarium Temp gauge. Most likely if too hot you can hurt your fish and others in tank. This heater has a temperature gauge and is very accurate . Keep an eye on temp and you should be ok.
By Swiftbird on February 14, 2021
Answer:
Hi, as for the suction cup issue, please contact the seller to ask for help.
By petfocused SELLER on April 26, 2021
Answer:
50w shouldn't be too strong. Even when I crank it up to the full 82 degrees on my five gallon (which hold 3 gallons of water) it only gets to 72 or 75 degrees max.
By Customer on April 24, 2021
Answer:
Fish generally don't want to burn themselves, Raised hundreds of guppies with this heater never lost one do to burns.
By jack of all master of none on January 18, 2021