Hygger [ HG978-14W-US ]
Hygger Aquarium Advanced Full Spectrum LED Light

Free Shipping & Return On All Orders!
Premium 5050 & RGB LED bulbs
Full-spectrum LED light
Adjustable timer
Unique lighting blend and 24/7 mode
Extendable brackets
Highly efficient safety power supply saves energy
Aluminum housing
Suitable for plants and freshwater aquariums
Hygger Aquarium Advanced Full Spectrum LED Light
Description
Specification & Package
Instructions
FAQ
Premium White 5050 & RGB LED Bulbs
This aquarium LED light pairs super-bright 6500K white LEDs with the full-spectrum RGB LEDs, which emits bright light and brings out colors for your fish and plants.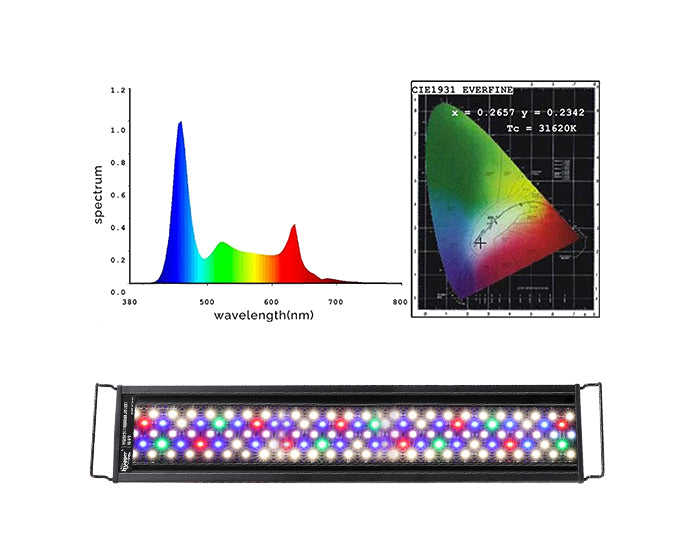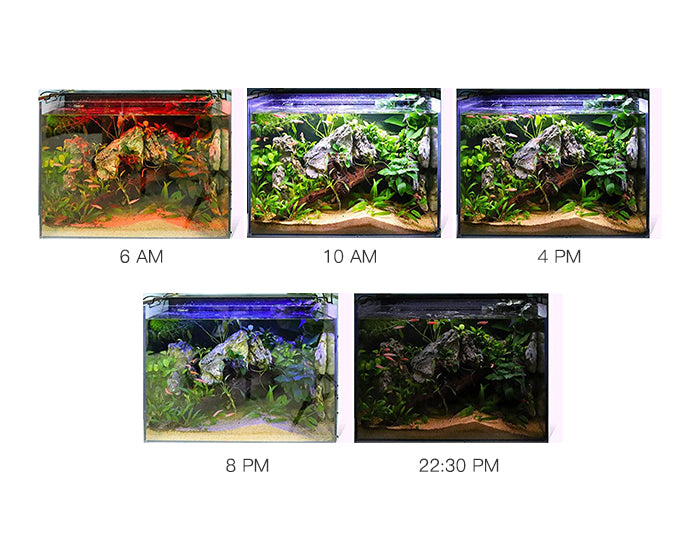 24/7 Light Cycle Mode
The 24/7 mode is also the automatic 24-hour light cycle mode, which mimics the light of natural living conditions, starting with warm orange light at sunrise to bright full spectrum light at noon and starry blue light at nighttime. At the certain time of night, it turns off automatically, giving fish and plants over 7 hours sleeping.

In the default option, the light turns on at 6:00 AM and turns off at 10:50 PM. However, you can customize the start and end time by pressing the "24/7" button on the controller for about 10 seconds.

If you made the timer think it was an hour earlier than it really was, it would turn off an hour earlier than 22:50 and turn on an hour earlier than 06:00 the next day. Vice versa. For example, when you choose 8:00 AM at 7:45 AM, it will turn off at 22:35 that day. Next day, it will turn on at 5:45 AM.
DIY Light Mode
DIY light mode allows you to customize lighting color, lighting intensity, and lighting time period.

You can customize the time period by pressing the TIMER button. Three time periods are available: 6 hours, 10 hours, and 12 hours.

You can press the second (Power/M) button to change light color. 6 singe colors and 1 full spectrum are available: red, blue, green, purple, cyan, orange, and full spectrum (white).

Press the third (Up/Down) button to customize the light intensity. 7 levels are available: 10%, 25%, 50%, 75%, 100%, 75%, 50%, 25%, and 10%.
Warm Tips:
1. Once the settings saved, the light will automatically turn on and off exactly according to the settings the next day. However, you need to reprogram the light if power failure occurred.

2. If you want to turn on or turn off the light as needed, please long press the second (Power/M) button.

3. Do not put the light underwater.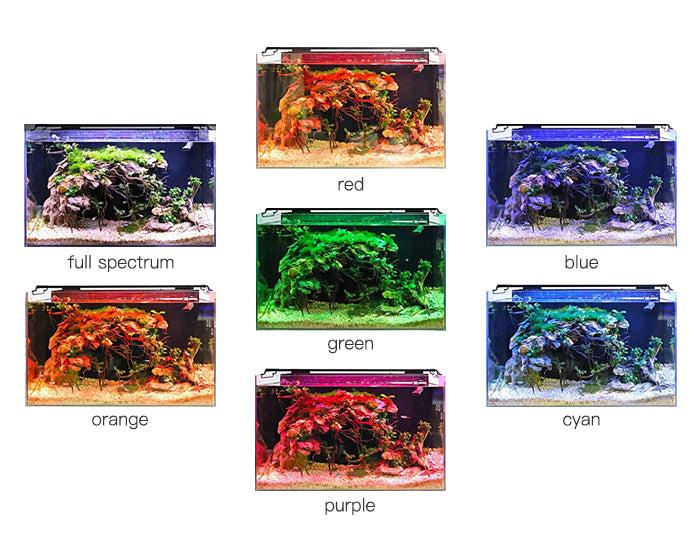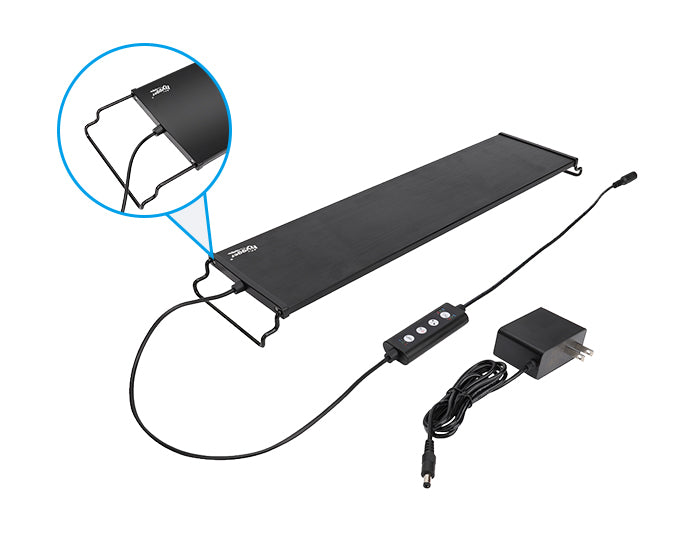 Adjustable Mounting Legs
This aquarium light comes with a metal aluminum shell which has a good heat dissipation. And it has extendable legs to be mounted on the fish tank in 18-54 inches long. Please choose the proper specification according to your fish tank length.
Product Parameters
Model
HG-978
Power
14W
18W
22W
26W
36W
42W
Output Voltage
DC 20 V
Input Voltage
AC 100-240 V
LED Quantity (Pcs)
58
98
115
138
158
215
Light Size
12"
18"
24"
30"
36"
48"
Applicable Fish Tank Length
12"-18"
18"-24"
24-30"
30"-36"
36"-42"
48"-54"
Power Cord Length
4.9 Feet + 2.3 Feet
5.9 Feet + 2.3 Feet
Packing List
LED Light x1
AC/DC Power Adaptor x1
Metal Brackets x2
User Manual x1
Hygger Aquarium Advanced Full Spectrum LED Light
Usre Manual
Answer:
yes, 26W is ok. 14W for 12~18inch long tank
18W for 18~24inch long tank
22W for 24~30inch long tank
26W for 30~36inch long tank
36W for 36~42inch long tank
42W for 48~54inch long tank
By Jnkany SELLER on November 8, 2021
Answer:
the 36W for 36~42inch light fit an aquarium with 35.5" width. 36~42inch means the shortest distance and the maximum distance that can be stretched. The lamp bracket can be stretched.
By Jnkany SELLER on November 9, 2021
Answer:
I would think fish like complete darkness in order to sleep. Even nocturnal fish don't require any lighting to feed at night. I chose this lighting system for the 24/7 mode. The lighting gradually dims and goes completely dark at a predetermined time. Just set it and forget it.
Bino E. · July 10, 2021
Answer:
most certainly,and you can adjust the brightness of the red. just remember to turn it off at night...the fish need to sleep.
bradford h morris · October 5, 2021