Hygger [ HG-S50-B ]
Hygger Aquarium Air Bubble Stone

Free Shipping & Return On All Orders!
Exquisite workmanship
Easy to clean
Ultra-high dissolved oxygen
Release bubbles more denser
The weight enough to sink in the bottom and not need suction cups
Strong filtration for fresh and saltwater
Hygger Aquarium Air Bubble Stone
Description
Specification & Package
Instructions
FAQ
Fine Bubbles with High Oxygen Dissolving Rate
Hygger nano air bubble stone can emit fine, dense, and even bubbles which make more air contact surface with water, thereby dissolving larger amount of oxygen in water. What's more, the bubble size can be adjusted, and different oxygen amount can satisfy different requirements.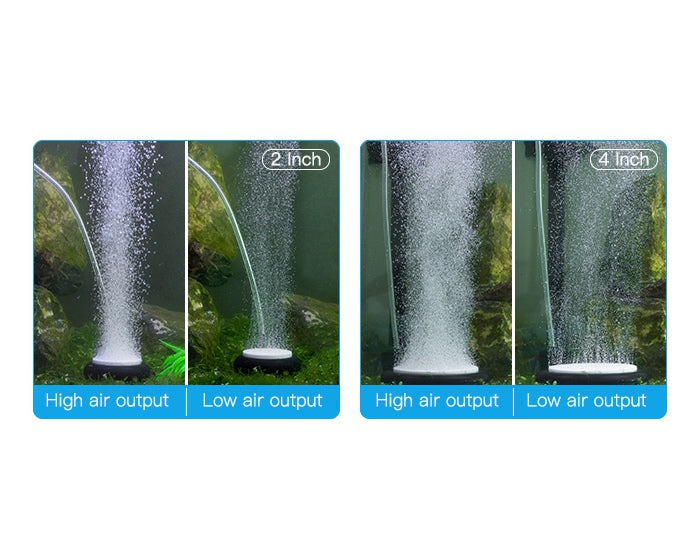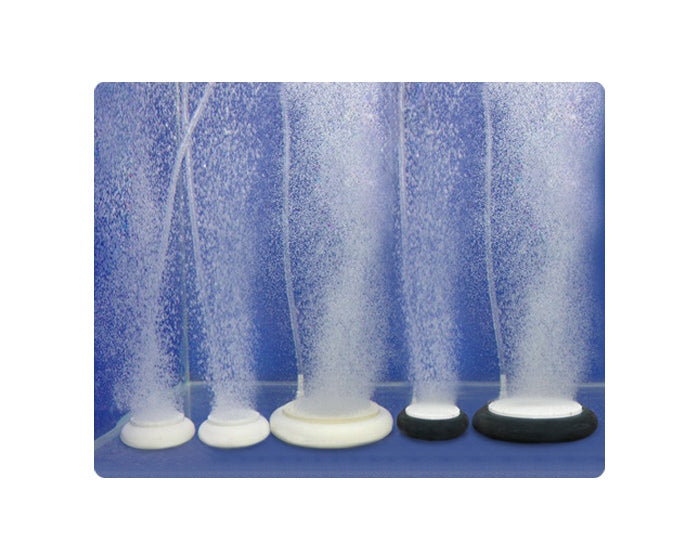 Make Your Aquarium a Fairyland
When dense and smooth bubbles quietly bursting to the water surface, it creates an atomization effect and bubble beams which will create an amazing beautiful scene under water. If you use 2 or more different sizes of air stone, there will be a more beautiful and fairy bubble wall in your aquarium.
Quality Nano Material
Hygger nano disc air stone is made from high-quality white alundum and brown alumina which is sintered at a high temperature of 1300 degrees Celsius. The material is sturdy and durable which can be used for a long time and has better oxygen dissolving effect. It is suitable for both freshwater and saltwater aquariums, hydroponics, aqua farms, and aqua cultures.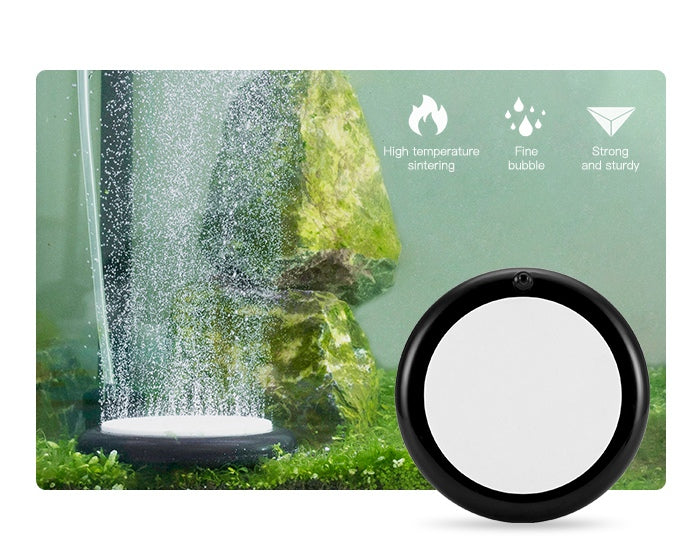 Warm Tips

1. To achieve better effect, please immerse the air stone in water for an hour or so before putting it into use.

2. When the water depth exceeds 1.3 feet (40 cm), you may need an air pump with higher power wattage.

3. It is suggested to clean the disc at least once a month. Of course you can clean it more often. You need to clean algae and other impurities on the disc to prevent holes from being blocked.

4. If the holes are blocked by dirt or other impurities after long-term use, the amount of air bubbles may be reduced. In this case, you need to take out the air stone and clean up the algae, dirt, and other impurities. The air stone can be washed repeatedly.
Product Parameters
Model
Color
Size
Net Weight
Compatible Outlet Size
Compatible Air Pump Wattage
Output Air Flow
S50
2 Colors:
White and Black
2 Inches
5.2 oz
4 mm
2 W or Higher
1 L/Min
S100
4 Inches
15.2 oz
4 mm and 8 mm
4 W or Higher
3 L/Min
Packing List S50 Package:
2-inch Nano Air Stone x1
Control Valve x1
Check Valve x1
Suction Cup x2
User Manual x1


S100 Package:
4-inch Nano Air Stone x1
Control Valve x1
Check Valve x1
Suction Cup x2
T-shaped Connector x1
Reducer (8 mm and 4 mm Compatible) x1
User Manual x1
Question:
Is this air stone (diffuser) made of ozone resistant materials like glass, teflon, stainless-steel, or ceramic?
Answer:
Hi, this this air stone diffuser is high-quality white alundum & brown alumina made, fired at a high temperature.
By petfocused SELLER on August 16, 2021
Question:
What is the id & od of the connector of this stone?
Answer:
Hello, 4inch bubble stone can use two kinds of tubes, so there are 2 kinds of connections. For the uppermost part of the joint, a tube with an inner diameter of 4mm and an outer diameter of 6mm can be used; for the lowermost part of the joint, a tube having an inner diameter of 8mm and an outer diameter of 10mm can be used.
By Candy on October 21, 2021
Question:
Can this be used for a 7.5 glowfish tank?
Answer:
Hello, it can be used, thank you.
By Robert Batts III on July 8, 2021