Hygger [ HG005-6W-US ]
Hygger Auto On Off LED Submersible Aquarium Light

Free Shipping & Return On All Orders!
Submersible full-spectrum LED light
High color rendering index and 24/7 mode
Premium 5050 RGB LED bulbs
New upgrade DIY mode
Highly efficient and energy saving
Suitable for plants and freshwater aquariums
Hygger Auto On Off LED Submersible Aquarium Light
Description
Specification & Package
Instructions
FAQ
24/7 Light Cycle Mode
Gradient Orange light (sunrise) from 6 am to 8 am; Gradient White light from 8 am to 6 pm; Gradient Blue light (moonlight) from 6 pm to 10:50 pm; The 24/7 lighting aquarium lights are off in other time periods. The overall default time period can be delayed or advanced.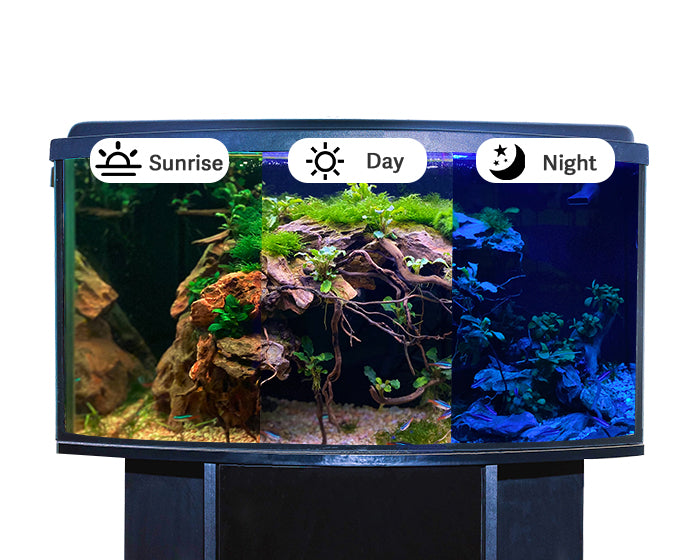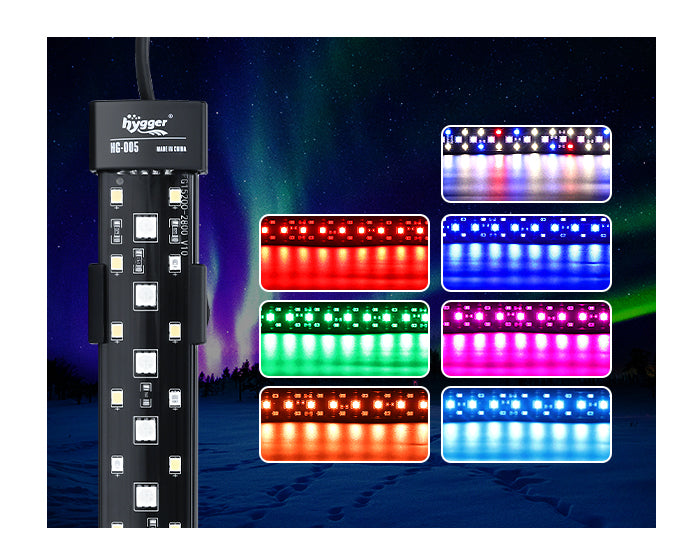 DIY Light Mode
Full spectrum aquarium light also can change the time + brightness + color. ①Setting time(TIMER key): 3 kinds of time, 6h, or 10h, or 12h; ②Brightness(▲/▼ key): 5 kinds of brightness. ③Color(ON-OFF/ M key): White, Red, Blue, Green, Purple, Orange, Cyan, Cycle Color.
Full Spectrum Fish Tank Light
Using high-quality 2835 + 5050 model lamp beads, long service life, at least 50,000 hours. DC 20V, UL certification, safety is guaranteed.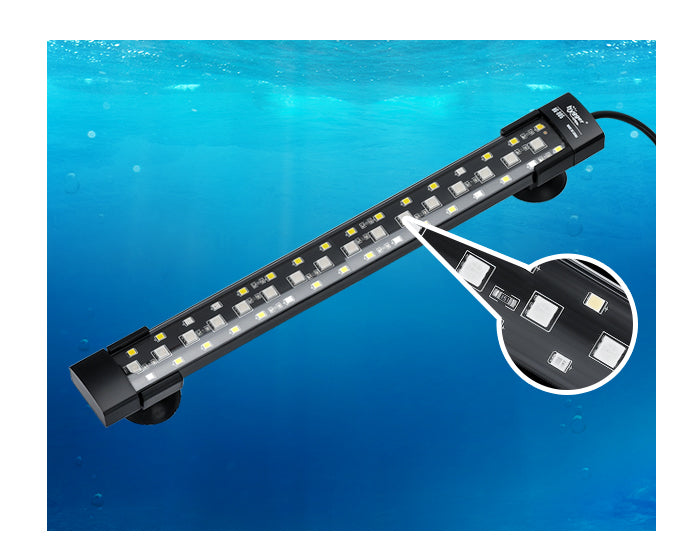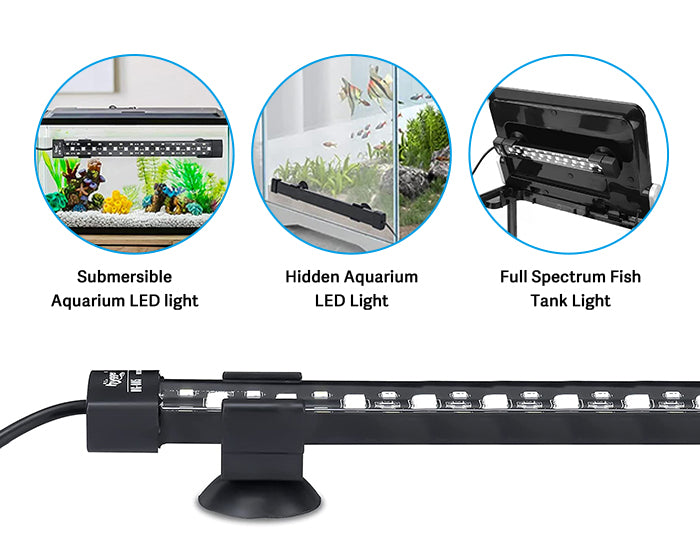 MEasy to Intall
The aquarium light can be firmly installed in various places in the fish tank. The separable adapter, even if it is damaged, has no need to replace the whole light to avoid waste.
Warnings

1. Carefully examine the appliance after installation. Do not operate it if it has a damaged cord or plug, if it is malfunctioning, or it is dropped or damaged in any manner. The power cord of this appliance cannot be replaced. If the cord is damaged, the appliance should be discarded. Never cut the cord!

2. To avoid the possibility of an electrical hazard, aquariums should be placed to one side of a wall mounted outlet to prevent water from dripping onto the outlet or plug.
A drip loop should be arranged for the cord connecting light to a power outlet. As a part of the cord below the level of the outlet or the connector if an extension cord is used, the dip loop is designed to prevent water travelling along the cord and coming in contact with the power outlet. If the plug or outlet gets wet, do not unplug the cord. Disconnect the fuse or circuit breaker that supplies power to the light. Then, unplug and examine for presence of water in outlet.

3. This appliance is not intended for use by persons (including children) with significantly impaired physical or mental capabilities, unless they have been given supervision or instruction.
Product Parameters
| | | | | |
| --- | --- | --- | --- | --- |
| Model | HG005-6W | HG005-8W | HG005-10W | HG005-12W |
| Power | 6W | 8W | 10W | 12W |
| Light Size | 7.8inch | 11.8inch | 15.7inch | 19.6inch |
| Application | 10-12Inch Long Tank | 12-15Inch Long Tank | 15-20Inch Long Tank | 20-25Inch Long Tank |
| LED Quantity | 36PCS | 48PCS | 60PCS | 72PCS |
| Color Temperature | 6500K | 6500K | 6500K | 6500K |
| Lumens | 609.8lm | 778.7lm | 962.4lm | 1117lm |
| Luminous Flux | 820Lumens | 1120Lumens | 1480Lumens | 1720Lumens |
| Input Voltage | AC100-240V | AC100-240V | AC100-240V | AC100-240V |
| Output Voltage | DC20V/0.6A | DC20V/1.2A | DC20V/1.2A | DC20V/1.2A |
Packing List
LED Light x1
Switch box x1
Metal brackets x2
User Manual x1
Hygger Auto On Off LED Submersible Aquarium Light
Usre Manual
Question:
Is this a suitable grow light for aquatic plants?
Answer:
Mine work great for all my plants so far. I have one on a 5 gallon shrimp tank, 2 on 10 gallon tanks and 1 on a 17 gallon, all plants are doing great. It will also grow algae really well so you will have to experiment with your light times. Just get the light that is sized correctly for your tank.
By heh7 on January 18, 2022
Question:
7.8 inch enough for a low light 5 gallon tank?
Answer:
It ok, we used it on a 5 gallon fish tank, no problem.
By Steve on May 18, 2022
Question:
Does it have a warranty?
Answer:
I believe it is a one year manufacturers warranty. But to be certain I would contact hygger. I find when I have a question just to contact the manufacturer and usually they will gladly give you all the info you want and sometimes more than you want. :-)
By Linda on June 18, 2022