Hygger [ HG939-US ]
Hygger Mini Submersible Water Pump

Free Shipping & Return On All Orders!
Super small & compact water pump
Comes with 2 nozzles
Ultra quiet & adjustable
Must be fully submerged
Easy to use & clean
Hygger Mini Submersible Water Pump
Description
Specification & Package
Instructions
FAQ
Super Quiet & Flow Rate Adjustable
Equipped with a durable small motor, the water pump has a low level of noise when working. As to the water flow rate adjusting, you can adjust it by rotating the knob in the front of the pump from 0 to 180 degrees. The maximum flow rate is 53 GPH (200L/H), and the max head is 1.7 feet (50 cm).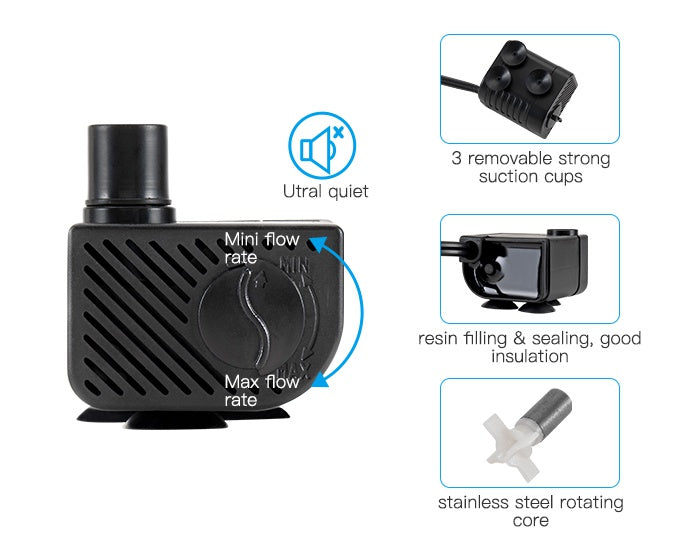 Fit Most Water Features
It is a small and compact water pump that can be used in salt-water and fresh-water. It is perfect for small to medium size aquariums, fish tanks, pet cat/dog water fountain, waterfall in terrarium, tabletop fountains, spout, water gardens, and hydroponic systems.

It comes with one 5/16 inch nozzle and one 1/2 inch nozzle. You can connect a soft plastic tubing to one of the 2 outlet nozzles according to your own needs. Please note tubing is not included in this water pump package.
Easy to Use and Maintain (Fully Submerged)
This mini water pump is composed of 6 parts which are easy to be taken apart and assembled without using tools. To clean the pump, remove the intake cover, sealing cover, and the impeller. Then use a small brush or steam of water to remove the debris.

Please note that this submersible water pump is designed to sit in water, so the water inlet must be completely submerged in water. With 3 suction cups at bottom, you can install the pump to spray water horizontally or vertically. And the water temperature for this mini pump is not over 95°F (35°C).
Product Parameters
| | | | | | | | | |
| --- | --- | --- | --- | --- | --- | --- | --- | --- |
| Model | Voltage/Frequency | Power | Max Flow Rate | H-Max (Lift Height) | Max Water Temprature | Power Cord Length | Dimension | Nozzle OD |
| HG-939 | AC 110-120 V / 60 Hz | 3 W | 53 GPH (200 L/H) | 1.7 Feet | 95°F (35°C) | 6 Feet | 2.4 x 2 x 1.7 (inch) | 8 mm (5/16"), 13 mm (1/2") |
Packing List
User Manual x1
Mini Water pPump x1
8 mm (5/16") Nozzle x1
13 mm (1/2") Nozzle x1
Question:
How do you change out the nozzle? I can't get the smaller one out to change it to the larger one?
Answer:
Hi, Please screw the smaller nozzle out of the pump.
By petfocused SELLER on October 20, 2021
Question:
Can I put this in a Betta tank?
Answer:
Hi, yes, this water pump is very small, it can be used for a betta tank.
By petfocused SELLER on December 1, 2021
Question:
I bought it and got it yesterday it was unusable and water didn't come out as advertised.
Answer:
Hi, have you submersible the punp under water? Please adjust the water flow to high.
By petfocused SELLER on July 31, 2021
Question:
Does this fit in a Fluval Spec V?
Answer:
Hi, yes, it can be used in a Fluval Spec V tank.
By petfocused SELLER on February 25, 2021