Hygger [ HG916-50W-US ]
Hygger Mini Oval Aquarium Heater

Free Shipping & Return On All Orders!
Compact small heater

External controller




LED digital display




Run dry protection




Auto shut off as out of water



Overheating protection
Hygger Mini Oval Aquarium Heater
Description
Specification & Package
Instructions
FAQ
Dry-run and Over-heating Protection
This egg-shaped small aquarium heater automatically shuts off once it is removed from water or it is not fully submerged, which ensures the safety of your pet, especially turtle and frog. Meanwhile, the display shows "E1".

When the water temperature passes 95°F (35°C), it also shuts off and shows "HH" on the display.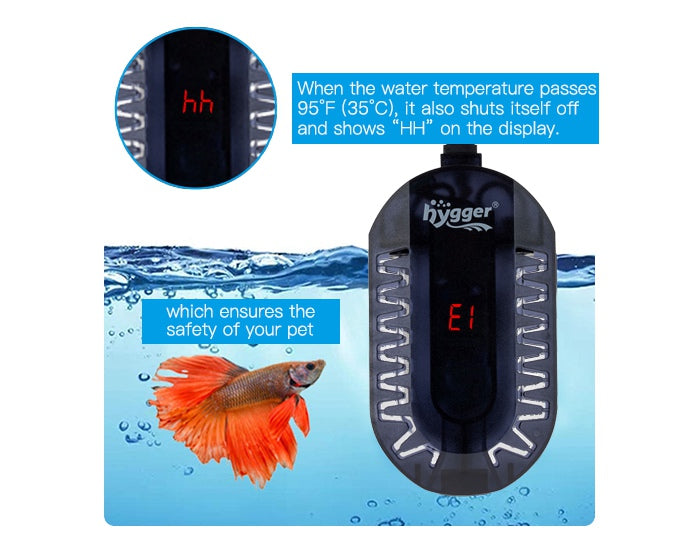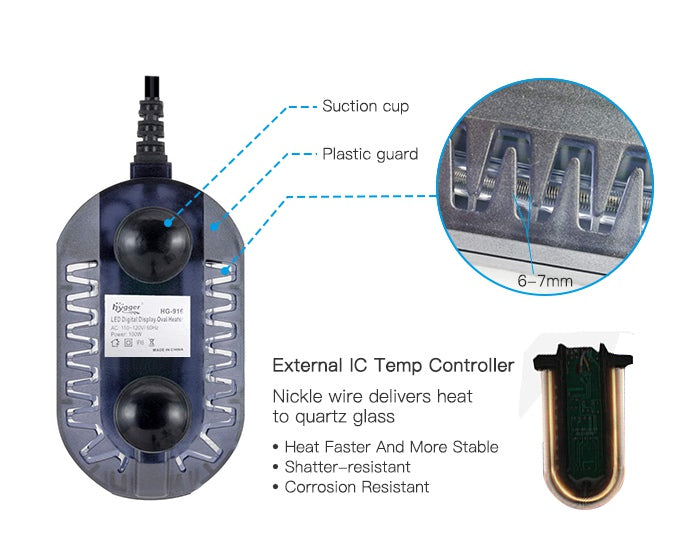 Waterproof and Protective Guard
The heating tube is made of high quality quartz glass, waterproof double seal material, and it is covered with protective plastic case, which keeps your fish from scalding and punching.
Easy-to-read LED Display
The LED display will show current temperature, set temperature, and error code such as "E1" and "HH" in different cases. Besides, the indicator light indicates the heating state intuitively.

Specifically, when the fish tank heater is heating, the indicator light is on red; When it stops heating, the light is off. With a built-in thermometer, when temp setting is done, the LED display shows the water temperature all the time. It will display the set temperature only when you press the controller.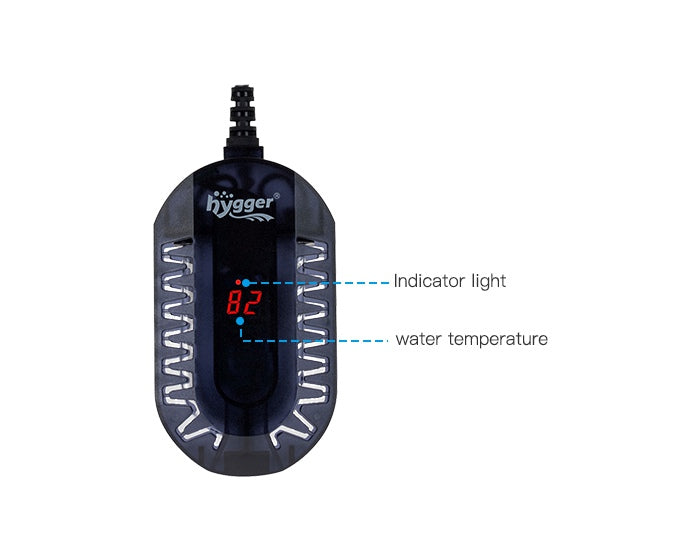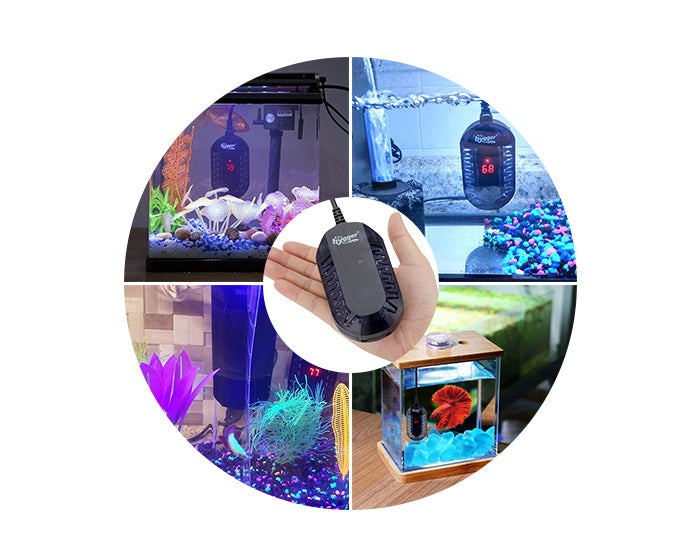 Suitable for Small Freshwater and Saltwater Aquariums
This adjustable aquarium heater can be used for almost all kinds of small fish tanks: square tank, cylinder shaped tank, or bowl tank; tanks made of glass, acrylic, or plastic. The quartz glass heater tube is durable for use in freshwater and saltwater.
Easy to Set Temperature
It is easy to set the temperature to your desired value.

Step 1: Place the heater in the tank horizontally or vertically (with suction cup). Keep it fully submerged.
Step 2: Plug in and press the SET button on the controller, then you will see the digital number on the display of heater flashing three times.
Step 3: Keep pressing the SET button until your desired temperature is reached (temp range: 63°F to 94°F). After it flashed 3 times, the setting is done.
Step 4: Now the display will return to show the current water temperature. The heater is heating (red indicator light on).

Note: When the water temperature reaches the set value, it stops heating automatically. The water temperature may go up 1 more Fahrenheit degree if the tank is smaller than 10 gallons. The tank heater will restart heating when water temp is 1°F off the set temp.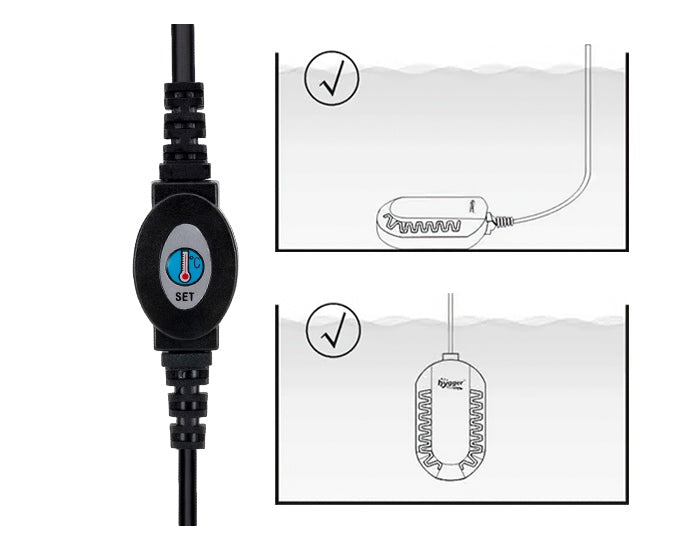 Warnings and Warm Tips

1. Always keep the heater rod fully submersible to avoid heater damage and accidental burns.

2. Before taking out the heater, please disconnect power and wait for 10 minutes or so to let it cool down.

3. Perfect water temperature for betta is 75-81°F.

4. Perfect water temperature for turtle is 77-86°F.
Product Parameters
Model
Power
Voltage/Frequency
Cord Length
Applicable Tank Size
Temp Accuracy
Temp Control Range
HG-916
50W
American: 110-120 V / 60 Hz
Europe: 220-240 V / 50 Hz
4.9 ft
1-6.5 Gallons
±1°F
63°F - 94°F
100W
6.5-13 Gallons
Packing List
Oval Heater with External Controller x1
User Manual x1
Answer:
Hi, the 50W heater is suitable for 2.5 gallon tank, for small tank, we suggest to set the temp 1F or 2F less than your designed temp, because the samll tank water will go 1F more up after it stop heating.
By petfocused SELLER on October 4, 2021
Answer:
Hi, plesae unplug it wait for a while, then reset it again. If it still makes noise, please contact the seller directly to ask for a replacement.
By petfocused SELLER on October 29, 2021
Answer:
There is not really a hard fast rule for this.
By usmagob SELLER · June 6, 2021
Answer:
Hi, the E2 means the temperature detector is damaged, please stop use and contact seller at mago@hygger-online.com. We will help you.
By petfocused Seller · February 11, 2021