AQQA [ AQ009-1000L-US ]
AQQA Multi-functional Submersible Bottom Intake Water Pump

Free Shipping & Return On All Orders!
Rapid change water
360°All-round bottom suction
Water circulation
Ultra-quiet energy saving high lift powerful
Adjustable knob, beautiful and small appearance, compact with handle
2 Nozzle accessories, freshwater or saltwater both can use
Advanced anti-dry burning system
AQQA Multi-functional Submersible Bottom Intake Water Pump
Description
Specification & Package
Instructions
FAQ
Versatile Water Pump
AQQA submersible water pump is a multifunctional bottom suction pump in terms of aquarium water change, water circulation and filtration, and oxygenation. Effectively clean dirt and impurities at the bottom of the cylinder. Perfect for aquariums, fish tanks, fountains, ponds, waterfalls, hydroponic systems, irrigation systems, and other water features.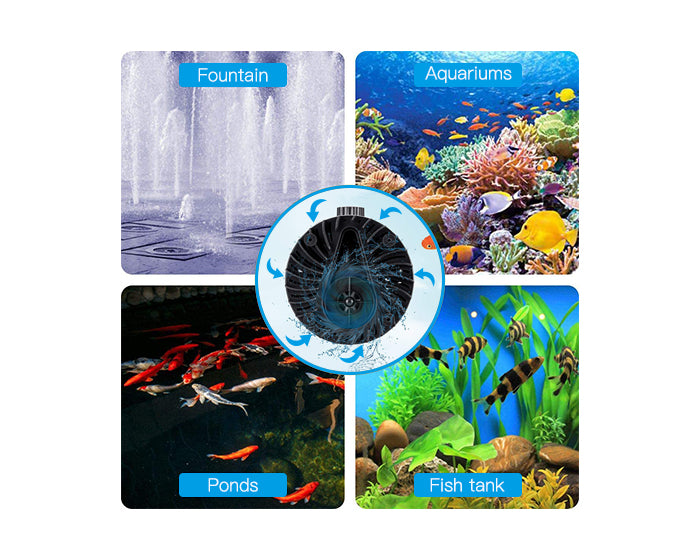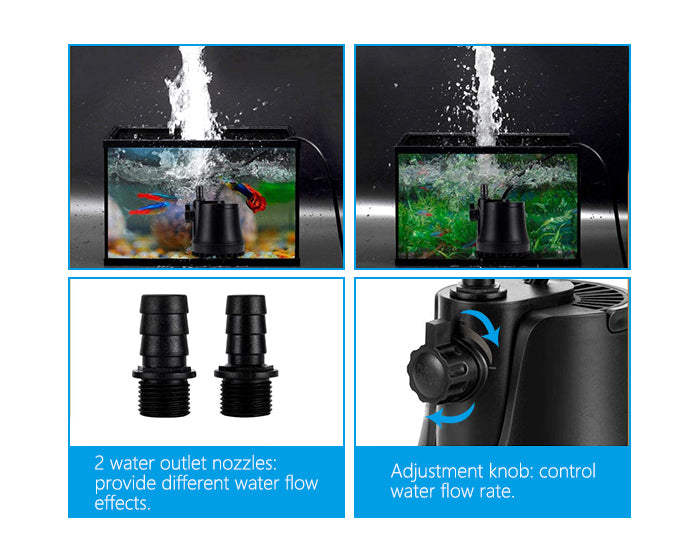 Water Flow Adjustable
An adjustable knob is designed to control the water flow rate. You can rotate the knob to get a proper water pressure according to your preference. The water pump is a submersible pump, so you need to put it into water fully before plugging in. Otherwise, the aquarium pump may burn out.
Run-dry Protection
The fountain pump motor will stop working once it reaches the certain temperature 85°C without water. However, it does not mean powering off, it will restart working once it cools down in water.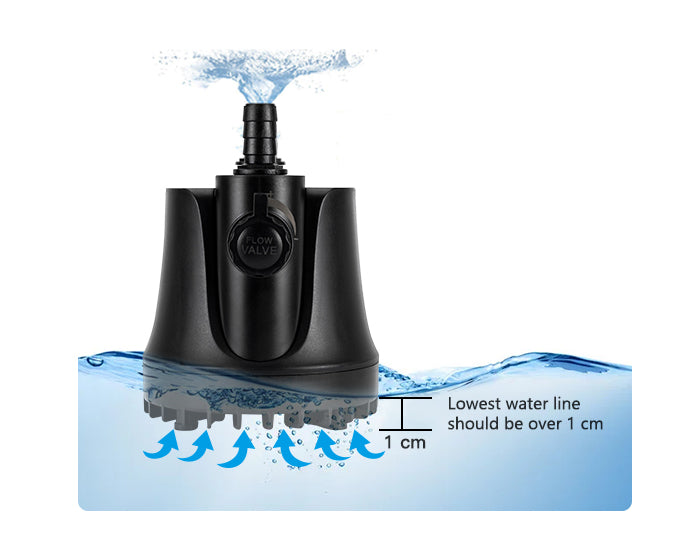 Warm Tips and Important Notes

1. As this aquarium pump is submersible, please put it into water fully before power on.

2. For a longer service life, please use socket with stable voltage and keep the motor running within rated power.

3. This pump is suitable for use in water temperatures from 40°F to 95°F.

4. Due to professional testing before shipment, it is normal if there is a little water in the pump you received. Please don't worry, it is a new pump.
Product Parameters
Model No.
AQ-009-810
AQ-009-811
AQ-009-812A
AQ-009-813
Power
15 W
25 W
45 W
60 W
Output Voltage
110 V / 60 Hz
Max Flow Rate
265 GPH
400 GPH 
660 GPH
800 GPH
Head Max
4.9 Feet
5.9 Feet
8.9 Feet
9.8 Feet
Cord Length
6 Feet
Net Weight
0.558 kg
0.821 kg
1.033 kg
2 Nozzles' Size
1/2", 5/8"
1/2", 5/8"
5/8", 3/4"
3/4", 1"
Pump Size
3.9''D x 3.9''H
3.9''D x 3.9''H
4.5''D x 4.5''H
5.1''D x 5.1''H
Packing List
Bottom Intake Water Pump x1
Nozzles x2
User Manual x1
AQQA Multi-functional Submersible Bottom Intake Water Pump
Usre Manual
Question:
Which one should I buy a pump with adjustable flow or non-adjustable flow?
Answer:
Hello, you can choose according to your needs, whether you need to adjust the flow rate function, these two types of pumps are very good.
By ETOSKY SELLER on March 24, 2021
Question:
What is the size of the outlet port adapter on the side that is screwed into the pump?
Answer:
5/8"
By dinora nilson on September 3, 2021
Question:
How to disassemble to get to clean the Impeller?
Answer:
Hello, you need to open the bottom screw, open the low cover, and then you can clean the impeller.
By ETOSKY SELLER on June 8, 2021
Question:
What is the thread size of the outlet port? I will need 1/2 barb.
Answer:
Hello,the water pump of 15W and 25W with 1/2"(13mm) and 5/8"(16mm) outlet port,the 45W water pump outlet port is 5/8"(16mm) and 3/4"(19mm),the 60W water pump is with 3/4"(19mm) and 1"(25mm).
By ETOSKY SELLER on October 6, 2021
Question:
It looks great but i cant find any information about aqqa. what is the warranty with this pump? can you get ahold of anyone if you need help?
Answer:
Hello,One year warranty,If you have any questions, you can contact Amazon store customer service or contact Amazon customer service directly, or contact the company email (on the product packaging), our official website is still under construction.
By ETOSKY SELLER on March 20, 2021