AQQA [ AQ006-3000 ]
AQQA Controllable Submersible and External Water Pump

Free Shipping & Return On All Orders!
Automatic shut off protection
Prevent the dirty things in water
Adjustable flow speed
Ultra-quiet & powerful
Suitablefor a variety of applications in ponds, fish tanks, fountains, waterfalls, hydroponic and irrigation systems
AQQA Controllable Submersible and External Water Pump
Description
Specification & Package
Instructions
FAQ
Automatic Power-off Protection
When the pump runs no water or over voltage, it will power off automatically. The motor will also power off if the rotor becomes blocked.
Notice: Once the pump detects no water five times, it will shut off automatically and display E-01. If you want to restart the pump, you can press the "feed" button or reconnect power.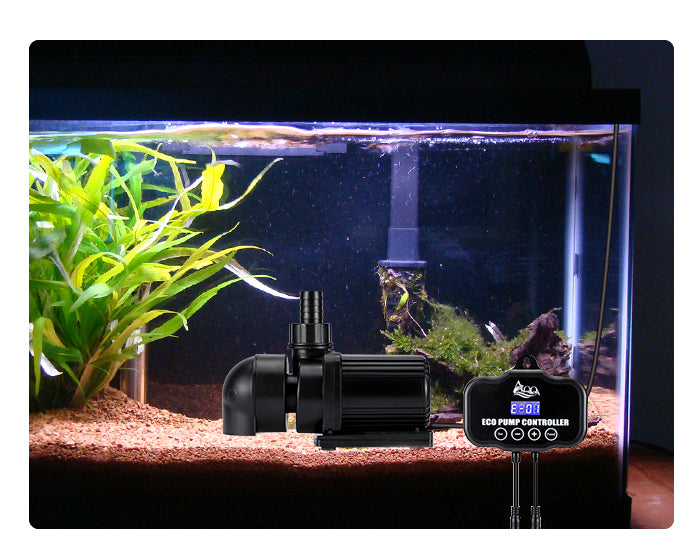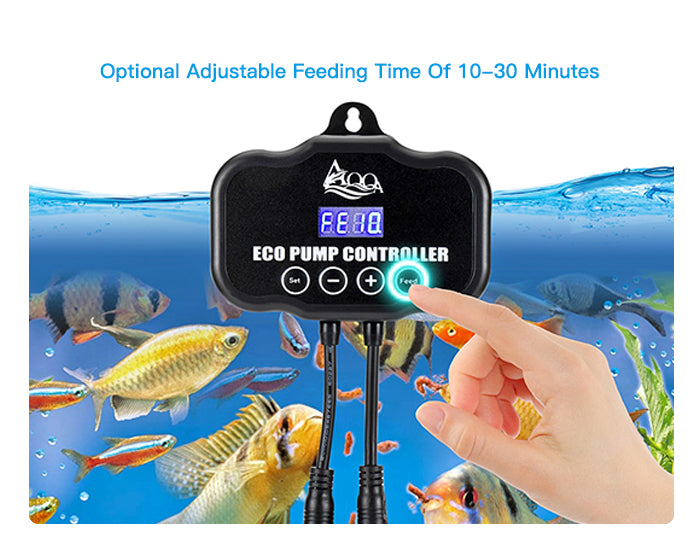 External Controller Design
Constant speeds and Wave maker Mode, offers up to 20 speed setting for you to customize water flow and lift head. Feed mode, optional adjustable feeding time, break off pump work for 10-30 minutes
Ultra-quiet & Powerful
Sine wave technology makes the pump run more smoothly and ultra-quiet. AC motor with magnetic drive and ceramic shaft design, energy saving and eco-frequency conversion technology.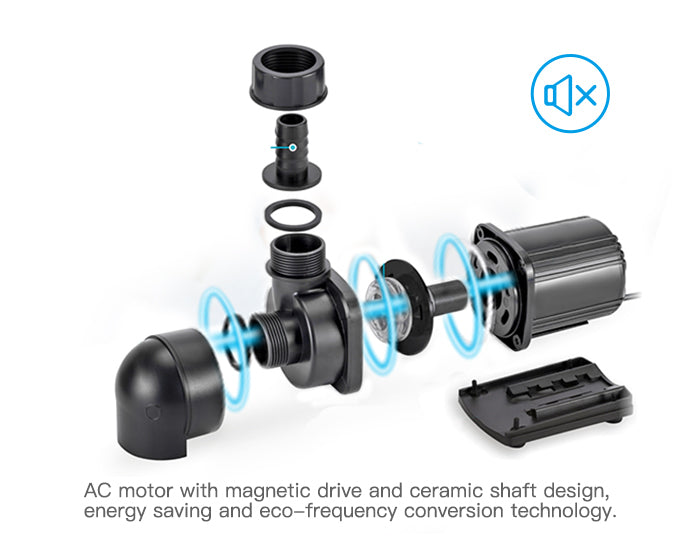 Dual Function
Water pump can be installed either submersible or in-line(external) in Freshwater or Saltwater. Two types intake covers, filter cover can handle debris up to 2/3 inch, preventing clogging in sumps or aquariums. Intake cover used for low water level, can suck up the water.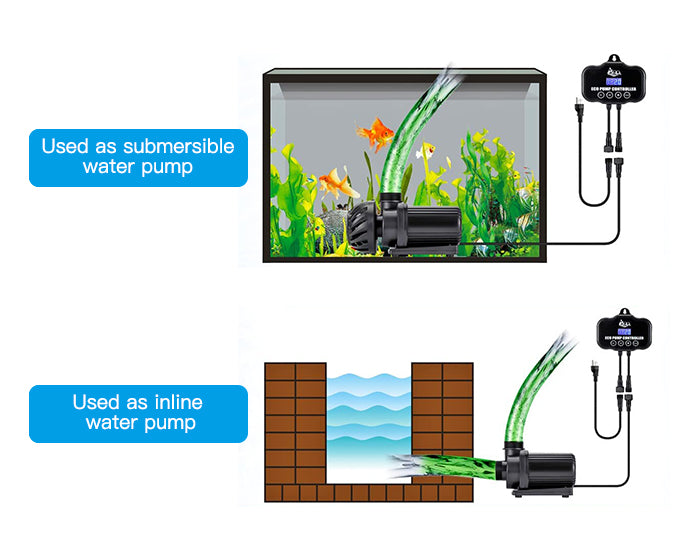 Wide Application
Corrosion resistant ceramic motor and magnetic drive, longer operation life. It's perfect for a variety of application in pond, fish tank, fountains, waterfalls, hydroponic systems, irrigation systems.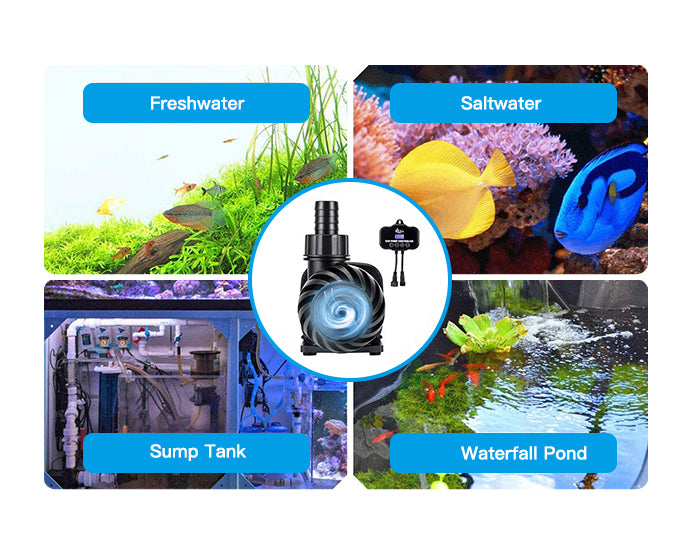 Warm Tips

1. Do not let the pump run dry, this may cause damage to the motor.

2. The controller has memory function for the flow rate, if the power goes out the controller will go back to the last setting

3. If you find the pump is failed to pump water at the beginning, please try to unplug and re-plug the power to get rid of the air inside the pump. Repeat the operation for several times until the pump works normally.

4.All of our pumps are professionally tested by the manufacturer before shipment, if the water pump you received with a little water, it is a normal phenomenon.
Product Parameters
Model No.
AQ-006-3000
AQ-006-4000
AQ-006-6000
AQ-006-9000
AQ-006-12000
Power (W)
30
40
55
75
85
Output Voltage
110V/60Hz
Max Flow Rate (GPH)
800
1200
1600
2400
3200
Head Max (Feet)
9.8
11.5
14
17
17.4
Packing List
AC water pump ×1
Controller ×1
Bottom suction cover ×1
Filter cover ×1
O-ring ×2
User manual ×1
AQQA Controllable Submersible and External Water Pump
Usre Manual
Question:
If power is lost, will the controller remember its last setting and resume or does it always reset back to its default settings?
Answer:
Hello, the controller of this product has no memory function, and the machine will restore to default settings,But if used the feed function, the control will automatically restore the settings before feeding.
By ETOSKY SELLER on May 25, 2021
Question:
Is there an off button on the controller? I know it has adjustable flow but can I bring the flow to a complete stop via the controller?
Answer:
Hello, there is no shutdown button on the controller. If you need to shut down completely, you need to unplug the plug. If you need to shut down for a short time, you can choose the Feed function. The machine can be paused for 10 minutes, 20 minutes, 30 minutes, etc.
By ETOSKY SELLER on December 6, 2021
Question:
Is there a timer on the pump?
Answer:
The only timer is the feed timer which will need to be set at every feeding. This will shut the pump off and allow it to restart on its own.
By JOHN on March 22, 2021
Question:
Are all the accessories in the picture included in a set?
Answer:
Hello,Yes,Accessories for each model are complete.
By ETOSKY SELLER on May 29, 2021