AQQA [ AQ008-5W-US ]
AQQA Rounded Aquarium Air Pump for Freshwater and Saltwater

Free Shipping & Return On All Orders!
Fit for freshwater
Stainless steel outlets
Ultra-quiet
Large volume oxygen pump
Energy-saving
Adjustable four-stage flow rate
Double air outlets
AQQA Rounded Aquarium Air Pump for Freshwater and Saltwater
Description
Specification & Package
Instructions
FAQ
Two Stainless Steel Outlets
The air pump comes with 2 superior stainless steel outlets that are perfect for running two accessories such as sponge filters and air stones at the same time. It also helps to oxygenate your aquarium, pond, or hydroponic systems with a large amount of dissolved oxygen.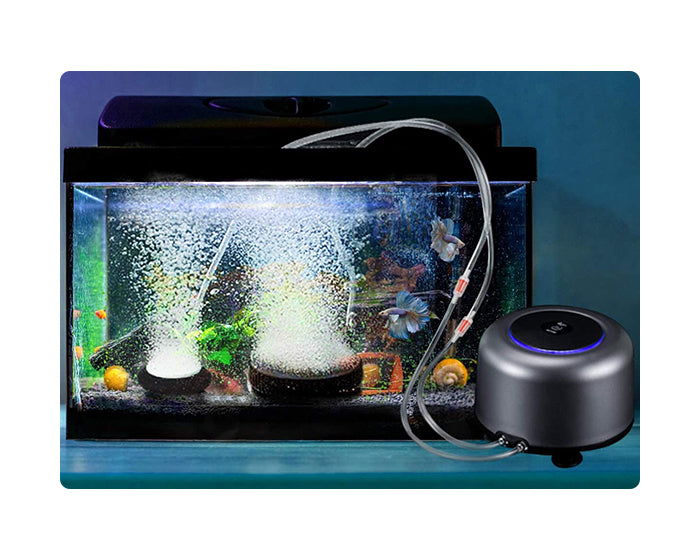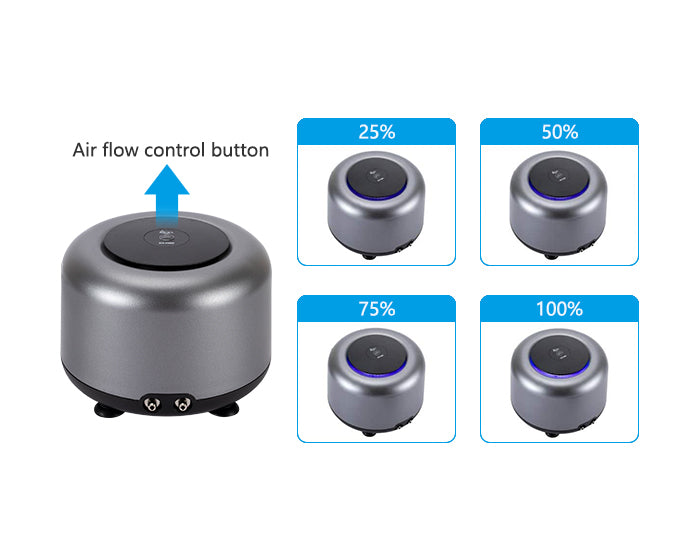 Adjustable Air Flow Rate
To adjust the amount of air, press the "SET" button on the top of the air pump. Different levels of brightness of the blue light indicate different grades of air flow rate. The brighter the blue light, the more air output. 5 seconds after the setting done, the blue light will disappear. The light is not only beautiful but also brings convenience for operation at night.

Note: If you want to turn off the air pump, you can press the "SET" button for 3 seconds or so.
Two Ways to Install the Air Pump
In order to avoid water backflow, there are 2 different ways to install the air pump.

Way 1: Place the air pump below the level of the water surface in the tank with a check valve.

Way 2: Place the air pump 25 cm (approximately 10 inches) higher than the surface of water.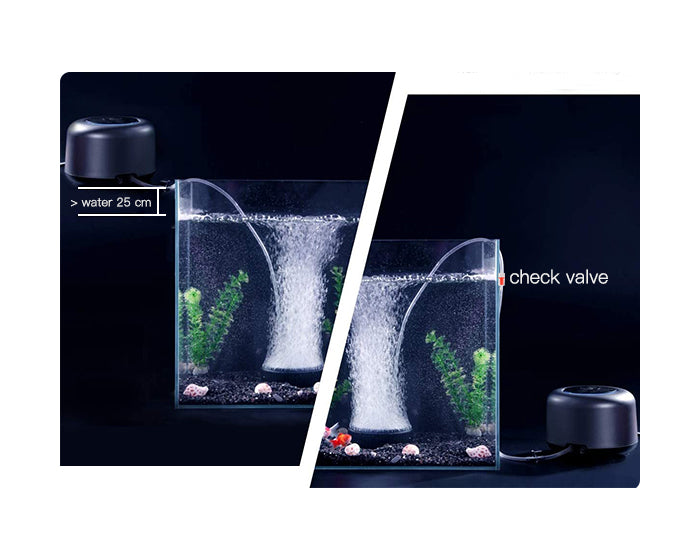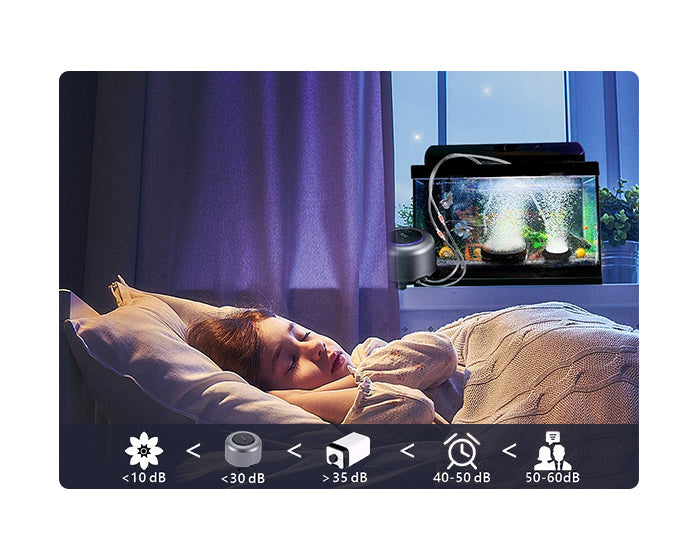 Ultra Quiet & Energy-saving
The air pump is driven by a bearing-less motor which works through magnets. Less vibration brings lower noise than traditional bearing motor driven air pumps. Extra vibration and noise dampening system on the pump further reduced the noise, thereby making it an ultra-quiet air pump.
Product Parameters
Model
Power
Voltage
Max Air Flow
Pressure
Applicable Tank Size
Noise Level
Power Cord Length
AQ-008
5 W
110-120 V,
60 Hz
200 GPH
0.02 MPa
Up to 300 Gallons
< 30 dB
6 Feet
10 W
285 GPH
0.04 MPa
Up to 600 Gallons
Packing List
Air Pump x1
User Manual x1
AQQA Rounded Aquarium Air Pump for Freshwater and Saltwater
Usre Manual
Question:
Will it generate heat or noise after long-term use?
Answer:
Hello,The air pump will not heat up after long time use, and it will always run very quietly.It works using magnets, which means less vibration,resulting in lower noise than traditional bearing driven air pumps.Our products have a one-year warranty, please rest assured to use.
By ETOSKY SELLER on August 31, 2021
Question:
How many liters per min does this push?
Answer:
Hello,5W air flow is 8L/Min; 10W air flow is 13L/Min.
By ETOSKY SELLER on March 8, 2021
Question:
Had this pump for about 6m working fine until today the air flow drop drastically probably is the membrane?
Answer:
Probably is the membrane. I don't know how long you have had the air pump but if it is under 2-3 years, I would complain. They should last a long time.
By richard davis on June 16, 2021
Question:
Is there a way to turn off one of the Air supply ports?
Answer:
Hello, if you only need to use one vent, you can use 3-way to connect the two vents. Please refer to the figure in the attachment. You can't connect only one of the vents,The air pump will be very noisy.
By ETOSKY SELLER on December 10, 2021