AQQA [ AQ004-3W-US ]
AQQA 360° Rotatable Aquarium Wavemaker Circulation Pump

Free Shipping & Return On All Orders!
360°Adjustable & ultra-quiet
Aquarium water circulation
Propeller design strong powerful
Magnetic mount suction
Durable and reinforced ABS material
Dense water filter cover prevents inhalation of fish
Fit for freshwater & saltwater
AQQA 360° Rotatable Aquarium Wavemaker Circulation Pump
Description
Specification & Package
Instructions
FAQ
Why Need Wavemaker Pump
• The wave maker pump can create waves to simulate the natural currents of natural water such as rivers and oceans. Thereby, it increases movement and vitality of your fish and other aquatic pets.

• The wave effect makes your aquarium more beautiful and lively.

• Wavemaker helps to circulate the water and balance the oxygen in your aquarium. The water in the area with less oxygen may affect the overall balance of your tank.

• The wave and water movement can stir up the debris and dead spots to avoid the accumulation of dirt in the fish tank.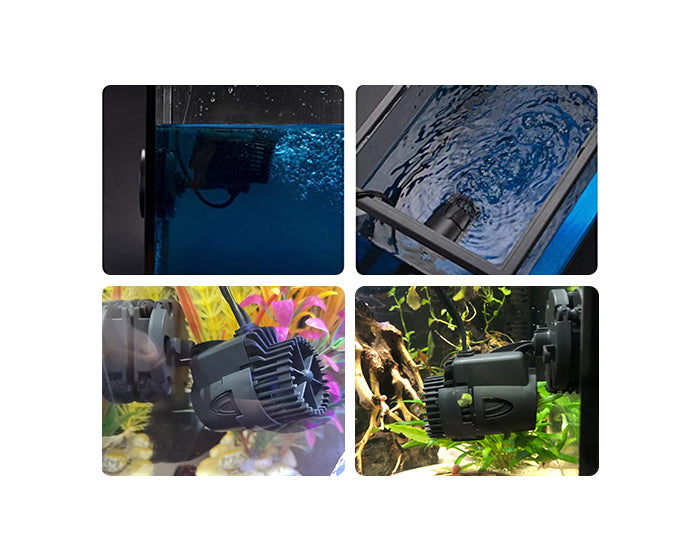 360 Degrees Rotatable Pump Head
The pump head can rotate a full 360 degrees with no dead angle, which offers a full control of the water flow direction to create natural water motion. The anti-reverse design effectively controls overturn, which protects the motor from damage. Oil-free environmentally friendly motor makes no pollution to the living circumstances.
Ultra Quiet Operation with High-quality Material
The strong magnetic suction cups and shock absorber nails reduced vibration effectively, which makes the pump running quietly.

After optimizing the angle of the propeller, it becomes more powerful.

Built with wear-resistant and anti-corrosion titanium impellers, it is suitable for freshwater and saltwater aquariums.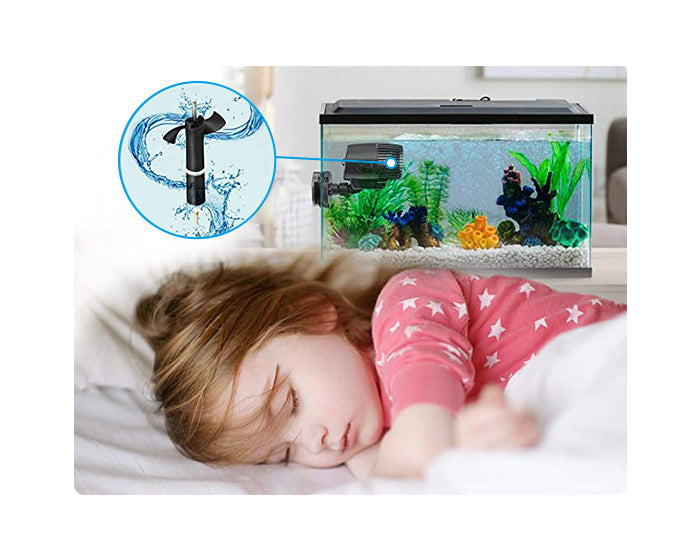 Common Faults and Solutions

The Wavemaker Pump Works with Much Noise

Solution 1: Confirm whether the wave pump is completely immersed in the water.
Solution 2: Confirm whether the voltage is 110 V / 60 Hz. 50 Hz frequency will cause big noise to the wave pump.
Solution 3: Disassemble the pump. Wave pump inspection, whether there is anything stuck near the propeller

The Wavemaker Pump Does Not Work

Solution 1: Please check whether it is burnt out.
Solution 2: Disassemble the pump body, and check if there is something stuck in it.
Directions for Use

Step 1: Assemble the main pump body with magnetic base.

Step 2: Mount the pump in the desired location.

Step 3: Plug in (Voltage should be 110 V / 60 Hz).
Warm Tips

1. Make sure the pump is fully submerged for quiet operation.

2. Use the articulating ball joint to rotate the pump to your desired location.

3. Use the modulator on the air pump to adjust the air flow volume, thereby controlling the amount of air bubbles produced.

4. The strong magnetism may cause the glass to burst, please be careful. The magnet should be pulled off and slowly attracted.
Product Parameters
Model
Power
Max Flow Rate
Voltage / Frequency
Power Cord Length
Pump Size
Recommended Glass Thickness
Applicable Tank Size
AQ-004
3 W
530 GPH
110 V / 60 Hz
6.2 Feet
2.36'' D x 3.94'' H
4 mm - 8 mm
≤ 60 cm Long
15 W
2100 GPH
2.56'' D X 6.3'' H
4 mm - 12 mm
90 cm - 120 cm Long
Packing List
Wavemaker Pump x1
User Manual x1
AQQA 360° Rotatable Aquarium Wavemaker Circulation Pump
Usre Manual
Question:
Does this also act as a circulation pump?
Answer:
Yes, it can be used for that purpose. Movement of water always helps as the fine particles are then suspended and can be easily removed by filtration.
By Aqqa SELLER on July 27, 2021
Question:
Can this be used in a 35 gallon tank would the waves be too strong.
Answer:
I use it in a 72" 125-gallon tank and it really moves the water along. I guess you just need to make sure the fish you have like a strong current. Its a great circulation pump for sure!
By Russell R Linker III on September 22, 2021
Question:
Hi, does it need an additional controller?
Answer:
Hi. You can use it as is, but it's not variable speed unless you use a controller. The 3w wave pump with a adjusting ring, it may help you.
By Aqqa SELLER on July 24, 2021