AQQA [ AQ085-30CM-US ]
AQQA LED Aquarium Light Full Spectrum Fish Tank Light
14W classic aquarium light
Daylight and three types of light modes
Full-spectrum LED & High color rendering index
5730 High-brightness lamp beads
Adjustable and extendable bracket
Suitable for freshwater plants
AQQA LED Aquarium Light Full Spectrum Fish Tank Light
5730 LEDs & High-definition Translucent
All use 5730 high-brightness lamp beads, high color rendering,high clarity and transparency, bright colors. The light goes directly to the bottom of the fish tank, making the fish tank more translucent and more ornamental. It can restore the original colors of the fish and plants in the tank, making it more natural. It can last up to 20000 hours of lighting.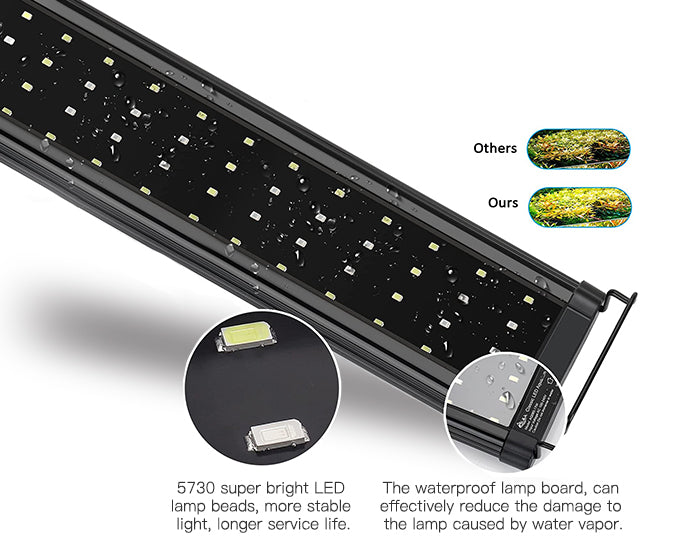 3 Color Light Modes
3 light modes can be set: ①White ②2 rows light White+Blue+Red+Green ③4 rows light White+Blue+Red+Green.
Press the switch once to turn on white light. The full-spectrum bulbs can produce a variety of colors depending on your preferences. Press the switch again to turn off the light.
Press the switch for the third time to turn on mode 2 white+blue. Press again to turn off the light.
Press the switch for the fifth time to turn on mode 3 white+blue+red+green, and that cycle repeats.
Notes: The mode of the light cannot be fixed.
Adjustable and Extendable Bracket
Compared with ordinary lights, the widened panel, 4 rows of lamp beads, thicker height speed up the heat dissipation of the lamp. Use 3.5mm diameter stainless steel bracket, which is stable, durable and can fit most fish tanks. Thickened PVC gloss shell, more beautiful, valuable and functional.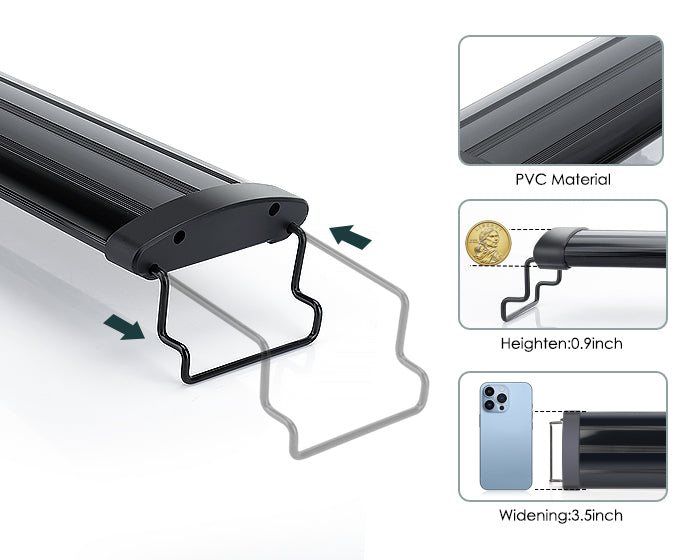 Warnings

1. Carefully examine the appliance after installation. Do not operate it if it has a damaged cord or plug, if it is malfunctioning, or it is dropped or damaged in any manner. The power cord of this appliance cannot be replaced. If the cord is damaged, the appliance should be discarded. Never cut the cord!

2. To avoid the possibility of an electrical hazard, aquariums should be placed to one side of a wall mounted outlet to prevent water from dripping onto the outlet or plug.
A drip loop should be arranged for the cord connecting light to a power outlet. As a part of the cord below the level of the outlet or the connector if an extension cord is used, the dip loop is designed to prevent water travelling along the cord and coming in contact with the power outlet.
If the plug or outlet gets wet, do not unplug the cord. Disconnect the fuse or circuit breaker that supplies power to the light. Then, unplug and examine for presence of water in outlet.

3. This appliance is not intended for use by persons (including children) with significantly impaired physical or mental capabilities, unless they have been given supervision or instruction.
Product Parameters
Model
AQ085-14 W
AQ085-17 W
AQ085-23 W
AQ085-25 W
AQ085-28 W
AQ085-31 W
Light Size (including brackets)
12"(30CM)
18"(45CM)
24"(60CM)
32"(80CM)
36"(90CM)
48"(120CM)
Applicable (Inch Long)
12"~18"
18"~24"
24"~32"
32"~36"
36"~48"
48"~54"
Input
AC 100-240 V
AC 100-240 V
AC 100-240 V
AC 100-240 V
AC 100-240 V
AC 100-240 V
Output
DC24-72V
DC24-100V
LED Quantity
40PCS
(White:24PCS
Blue:6PCS
Red:6PCS
Green:4PCS)
48PCS
(White:32PCS
Blue:6PCS
Red:6PCS
Green:4PCS)
72PCS
(White:48PCS
Blue:10PCS
Red:10PCS
Green:4PCS)
96PCS
(White:66PCS
Blue:12PCS
Red:12PCS
Green:6PCS)
120PCS
(White:84PCS
Blue:14PCS
Red:14PCS
Green:8PCS)
128PCS
(White:84PCS
Blue:18PCS
Red:18PCS
Green:8PCS)
Lumens
773lm
1055lm
1319lm
1589lm
1942lm
1949lm
Color Temperature (Kelvin)
6500-10000 K
Power Cord Length (Feet)
1.8m(5.9ft)
Packing List
LED Light x1
Switch box x1
Metal brackets x2
User Manual x1