AQQA Lithium Battery Aquarium Air Pump
Why You Need a Lithium Battery Air Pump
If you are confused by the following troubles:

1. There is a sudden power failure, but you want the air pump to continue to work.
2. You need to move your fish tank, go out with fish, or go fishing, but there is no equipment to provide oxygen to the fish.
And so on...

A rechargeable lithium battery air pump is your life saver. The air pump is very compact, you can carry it easily when you need to go out with it. With USB charging jack, you can even recharge it with notebook, power bank, vehicle USB, or any other USB power supply.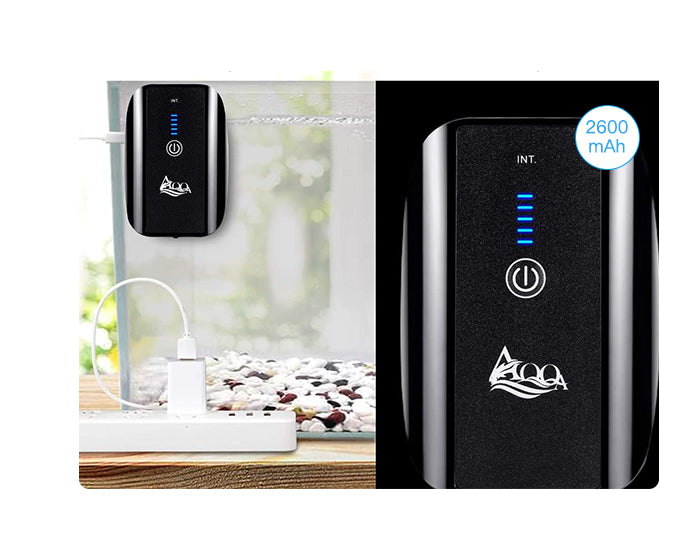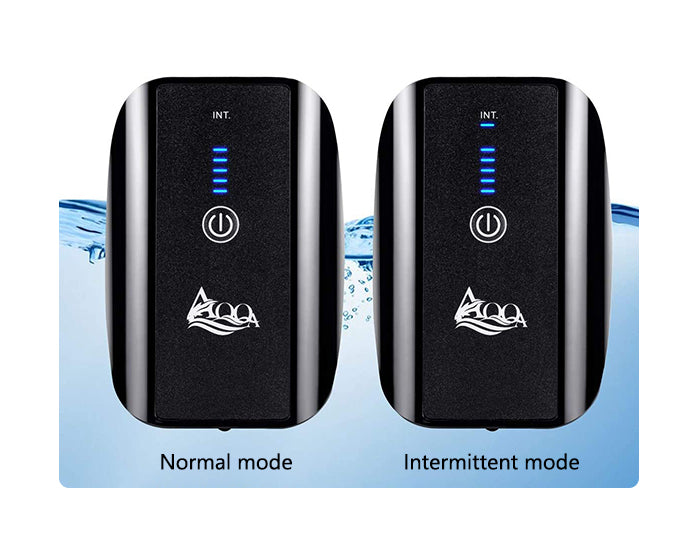 Two Working Modes
You can set the air pump to work in normal mode or intermittent mode.

Press the power button once to start the air pump, it is in normal mode by default.

Press the power button again, it will switch to intermittent mode. In intermittent mode, the INT indicator is on. The air pump works for 10 seconds and rests for 10 seconds, which can save energy effectively.
Blue HD Battery Indicator Display
Blue power light on the pump clearly shows the battery level and the working mode of the air pump.

When the air pump is working in intermittent mode, the intermittent (INT) indicator light will be on.

When charging, the 5 grid lights will flash. The indicator light will stop flashing and remain on when the battery is fully charged. The light will gradually go out along with the battery power reduction.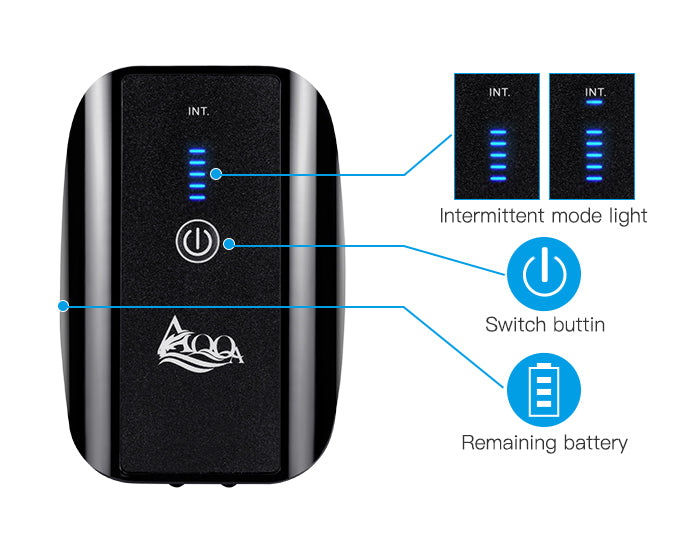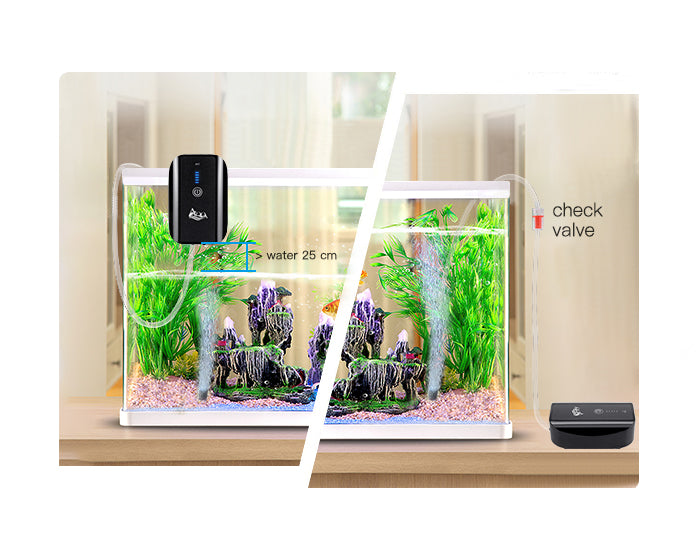 Two Ways to Install the Air Pump
There are 2 different ways to install the air pump. Both ways can effectively avoid water backflow.

Way 1: Place the air pump below the level of the water surface in the tank with a check valve.

Way 2: Place the air pump 25 cm (approximately 10 inches) higher than the surface of water.
Widely Used Compact Air Pump
AQQA lithium battery air pump is an excellent emergency aquarium oxygen pump that is suitable for both freshwater and marine aquariums, seafood stall, fish / seafood transportation, outdoor fishing, and so on.

The thoughtful design of the back hook and small size makes it very portable. It can be hung on the fish tank, seafood box, fishing bucket, etc.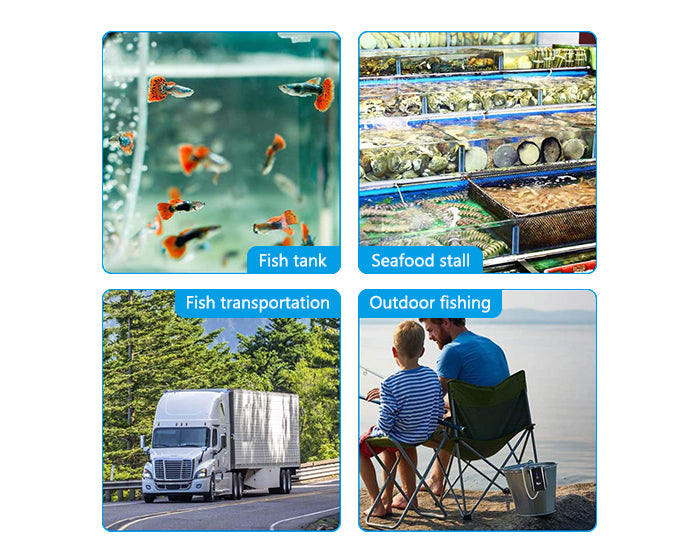 Product Parameters
Model
AQ-012
Power
1.7 W
2.5 W
5 W
Voltage
AC 100 - 240 V, 50 / 60 Hz
Max Air Flow
1.7 L/Min
2.5 L/Min
3.5 L/Min
Pressure
0.01 MPa
0.02 MPa
0.03 MPa
Noise Level
≤ 30 dB
Power Cord Length
2.5 Feet
Applicable Tank Size
Up to 100 Gallons
Up to 140 Gallons
Up to 160 Gallons
Dimension
3.9'' x 2.8'' x 1.4''
4.7'' x 3.35'' x 1.4''
Lasting Work Time
14-18 Hours
12-16 Hours
10-12 Hours
Intermittent Work Time
25-28 Hours
20-22 Hours
14-16 Hours
Battery Capacity
2600 mAh
3500 mAh
Outlet Quantity
1
2
Packing List 1.7 W Air Pump Package:
Air Pump x1
Air Stone x1
Air Tube x1
Adapter x1
Data Cable x1
User Manual x1


2.5 W and 5 W Air Pump Package:
Air Pump x1
Air Stone x2
Air Tube x2
Adapter x1
Wire Cord x1
User Manual x1