Hygger 4-Gallon Glass Aquarium Kit
Perfect Aquarium Kit for Starters
The starter kit includes a 4-gallon glass fish tank, a submersible water pump, an LED lighting hood, and 2-pack filter cartridges replacement. You only need to add gravel, fish, plant, and ornaments to complete the aquarium.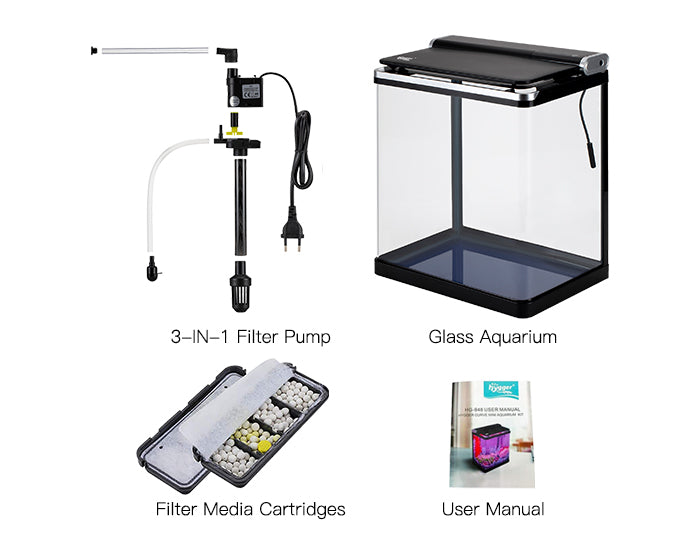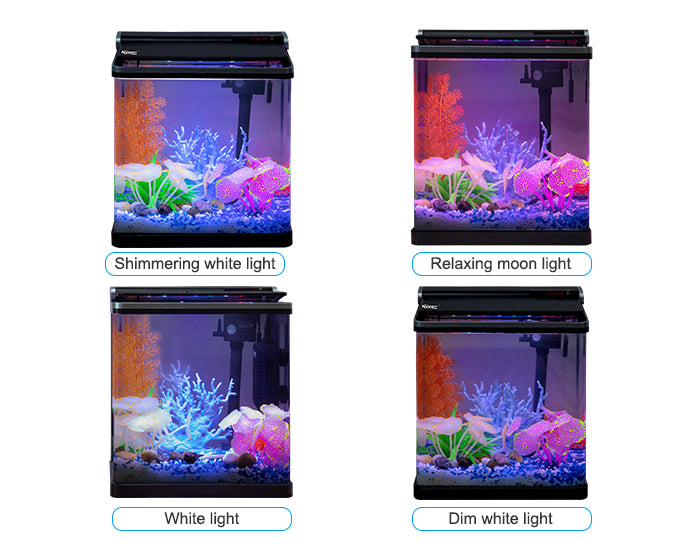 4 Modes of Touchscreen LED Light
Simply touch the button next to the digital number of the aquarium lid to switch from shimmering white daytime effect to relaxing moon light for night. 4 lighting modes with white, blue, red, and green LED bulbs are available.

The light effect and LED bulbs combinations are listed as below:

Shimmering white light: 7 white + 4 red + 2 blue + 1 green

Relaxing moon light: 2 white + 4 red + 1 blue + 1 green

White light: 5 white + 1 blue

Dim white light: 7 white + 4 red + 2 blue + 1 green
Quiet 3-in-1 Water Pump Included
This fish tank comes with a 3-watt submersible pump that helps water cycling while the bio ball filter cartridge box helps to clean water, absorb odors and discoloration. So the system integrates 3 functions in one stop: water filtration, water circulation, and aeration.

After connected with air tube, it produces bubbles that will agitate the water surface.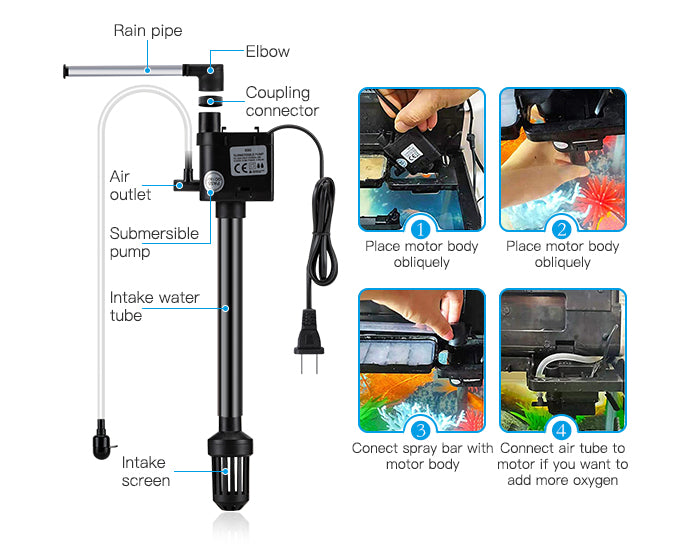 Quick Setup Guide

Step 1: Clean the tank and filter by clean water and towels. Do not use chemicals not intended for aquarium use.

Step 2: Place the tank on a level, sturdy, and completely flat surface in your desired location. Keep it away from direct sunlight and air vents.

Step 3: Rinse gravel and decoration, then decorate your aquarium before adding water to avoid over-filling.

Step 4: Rinse the filter media cartridge and other filter parts, then fit the submersible pump into the preformed hole as the following instruction:

#1 Connect the intake screen to the intake pipe.
#2 Make the submersible water pump slant, then place it into the preformed hole.
#3 Connect the intake pipe to the water pump firmly.
#4 Position the water pump close to the right border, then use the orientation rib to position is correctly.
#5 Connect the air tube to the joint and put the other end of the tube out of the tank.
#6 Place the filter media cartridge on the left preformed hole, then use the orientation rib to position it correctly.
#7 Place the coupling connector on the outlet of the submersible pump, then connect the elbow with rain pipe together. Also, connect the elbow to coupling connector and place the rain pipe above the filter media cartridge. Then use the orientation rib to position it correctly.

Step 5: Fill the tank with room temperature tap water. Make sure the submersible pump is fully submerged in water. Water level must be to bottom outer edge of hood for proper filter operation.

Step 6: Treat the tank water with aquarium conditioner to remove chlorine.

Step 7: Plug in the LED light and power filter, and turn it on.
Product Parameters
Fish Tank
| | | | | | |
| --- | --- | --- | --- | --- | --- |
| Model | Material | Thickness | Dimension | Weight | Range of temp show |
| HG-948 | Glass | 4 mm | 28.5× 19× 32cm | 2.35 kg | 000-999°F |
LED Light
| | | | |
| --- | --- | --- | --- |
| Power | Voltage/Frequency | LED Quantity | Length of Wire |
| 7 W | 100-240 V, 50/60 Hz | 7 white + 2 blue + 4 red +1 green | 5 Feet |
Submersible Water Pump
| | | | | |
| --- | --- | --- | --- | --- |
| Power | Voltage/Frequency | H.Max | Q.Max | Length of Wire |
| 3 W | 110 V / 60 Hz | 50 cm (1.65 ft) | 400 L/h (106 GPH) | 1.5 m (5 ft) |
Packing List
Aquarium glass tank with LED Hood x1
Submersible Water Pump x1
Filter Media Cartridges x1
User Manual x1