Hygger [ HG906-US ]
Hygger 8-Gallon Glass Aquarium Kit

Free Shipping & Return On All Orders!
7W power 110GPH filter pump 
8 gallon LED glass aquarium kit
3 LED light modes
3D rockery background decoration
Extendable and adjustable mounting brackets
Durable and ultra-transparent glass fish tank
18W colored led light with external controller
Hygger 8-Gallon Glass Aquarium Kit
Description
Specification & Package
Instructions
FAQ
All-in-one Aquarium Kit
This aquarium kit includes one internal power filter pump (7 W, 110 GPH), one colored LED light, one 8-gallon glass tank with a decorative 3D rockery mountain background. The 3D background makes the whole aquarium looks cool like a dream world underwater. Besides, it is a great rest and play spot for little fish. You can plant some green grasses on the rockery mountain as well.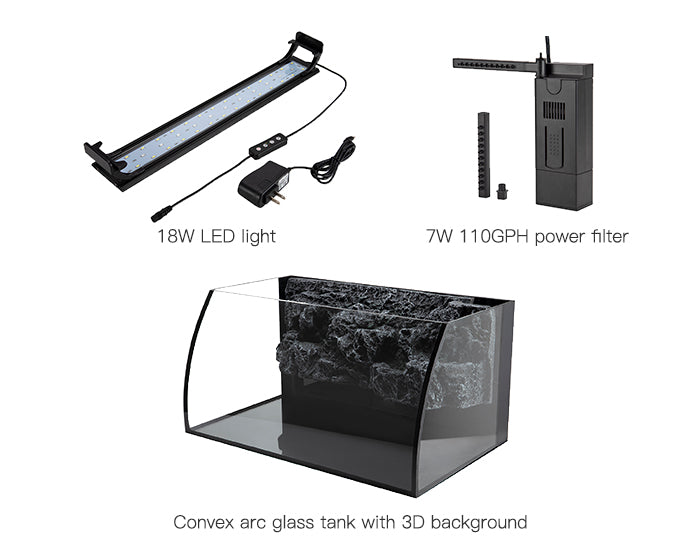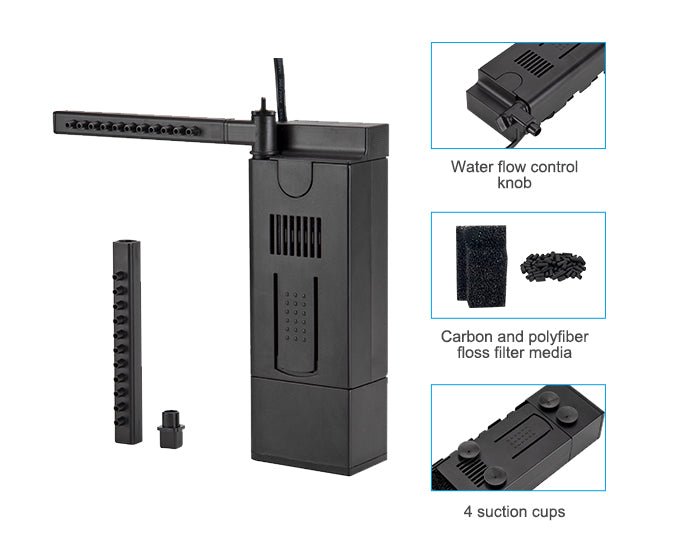 Low Water Line Power Filter
The aquarium power filter is a super quiet and durable filter that can be used for low water line (lowest water line is 2.5 inches), and can be installed vertically or horizontally. The upper part is the 2-stage filtration system to provide crystal clear water for your aquarium. The bottom part is water pumping system to pump the water upward. You can adjust the water flow by rotating the knob at the top of the filter.

Note: This filter may be too strong for small fish that is not longer than 2 inches. So if you keep small fish in the tank, please don't run the filter or don't run it all the time.
Colored Adjustable LED Light
With extendable mounting brackets, the aquarium LED light length can be adjusted from 0 to 19 inches. With the external digital controller, you can set the lighting time to 3 hours, 6 hours, or 12 hours; Adjust the light brightness from 100% to 10%, 5 levels of brightness in total; Shift the light modes: White LEDs, Blue+white+red LEDs, Red+ blue LEDs.

We use waterproof glue to fill the seams, which will prevent water drops from going into the light. However, it is not an underwater used LED light, so don't put it into water.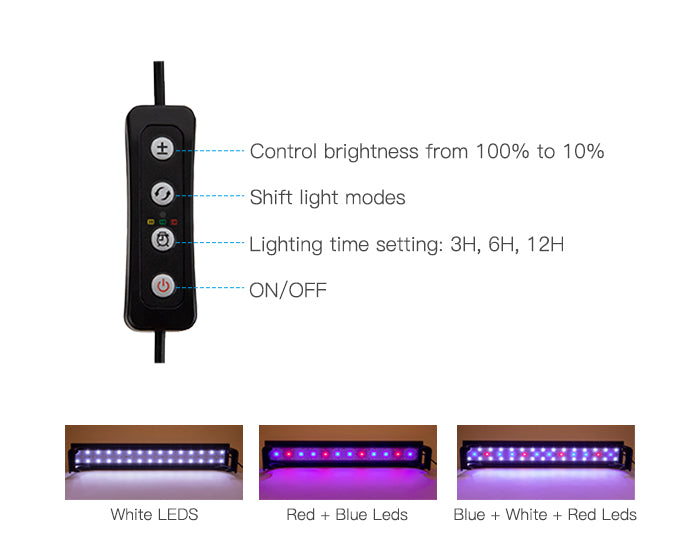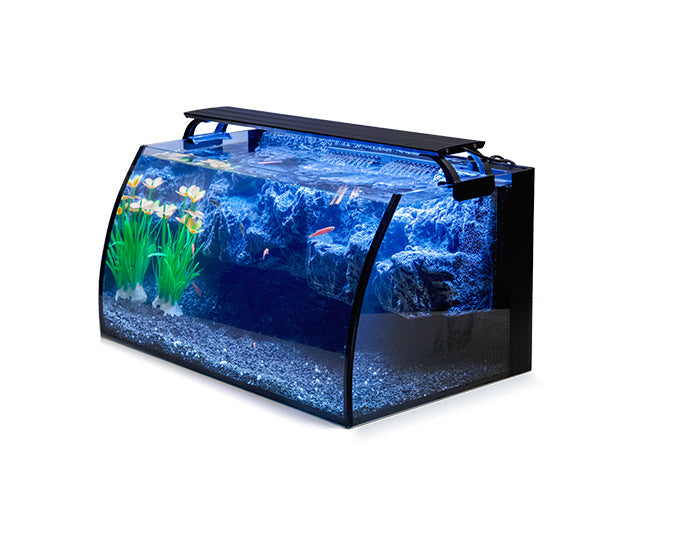 8-gallon Glass Tank with 3D Rockery Background Decoration
The tank is made of durable and ultra-transparent 5 mm thick glass. The unique convex arc curve shape will widen your view on the aquarium and can hold more capacity of water. Without aquarium cover, it is easy to install an automatic fish feeder on the tank wall.

The 3D rockery background is made of non-toxic resin, and it is firmly fixed to the background of the tank. Please don't remove it, or it may be damaged. It makes a mysterious world for the aquarium. No need to buy other decorations.
Quick Setup Guide

Step 1: Clean the tank and filter by clean water and towels. Do not use chemicals not intended for aquarium use.

Step 2: Place the tank on a level, sturdy, completely flat surface in your desired location. Keep it away from direct sunlight and air vents.

Step 3: Fill the tank with room temperature tap water treated with aquarium conditioner to remove chlorine.

Step 4: Rinse the power filter cartridge and assemble it, then fit the power filter into the preformed hole with the suction cups.

Step 5: Position the extendable LED light to the top of the tank properly.

Step 6: Plug in the LED light and power filter, and turn the power on.

Note: If you need to add gravel or separate decorations to your aquarium, please add them before adding water to avoid over-filling.
Tips to Keep a Successful Aquarium

1. Keep the LED light on for a maximum of 8 hours per day.

2. Change 25% of the water once a week.

3. Keep a proper water level in order to keep the power filter working.
Product Parameters
Fish Tank
Model
Tank Materila
3D Background Material
Dimension
Tank Volume
Max Water Volume
HG-906
Glass
Resin
19" L x 11.8" W x 9.6" H
(The upper width is 8.7")
8 Gallons
6 Gallons
LED Light
| | | | |
| --- | --- | --- | --- |
| Power | Input | Output Voltage | Extendable Brackets Length |
| 18 W | AC 100-240 V, 50-60 Hz | DC 12 V | 0-19 inches |
Internal Filter
| | | | | | |
| --- | --- | --- | --- | --- | --- |
| Power | Voltage | Max Flow Rate | Dimension (L x W x H) | Lowest Water Line | Cable Length |
| 7 W | 110-120 V, 60 Hz | 110 GPH | 2.4 x 1.6 x 6.8 (inch) | 2.5 inches | 4.3 Feet |
Packing List
Aquarium Glass Tank with 3D Background x1
Extendable LED Light with Controller x1
Internal Power Filter x1
User Manual x1