Hygger [ HG908-D-S ]
Hygger Aquarium Double Sponge Filter

Free Shipping & Return On All Orders!
Keep fish tank water sparkling clean super quiet and more delicate bubbles
More efficient and durable
Mechanical dissolved oxygen and cultivate beneficial bacteria
Easy to set up and clean
Suitable for shrimps, bettas, tropical fish, planted tanks or others
Can be run by most air pumps (larger than 5W)
Hygger Aquarium Double Sponge Filter

]


Description
Specification & Package
Instructions
FAQ
Multifunctional Aquarium Filter
With an air pump as the power source, this sponge aquarium filter combines bio-filtration, oxygenation, and physical filtration in one. The sponge can absorb fine particles to purify the water.

This filter also makes small water flow that is controlled by the air flow. The water flow is small and slow so that it does not impact the fish. It helps your small fish or shrimp to live a happy, healthy life.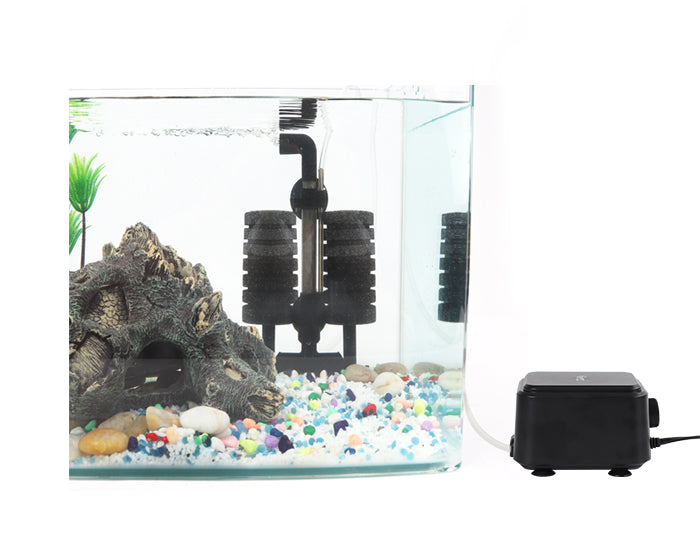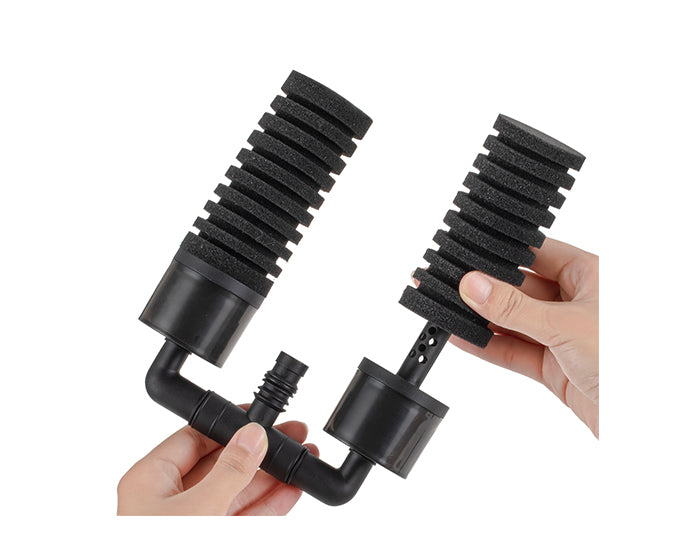 Detachable Fine Filter Sponge
There are 2 kinds of filter material: filter cotton (sponge) and filter ceramic media. You can easily clean or replace the 2 sponges by taking them down from the filter. Note that don't use tap water to clean the sponges. Rinse or squeeze them with the aquarium water. The 2 sponges are fine 60 PPI (Pores Per Linear Inch) which means more surface area for beneficial little creatures to live on.
Replaceable Bio Filter Media Balls
The media balls provide a surface where helpful tiny creatures can live quickly. The filter package includes a small bag of ceramic media balls. 0.25 lb for small size, and 0.27 lb for medium size.

You can replace this ceramic media with other medias like carbon, ammonia absorbers, and anything that can keep your water sparkling clean. It is suggested to replace the ceramic media balls every 6 months or when the water permeability turns poor.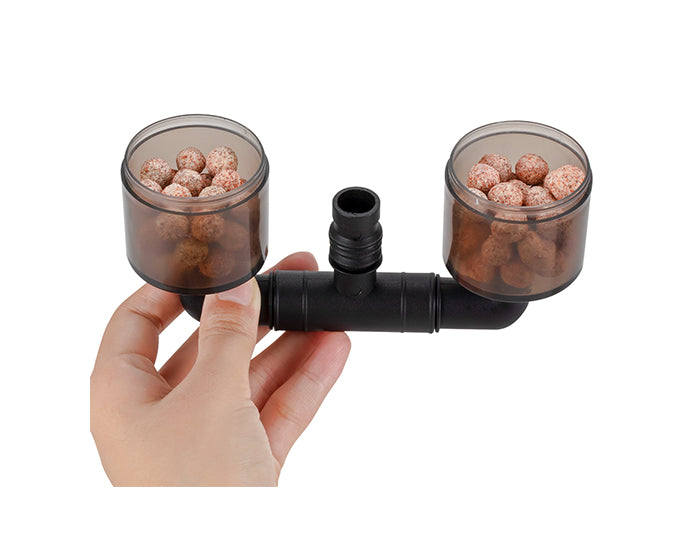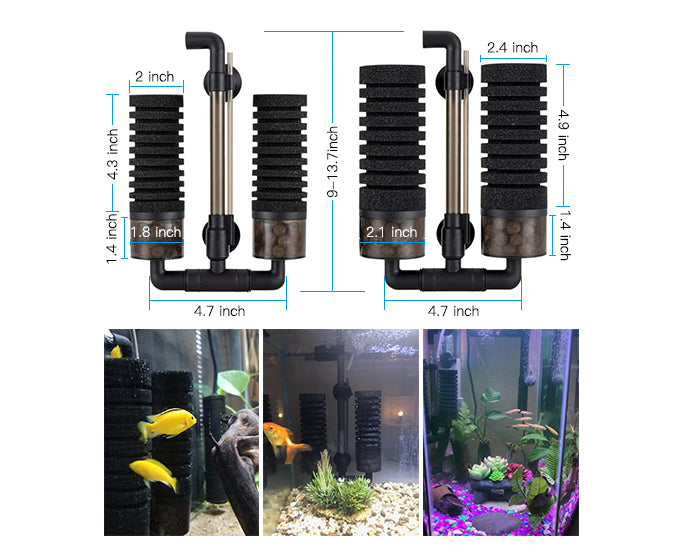 Suitable for Small and Medium Size Tank
The small sponge filter is suggested to be used for 10-40 gallons fish tanks. The medium sponge filter is suggested to be used for 15 to 55 gallons fish tanks. For larger tank, you may need 2 of this filter. Suitable for freshwater and saltwater shrimp tanks, betta fish tanks, breeding ponds, goldfish, discus, crayfish, deep-fresh fish, juvenile fish, and other fish.
Easy to Set Up the Aquarium Filter
Step 1: Remove the 2 spare sponges from the filter media container.

Step 2: Open the ceramic pearls package. Rinse two sponges, the ceramic pearls, and all parts with clean water from tank in order to remove any debris or dust.

Step 3: Soak the two sponges and ceramic pearls in tank water for 10 minutes.

Step 4: Divide the ceramic pearls in half and pour into the two ceramic pearls containers, then secure the lid to the ceramic pearls container well.

Step 5: Secure the two sponges to the filter.

Step 6: Install the suction cups onto the outlet pipe.

Step 7: Install the retractable outlet pipe on the T-connector.

Step 8: Place the filter on the back wall of the aquarium with two suction cups. Make sure the double sponge filter is oriented vertically, otherwise the pipe will be blocked by the ceramic pearls.

Step 9: Connect the filter to air pump with an air tube, equipped with a check valve on the air tube to prevent flow-back of water during power failure.

Step 10: Make sure all the connection is firm, then turn on the air pump.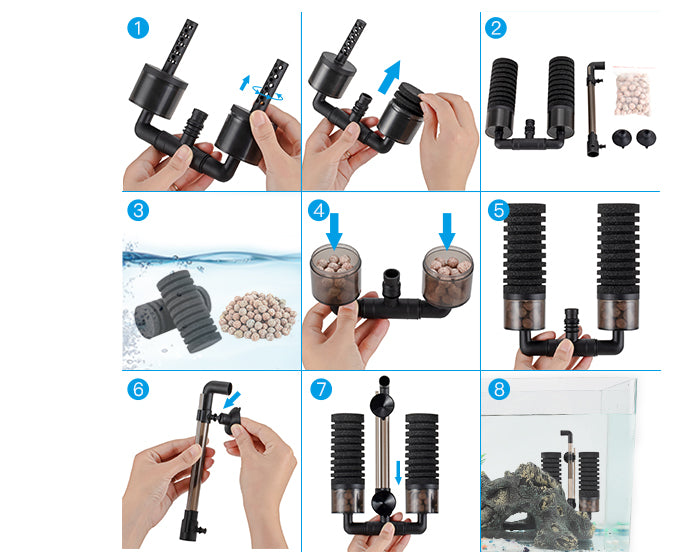 Warm Tips to Use the Aquarium Filter

1. When using for the first time, squeeze the sponge filter into the water tank for 5 minutes, which makes it easy to filter.

2. Use the water in the aquarium instead of tap water when washing the sponge.

3. It is recommended to replace the sponge and bio ceramic balls every 6-8 months.

4. This aquarium filter needs to be equipped with an separate air pump.
Product Parameters
Model
Size
Sponge Dimension
Inner Diameter of Sponge
Applicable Tank Size
Applicable Air Pump
Retractable Outlet Pipe Length
Capacity of Ceramic Pearls Container
HG-908
S
1.97"D x 4.33"H
0.51"
< 40 Gallons
2.5 W
6.1" - 9.25"
100 ml
M
2.36"D x 5.12''H
0.62"
< 55 Gallons
4 W
200 ml
Packing List
Retractable Outlet Pipe with Air Tube Connection x1
Double Sponge Filter with Media Container x1
A Bag of Ceramic Media Balls x1
Suction Cup x2
Sponge Replacement (In Filter Media Container) x2
User Manual x1
Question:
Can it be used with a 1.5 watt pump in a 10 gallon tank?
Answer:
Hello, it also depends on water depth, air pressure, and air volume. So 1.5 watt pump maybe can used. However, I still recommend using a large wattage air pump, it is mas better.
By Jnkany SELLER on February 19, 2021
Question:
Instead of using ceramic can i put activated carbon in these?
Answer:
Hello, this filter cartridge can replace other media.
By Jnkany SELLER on August 17, 2021
Question:
Would a 15 gallon pump work ok with this?
Answer:
Hello, our sponge filter can be used with your air pump, thank you.
By Jnkany SELLER on September 7, 2021
Question:
What voltage is this ?
Answer:
No voltage at all. It is to be connected to an air pump outside the tank. There are various sizes of air pumps that would work. Most of these are relative low wattage unless you get a central pump to run multiple filters.
By Mary Anne Smith on March 3, 2021