Hygger [ HG946-10W-US ]
Hygger Adjustable ECO Air Pump

Free Shipping & Return On All Orders!
Adjustable oxygen pump
Energy-saving
Double air outlets
Stable and durable
Noise reduction motor
Adjustable air pump
ABS environmentally-friendly plastic case
Hygger Adjustable ECO Air Pump
Description
Specification & Package
Instructions
FAQ
Air Flow Adjustable
You can adjust the volume of air flow with the control knob on the top. The 2 air outlets fit for 3/16" standard airline tubing. Customize the proper air flow to get the best performance of your air pump driven equipment. Please note that the air pump does not include any accessories such as air tube and check valve.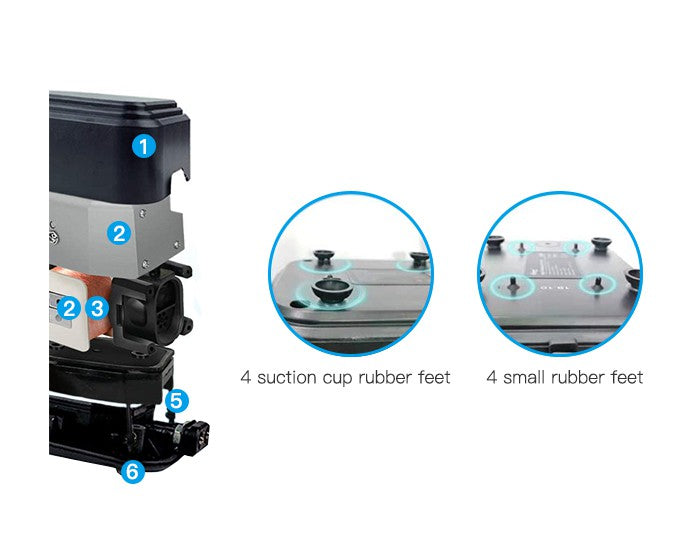 Super Quiet Design
We made all possible effort to reduce the noise of this air pump.
1. ABS plastic cover and sealing machine to reduce noise.

2. Stainless steel cover locked motor sound which greatly separated mechanical noise.

3. Noise reduction motor to reduce wind resistance and reduce noise.

4. Suspended motor ensures the casing and the motor will not be in contact with each other to prevent noise.

5. Internal support feet ensures the motor chamber does not touch the bottom of the casing, thus to reduce noise.

6. 8 bottom rubber shock absorber feet reduced vibration of the pump body and bearing surface.
Dual Air Outlet
This aerator pump has 2 air output ports. It's easy and simple to use 2 air discs or aerobic filtration equipment together. The low air output produces dense air bubbles which are suitable for small and medium fish tanks with small amount of fish. The high oxygen output produces even bubbles which are suitable for large tanks with a large number of fish.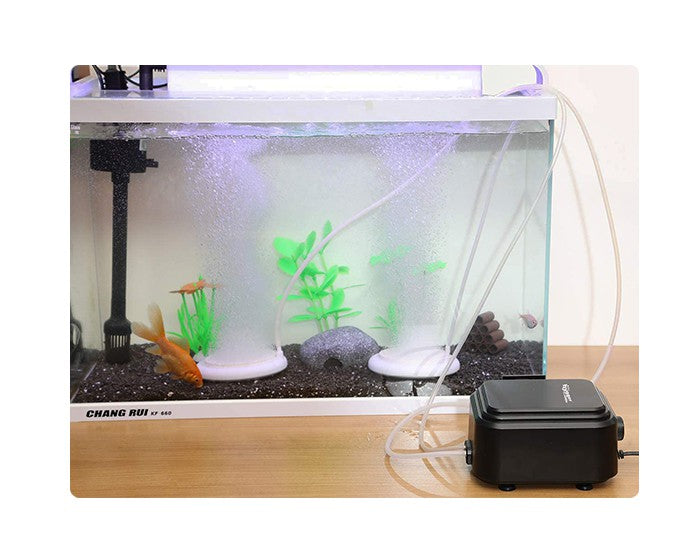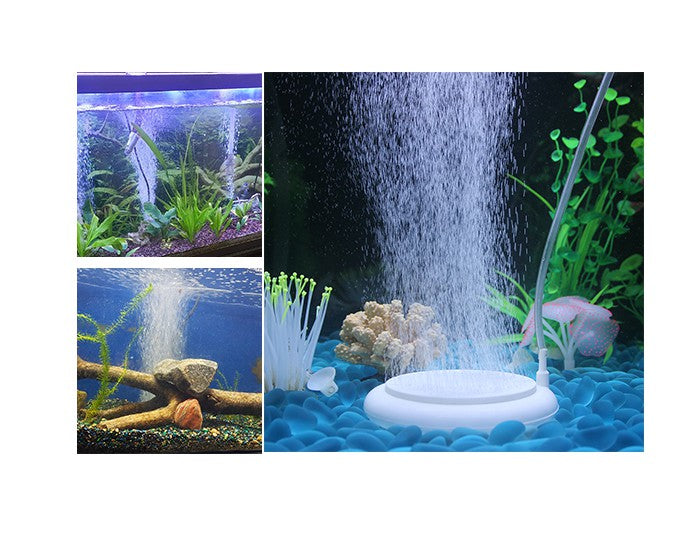 Versatile Aerator Pump
All air driven equipment such as nano air stone, biochemical sponge filter, landscaping windmill rockery, and other aquarium aerobic landscaping equipment are compatible with this air pump. It works for both freshwater and saltwater aquariums, hydropnics, and koi ponds.
2 Ways to Install the Air Pump
Method 1 - Install the Air Pump with Check Valve
If you install the air pump with check valve, there is no height requirement for the air pump position. Refer to "Picture 1" to install the check valve properly.
Method 2 - Install the Air Pump without Check Valve
If you install the air pump without check valve, you need to place it 25 cm higher than the surface of water to prevent the water from flowing backward. Shown in "Picture 2".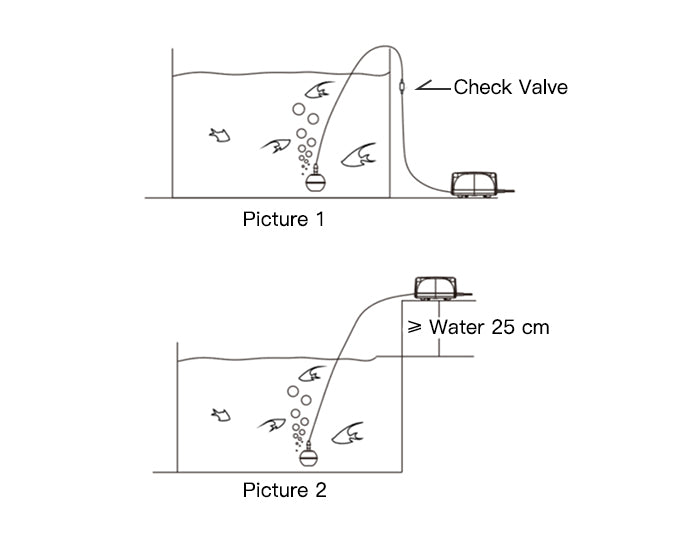 Warm Tips

1. The pump is not submersible, please keep it dry and do not put it into the aquarium.

2. To get the maximum airflow and extend air pump service life, it is suggested to clean the air tube and air stone regularly.

3. For the 5 W air pump, it is recommended to connect 3 devices at most, and the water depth cannot exceed 5 feet.

4. For the 10 W air pump, it is recommended to connect 4 devices at most, and the water depth cannot exceed 6 feet.
Product Parameters
Model
Power
Voltage
Max Air Flow
Water Depth
Nosie
Pressure
Dimension
Applicable Tank Size
HG-946
5W
AC 110-120 V, 60 Hz
160 GPH
5 Feet
<30 dB
0.02 MPa
4.7"×3.9"×3.5"
Up to 150 Gallons
10 W
255 GPH
6 Feet
0.04 MPa
7.5''x5.1''x3.9''
Up to 600 Gallons
Packing List
Adjustable Dual Port Air Pump x1
User Manual x1
Question:
What is the main difference between the 10 watt version and the 5 watt version ?
Answer:
10 watts has 2X the power of a 5 watt motor. I run the 10 watt to operate the under gravel filter on a 55 gallon Chiclid tank and it puts out more than enough air to get the job done . If you have a small tank like a 20 gallon or less get the 5 watt the10 watt will be overkill.
By usmagob SELLER on April 20, 2021
Question:
Can I use a gang valve to shut off one of the outlets?
Answer:
I inserted an inline valve to both of the lines so I can control the exact amount of air to each device, or shut one off completely.
By Bop on April 13, 2021
Question:
Is the air pump quiet?
Answer:
It's the quietest pump I've ever used. I use it to pump air through 50 feet of tubing out to our fish pond. About every time I walk past it I often touch it to see if it's running because I can't see the bubblier from where the pump is and it's so quiet I can't hear it running. I love the control knob on it too.
By Dave on September 13, 2021
Question:
Can I use it for a sponge filter?
Answer:
Hello, you can use it for sponge filters. Thank you.
By Jnkany SELLER on October 30, 2021