Hygger [ HG303-US ]
Hygger Blue White LED Aquarium Light with Gooseneck Clamp

Free Shipping & Return On All Orders!
Super bright led fish tank light
Two lighting modes
Sleek design
Flexible gooseneck clamp
Wide application
Hygger Blue White LED Aquarium Light with Gooseneck Clamp
Description
Specification & Package
Instructions
FAQ
Premium and Safe Material
The light shell is made from ultra-thin aluminium alloy and plastic, which ensures excellent heat dissipation. And the case is made from acrylic which is splash resistant and safe to use. It fits for most rim and rimless tanks (thickness up to 0.9 inch), and suitable for freshwater and marine aquariums, and aquatic plants.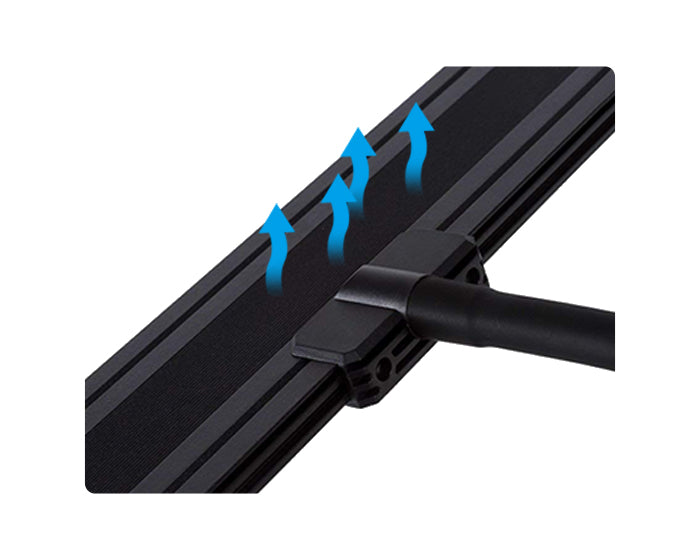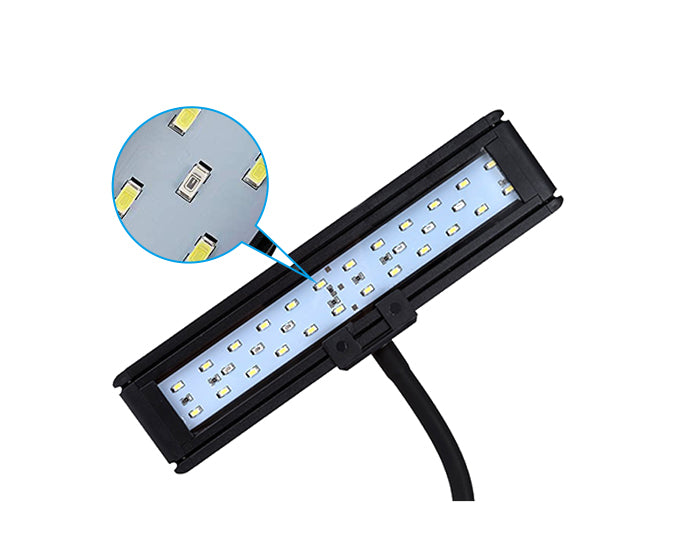 Super Bright LED Light for Your Fish Tank
There are 30 or 45 premium LED bulbs in total according to the size you choose. The LEDs produce amazing shimmer effect to your aquarium and emit enough bright light for a healthy and growth stimulating environment for your fish and other aquatic pets.
2 Lighting Modes
Hygger clip light is designed to provide efficient lighting for your fish as well as other water inhabitants. With the bulbs lasting at least 30,000 hours and putting out 9000K-11000K, these LEDs have the potential to enhance plant photosynthesis. It is a great bright light for small tanks up to 25 gallons.

It comes with two lighting modes: white & blue mode for daylight; and blue mode for nightlight.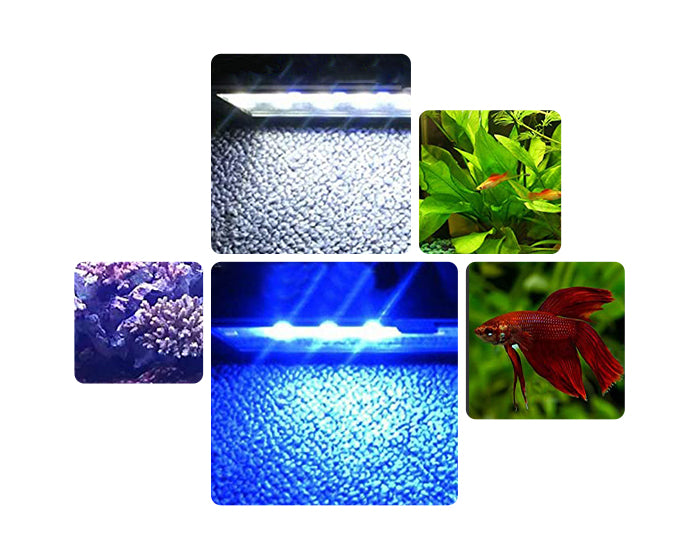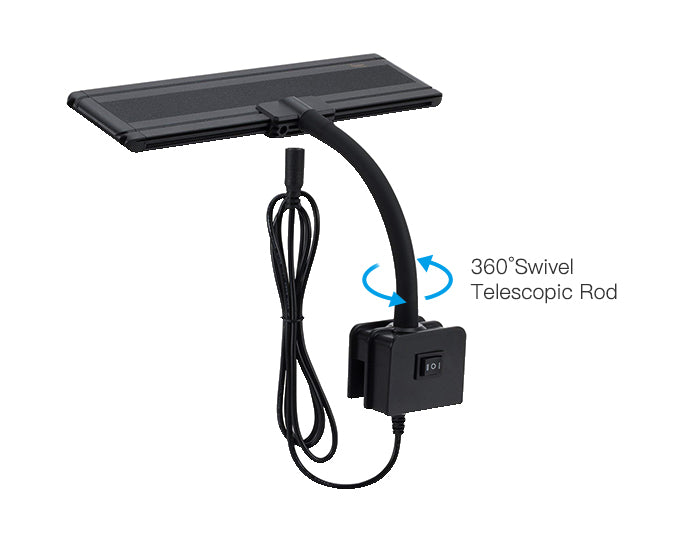 360° Swivel Telescopic Rod
The flexible and adjustable gooseneck clamp can be positioned freely. Just turn the soft arm of the lamp to adjust the angle and position as needed.
Easy to Set Up
Step 1: Connect the adapter to the LED light and plug into power.

Step 2: Press button "I" to switch to moonlight mode (blue light).

Step 3: Press button "II" to switch to daylight mode (white & blue light).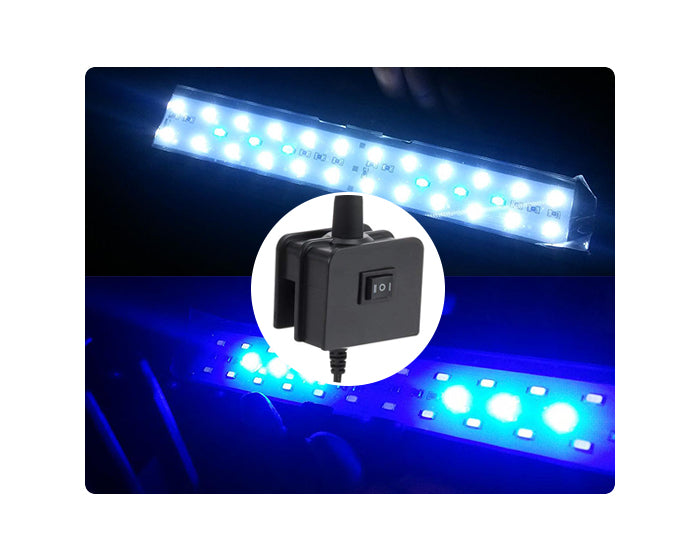 Warnings

1. To avoid possible electrical shock, please keep the power adapter and LED light away from water and moisture because they are not waterproof.

2. If the light falls into the water, or otherwise becomes wet, do not touch it until unplugged.

3. Make sure the light is securely installed before operating it. Carefully examine the light after installation. It should not be plugged in if there is water on parts not intended to be wet.

4. Do not operate the light if it has a damaged cord or plug, if it is malfunctioning, or if it is dropped or damaged in any manner. The power cord of this light cannot be replaced, if the cord is damaged, the light should be discarded.

5. To avoid the possibility of the light plug getting wet, position aquarium stand and tank to one side of a wall mounted receptacle to prevent water from dripping onto the receptacle or plug.
A"drip loop", shown in the figure, should be arranged for each cord connecting the light to the receptacle. The "drip loop" is the part of the cord below the level of the receptacle, or the connector. An extension cord is used to prevent water traveling along the cord and coming in contact with the receptacle. If the plug or receptacle does get wet, DO NOT unplug the cord. Disconnect the fuse to the circuit breaker that supplies power to the light. Then unplug and examine for the presence of water in the receptacle.

6. Close supervision is necessary when the light is used near children.

7. To avoid injury, do not contact hot parts.

8. Read and observe all the important notices on the light.

9. If an extension cord is necessary, a cord with a proper rating should be used. A cord rated for less amperes or watts than the appliance rating may overheat. Take care to arrange the cord so that it will not be tripped over or pulled.

10. The light is intended FOR HOUSEHOLD USE ONLY.
Product Parameters
Model
Power
Input
Output
LED Quantity
Kelvin (K)
Lumen
Cable Length
Applicable Tank Size
HG-3030
13 W
AC 100-240 V50/60 Hz
DC 12 V, 2 A
30 Pieces
9000-1100 K
1330 LM
4 + 4 Feet
3.5-9 Gal
HG-3040
21 W
40 Pieces
1998 LM
10-20 Gal
Packing List
Aquarium Clip Led Light x1
Power Adapter x1
User Manual x1
Hygger Blue White LED Aquarium Light with Gooseneck Clamp
Usre Manual
Answer:
It deeps on how deep and width is your tank. This 21w light is for 10-30 gallon tank. Thanks.
usmagob Seller · October 27, 2021
Answer:
I have this light on my 10g it has two settings a white light setting and a blue light setting and they are both pretty bright
Brenna Franklin · September 26, 2021
Answer:
Sorry, we dnot have the PAR value. As we know, each led is about 50~55 lumen for white ones, 20~25 lumen for blue leds.
usmagob Seller · July 24, 2021
Answer:
This product suits for 10~25 inch (about 25 gal) aquarium tank, so I think this product is little bit small. But you can take two if you want. And please make sure the thickness of your aquarium tank wall is under 13 mm before you order it.
usmagob Seller · July 12, 2021