Hygger [ HG957-26W-US ]
Hygger Auto On Off LED Aquarium Light with Extendable Brackets

Free Shipping & Return On All Orders!
Programmable design with LCD monitor
Daylight and seven types of moonlight modes
Eight-time frame and ten grades of brightness
Full-spectrum LED and Non-flash LED
High color rendering index and super brightness
Highly efficient safety power supply saves energy
Hygger Auto On Off LED Aquarium Light with Extendable Brackets
Description
Specification & Package
Instructions
FAQ
LCD Display Timer
Integrated timer allows multi-function realizable: 24-hour auto cycle mode; DIY mode; Custom light color and intensity; Fine tune lighting; Color gradient loop schedule.

Plus, the timer provides a slow ramp up and down that prevents light shock, which gently acclimates fish to bright lighting. And the memory function keeps local time in sync, and remembers the programming of daylight/moonlight mode and DIY mode.

To learn more operations of the timer, please refer to the Hygger HG-957 Aquarium Light User Manual.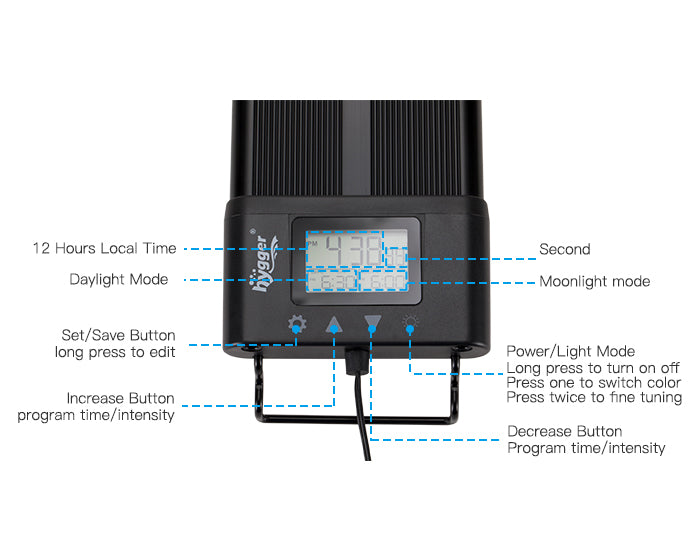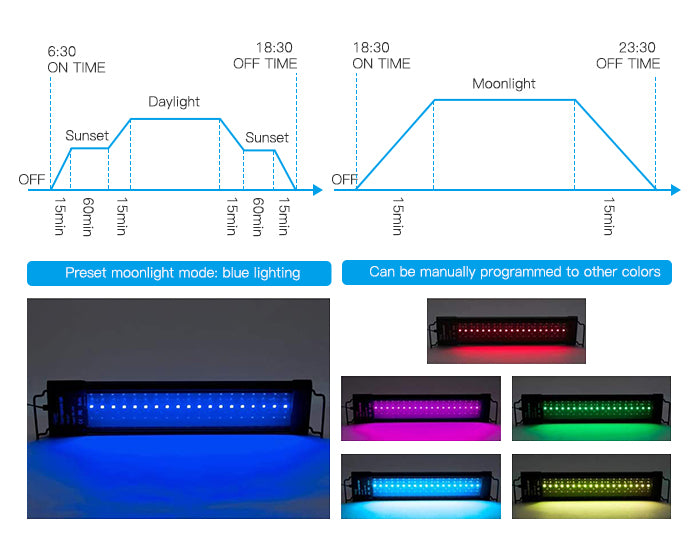 24-hour Auto Cycle Mode
In default auto cycle mode, you can use daylight and moonlight option to create your own custom 24 hours light cycle. Choose auto on/off time, and adjust light color and intensity for moonlight option. Gradual 24-hour light cycle settings simulates sunrise, midday, sunset, and night.

Preset lighting turns on at 6:30 AM and turn off at 11:30 PM (6:30 AM - 6:30 PM daylight, 6:30 PM - 11:30 PM moonlight). You can change the start and end time of the light according to your own needs. In this mode, the daylight light color is white full spectrum light and it is not able to be changed. The moonlight preset color is blue, and you can change it to which you want.
DIY Mode
To enable DIY mode, please press the settings icon and light iconsimultaneously until the display reads "OFF". Press the arrow up/down button , the display will read "ON". Then press the settings buttonagain to save it. After that, the DIY mode is enabled.

In DIY mode, you can use eight time slots (L1-L8) to create your own custom 24-hour light cycle. On/off time and light intensity for each slot can be customized. But the light is full spectrum only, light colors are not customizable. You can only alter the brightness.

After setting the DIY mode, please remember to reset local time to activate the DIY settings.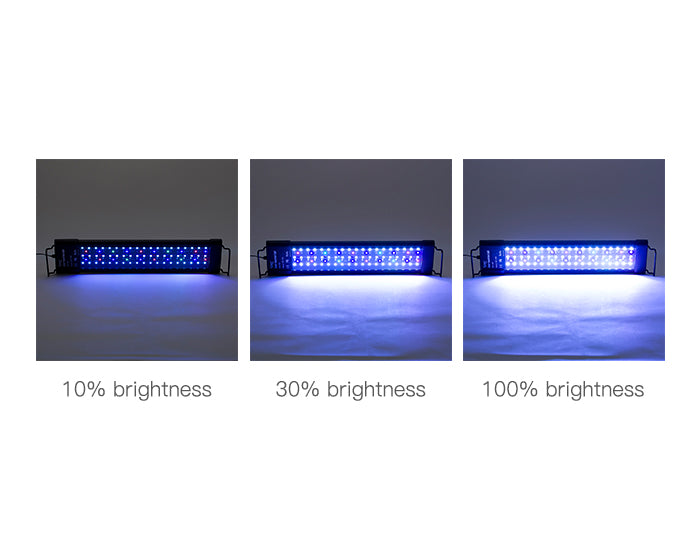 Fine Tune Lighting
In the daylight and moonlight mode (default auto mode), it can be programmed into fine tune lighting mode.

The middle arrays of full spectrum RGB LEDs light can be turned into blue, red, or green by pressing "light setting" button. Resetting local time can program it back to default settings.
Color Gradient Loop
In the daylight and moonlight modes, it can be programmed into color gradient loop mode.

Keep pressing "Light setting" button until lighting mode switched into dark red lighting mode, the color gradient cycle begins. The middle arrays of RGB LEDs slowly turns from red to purple, blue, cyan, green, yellow, and orange with a continuous circulation of color gradient.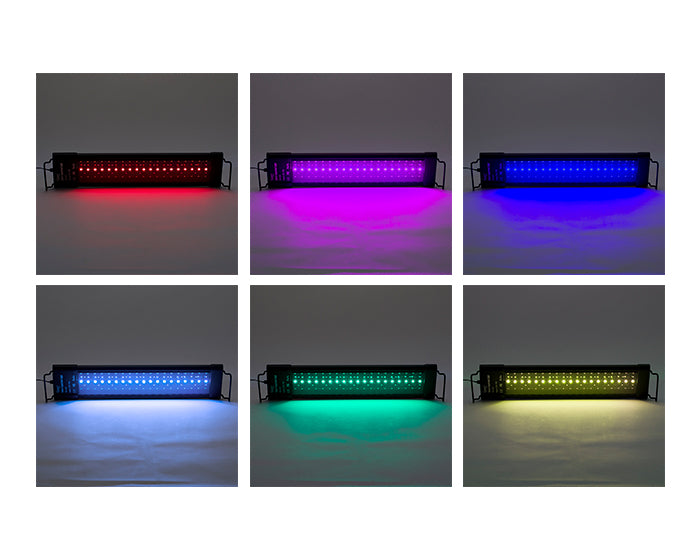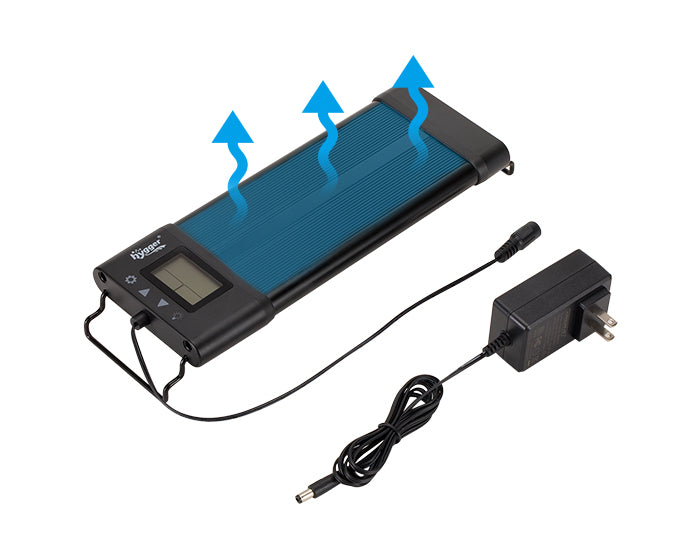 Excellent Heat Dissipation
The fully encased shell with 1.2 mm thick aluminum where the heat sink is fixed onto helps to transfer the heat of the working LED bulbs, which extends its service life.
Water Resistant Shell
This aquarium light shell meets IP68 water resistant rating. So you don't need to worry about splashes or other accidental drops of water on the shell. But the power connector is not waterproof, so please don't get it wet to prevent electric shock.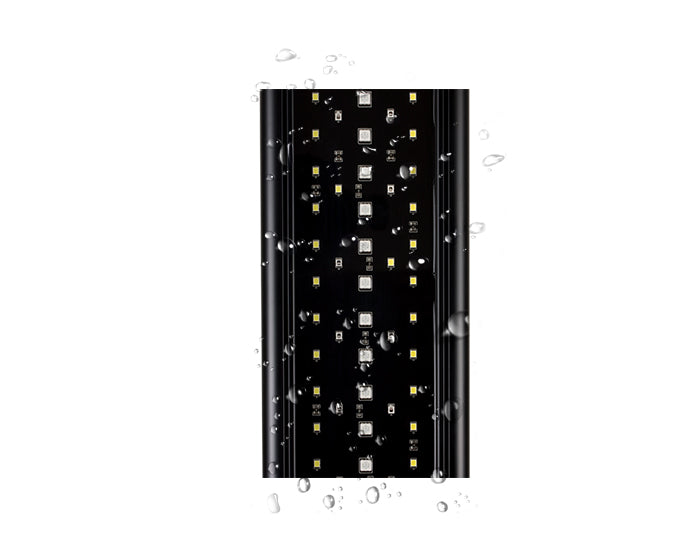 Warnings

1. Carefully examine the appliance after installation. Do not operate it if it has a damaged cord or plug, if it is malfunctioning, or it is dropped or damaged in any manner. The power cord of this appliance cannot be replaced. If the cord is damaged, the appliance should be discarded. Never cut the cord!

2. To avoid the possibility of an electrical hazard, aquariums should be placed to one side of a wall mounted outlet to prevent water from dripping onto the outlet or plug.
A drip loop should be arranged for the cord connecting light to a power outlet. The drip loop is the part of the cord below the level of the outlet, or the connector if an extension cord is used, to prevent water travelling along the cord and coming in contact with the power outlet.
If the plug or outlet gets wet, do not unplug the cord. Disconnect the fuse or circuit breaker that supplies power to the light. Then, unplug and examine for presence of water in outlet.

3. This appliance is not intended for use by persons (including children) with significantly impaired physical or mental capabilities, unless they have been given supervision or instruction concerning the use of the appliance by a person responsible for their safety. Children should always be supervised to ensure that they do not play with the appliance.

4. To avoid injury, do not touch moving or hot parts.

5. Always unplug or disconnect all appliances in the aquarium from power supply before placing hands in water, before putting on or taking off parts, and while the equipment is being installed, maintained or handled. Never yank the cord to pull plug from the outlet. Grasp the plug and pull firmly to disconnect. Always unplug the light from an outlet when not in use.

6. Do not install or store the appliance where it will be exposed to weather or temperatures below freezing. For indoor household use only. Do not immerse it.

7. Make sure the appliance is mounted correctly and securely on the aquarium before operating.

8. If an extension cord is necessary, a cord with proper rating should be used. A cord rated for less amperes or watts than the appliance rating may overheat. Care should be taken to arrange the cord so that it will not be tripped over or pulled. The connection should be carried out by a qualified electrical installer.

9. The outlet should be installed near the equipment and be easily accessible.

10. This light can be mounted on any glass aquarium as long as the thickness is more than 3mm.

11. The mounting legs help prevent the light from slipping into the aquarium by accident during maintenance. To avoid possible electrical shock, do not immerse the light in water. If the light falls into the water, or otherwise becomes wet, do not touch it until you have unplugged it.
Product Parameters
Model
HG-957 20 W
HG-957 26 W
HG-957 36 W
HG-957 48 W
HG-957 60 W
HG-957 72 W
Light Size (including brackets)
30x10x2.2 (cm)
45x10x2.2 (cm)
60x10x2.2 (cm)
75x10x2.2 (cm)
90x10x2.2 (cm)
120x10x2.2 (cm)
Applicable Tank Size (Inch Long)
12-18
18-24
24-30
30-36
36-42
48-55
Input
AC 100-240 V
Output
DC 15 V, 1.5 A
DC 20 V, 2 A
DC 20 V, 3 A
LED Quantity (white+blue+red+green+RGB)
20+4+4+2+10
38+10+6+4+10
64+10+6+ 4+28
79+14+8+7+36
99+17+9+8+45
140+23+12+11+62
Rendering Index
89
Lumens
927
1290
1984
2365
2879
3346
Color Temperature (Kelvin)
6500-10000 K
Power Cord Length (Feet)
4.9
8.8
Packing List
LED Light x1
AC-DC Adaptor x1
Metal brackets x2
User Manual x1
Hygger Auto On Off LED Aquarium Light with Extendable Brackets
Usre Manual
Answer:
I believe it is a one year manufacturers warranty. But to be certain I would contact hygger. I find when I have a question just to contact the manufacturer and usually they will gladly give you all the info you want and sometimes more than you want. :-)
No Name · July 29, 2021
Answer:
Hello, I suggest you use Default Mode. The light is All-optical during the day, and then you can set the night light to the red.
Jnkany Seller · July 23, 2021
Answer:
It depends on the length of your fish tank, which model of fish tank light can be supported. 20W is suitable for 12~18inch long fish tank; 26W is suitable for 18~24inch long fish tank; 36W is suitable for 24~30inch long fish tank; 48W is suitable for 30~36inch long fish tank; 72W is suitable for 48~55inch long fish tank;60W, is suitable for 36~42inch long fish tank;
Jnkany Seller · October 28, 2021
Answer:
In normal mode, the light will turn on slowly, and finally turn off slowly. The beginning and the end are slowly changing, and the lights are a bit dim.
Jnkany Seller · January 23, 2021