Hygger [ HG958-US ]
Hygger Super Quiet Air Pump for Aquariums

Free Shipping & Return On All Orders!
Adjustable air pump
Double air outlets pump
Energy-saving
Noise reduction motor
8 bottom rubber shock absorber feet to reduce vibration of the pump body and bearing surface
Hygger Super Quiet Air Pump for Aquariums
Description
Specification & Package
Instructions
FAQ
Super Quiet: 6-step Noise Reduction Design
With 6 layers of noise reduction design, this air pump works very silently to produce air.

Layer 1: ABS plastic case to seal machine noise.

Layer 2: Stainless steel cover to lock the motor sound.

Layer 3: Suspended motor does not touch the cover to prevent the noise.

Layer 4: Internal support feet to reduce the noise at the source.

Layer 5: Bottom rubber feet to reduce vibration noise.

Layer 6: Noise reduction motor (bearingless motor working through magnetic bearings) reduced the noise in terms of technology.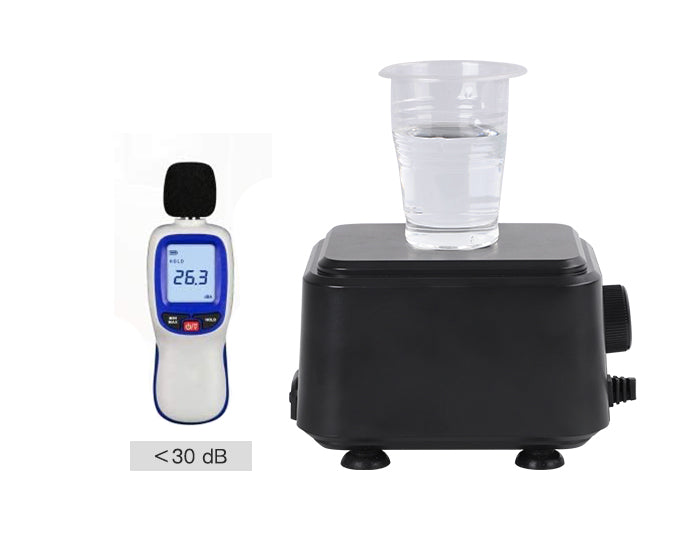 Adjustable Air Flow Volume
With adjustment control knob, the air flow can be adjusted according to your own preferences. The air is used to vibrate the air bubbles to increase the contact area of the water and the air, so that the water can dissolve the oxygen. Thereby, the oxygen in the water would be increased.
Versatile Air Pump with Dual Outlet
The air pump has 2 ports to send air out. The bubbles vibrated by the air are even, natural and stable. It can be connected to nano air stone, biochemical sponge filter, landscaping windmill rockery, and other aquarium aerobic landscaping equipment.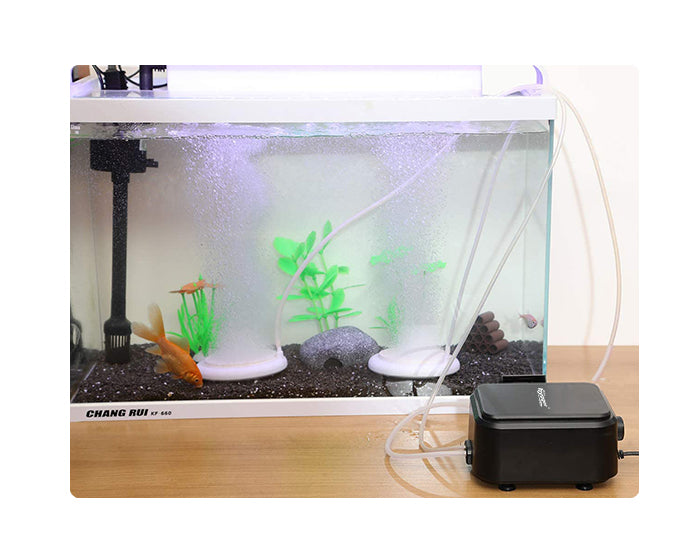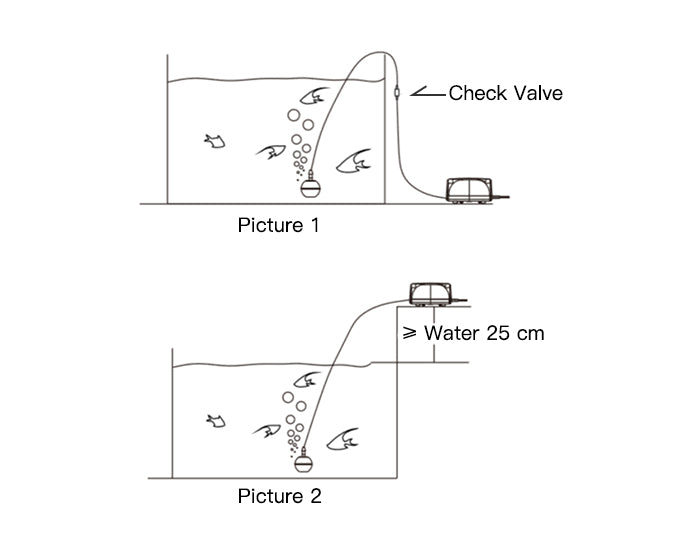 2 Ways to Install the Air Pump
You can install the air pump with or without check valve according to your needs and preference.

Method 1 - Install the Air Pump with Check Valve

If you install the air pump with check valve, there is no height requirement for the air pump position. Refer to "Picture 1" to install the check valve properly.

Method 2 - Install the Air Pump without Check Valve

If you install the air pump without check valve, you need to place it 25 cm higher than the surface of water to prevent the water from flowing backward. Shown in "Picture 2".
Warm Tips

1. The pump is not submersible, please keep it dry and do not put it into the aquarium.

2. To get the maximum airflow and extend air pump service life, it is suggested to clean the air tube and air stone regularly.

3. For the 5 W air pump, it is recommended to connect 3 devices at most, and the water depth cannot exceed 5 feet.

4. For the 10 W air pump, it is recommended to connect 4 devices at most, and the water depth cannot exceed 6 feet.
Common Faults and Solutions

1. Excess noises and vibration. It is usually caused by an unlevel surface or faulty connection. Please make sure the air pump is level, and check all the connections.

2. The pump is on, but no air flow or air flow is diminished.

The problem may occur if there is dust on the filter cotton, please clean it to fix this issue. If not resolved, please check if the air stone is placed too deep or not soaked in water before use. If it is placed too deep, please move it up. It is recommended to soak the air stone in water for half an hour before first use.

3. The pump is not turning on.

This issue may occur if it is not connected to power or lack of the voltage. Please make sure the power is connected and the voltage is AC 110-120 V.
Product Parameters
Model
Power
Voltage
Max Air Flow
Water Depth
Noise
Pressure
Dimension
Appicable Tank Size
HG-958
5 W
AC 110-120 V, 60 Hz
160 GPH
5 Feet
<30 dB
0.02 MPa
4.7"×3.9"×3.5"
Up to 150 Gal
10 W
255 GPH
6 Feet
0.04 MPa
7.5''x5.1''x3.9
Up to 600 Gal
Packing List
Adjustable Dual Port Air Pump x1
User Manual x1
Question:
What is the main difference between the 10 watt version and the 5 watt version ?
Answer:
10 watts has 2X the power of a 5 watt motor. I run the 10 watt to operate the under gravel filter on a 55 gallon Chiclid tank and it puts out more than enough air to get the job done . If you have a small tank like a 20 gallon or less get the 5 watt the10 watt will be overkill.
By usmagob SELLER on April 20, 2021
Question:
Can I use a gang valve to shut off one of the outlets?
Answer:
I inserted an inline valve to both of the lines so I can control the exact amount of air to each device, or shut one off completely.
By Bop on April 13, 2021
Question:
Is the air pump quiet?
Answer:
It's the quietest pump I've ever used. I use it to pump air through 50 feet of tubing out to our fish pond. About every time I walk past it I often touch it to see if it's running because I can't see the bubblier from where the pump is and it's so quiet I can't hear it running. I love the control knob on it too.
By Dave on September 13, 2021
Question:
Can I use it for a sponge filter?
Answer:
Hello, you can use it for sponge filters. Thank you.
By Jnkany SELLER on October 30, 2021