Hygger [ HG707-US ]
Hygger Aquarium Submersible Wave Maker Pump

Free Shipping & Return On All Orders!
Increases aquarium water movement
Keeps water cleam
Impressive flow rate
360-Degree rotation
Easy to Install
Hygger Aquarium Submersible Wave Maker Pump
Description
Specification & Package
Instructions
FAQ
Strong Water Flow
This submersible powerhead simulates a strong currents of the ocean by continuously circulating water. Thus, your fish and other habitants feel as if they are in a real river or ocean. It is strong enough for tanks sized from 75 gallons to 130 gallons.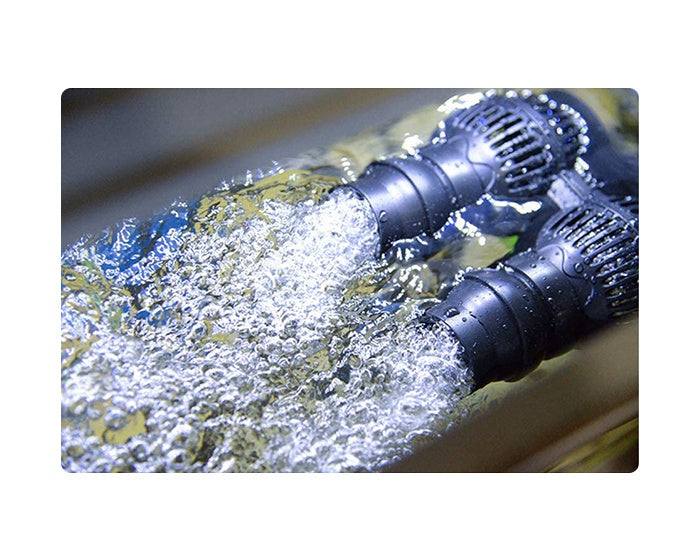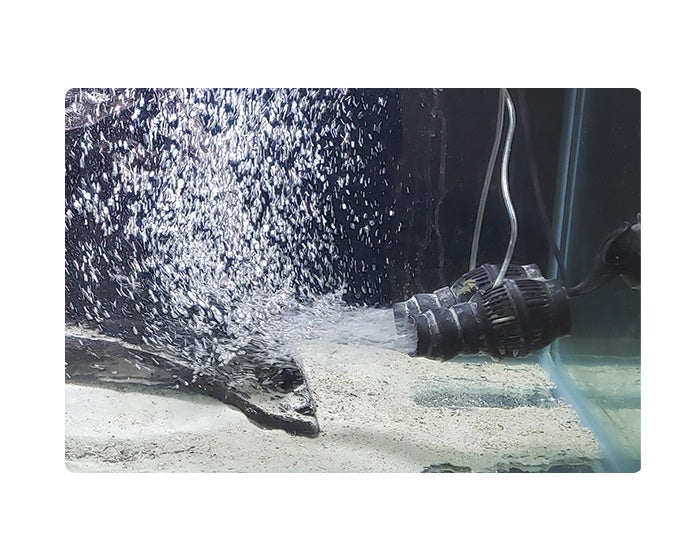 Clean Up Fish Tank and Dissolve Oxygen
In addition to producing water flow, this wavemaker pump can be used to increase the oxygen level of the water. With the strong flow, it can stir up the debris, clean up spot of the fish tank in conjunction with filter, and clean up every corner of the tank.
360-degree Rotation
Turning two ball joints, it rotates a full 360 degrees so you can get full flow direction and create water motion. You can turn sphere joints in any position so you're able to fine tune the water flow. Besides, you can freely position the pump by the magnet suction cup.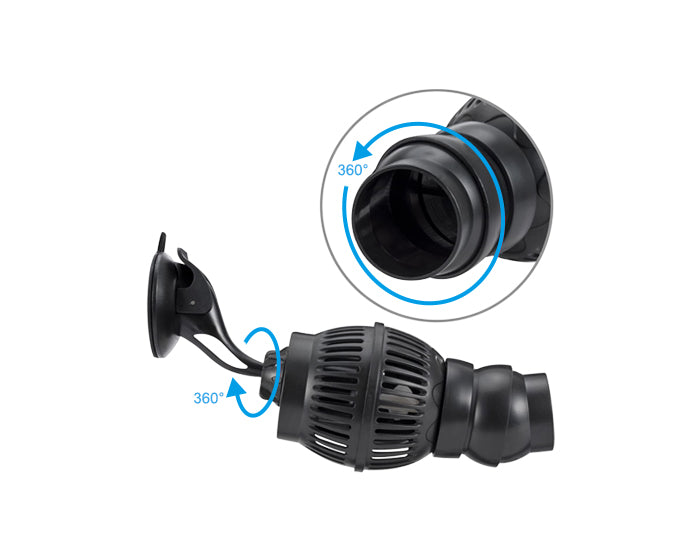 Easy to Set Up
1. Clean the glass where you want to place the suction cup.

2. Find a good spot and attach the locking mechanism.

3. Plug in power and you are good to go.

Note: The powerhead should be fully submerged. Otherwise, working pump may come out of water surface and make big noise.
Titanium Impeller
Since the impeller is made of titanium, it is suitable for marine, freshwater, and tropical aquariums. Rubber end ensures less noise, and keeps it quiet while running.

Note: As two impellers stand loosely at the base, after long time using or impact, it will get out of the track and the pump willstop working.

To solve this problem, you can shut the power off, take the pump apart, take out impellers, and put them into the base again.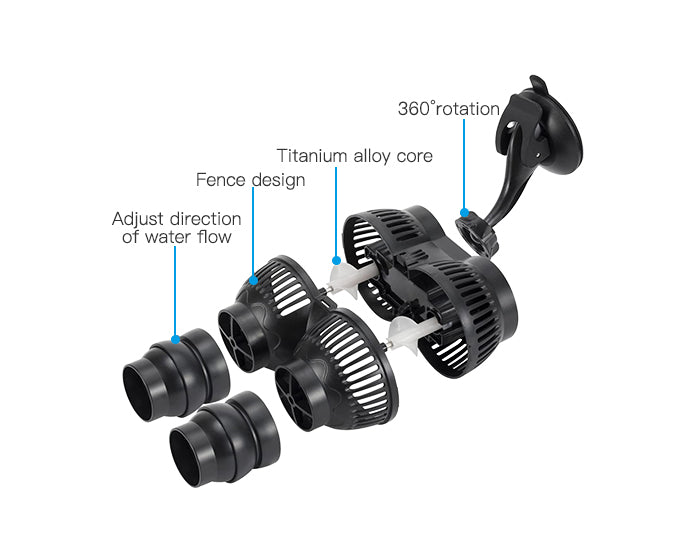 Product Parameters
| | | | | | | |
| --- | --- | --- | --- | --- | --- | --- |
| Model | Power | Q/Max | Voltage | Dimensions | Cord Length | Applicable Aquarium Size |
| HG-707 | 16 W | 8000 L/P | 110-120 V / 60 Hz | 5.1" X 2.8" X 9.3" | 9.1 Feet (2.8m) | 75-130 Gallons |
Packing List
Wavemaker Pump with Suction Cup x1
User Manual x1
Question:
What's the ideal tank size for this pump?
Answer:
This aquarium circulation pump could be used within 1m tank, it works perfectly in 40cm ~ 80cm fish tank to guarantee good water current movement in your aquarium.
By usmagob SELLER on March 9, 2021
Question:
Can I put it in my 55 gallon tank?
Answer:
Yes it will fit but will your fish like that much flow? I have 55 and 125 cichlid tanks and definitely won't put 2000gph in my 55 gallon.
By honest opinion on January 4, 2022
Question:
Can the power cord go into the water where it connects to the wavemaker?
Answer:
Of course. That's how it is intended to be ised.
By Customer on January 21, 2022
Question:
How can I get suction cup replacement for it since mine started to stop working in about 6 months ago or so?
Answer:
Yes, you can contact us for the replacement suction cups.
By usmagob SELLER on February 2, 2021