Hygger [ HG949 ]
Hygger Small Aquarium Air Pump

Free Shipping & Return On All Orders!
Energy-saving
Ultra-quiet
Strong airflow
Low consumption
Wide application
Shockproof soft feet reduce the vibration transmission
Hygger Small Aquarium Air Pump
Description
Specification & Package
Instructions
FAQ
Nice Bang for Your Buck
We provide a ready-to-go air pump kit for fish enthusiasts, including HG-949 Air pump, 3.6 ft long air tube, 0.9 inch air stone, check valve and user manual (check valve prevent back siphoning).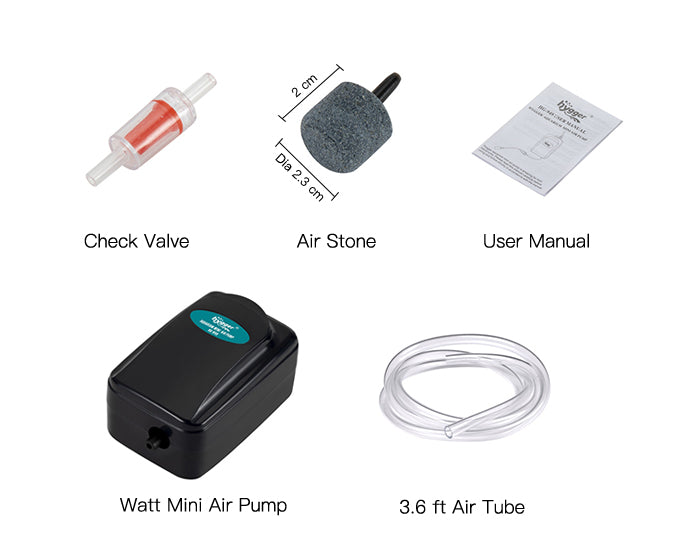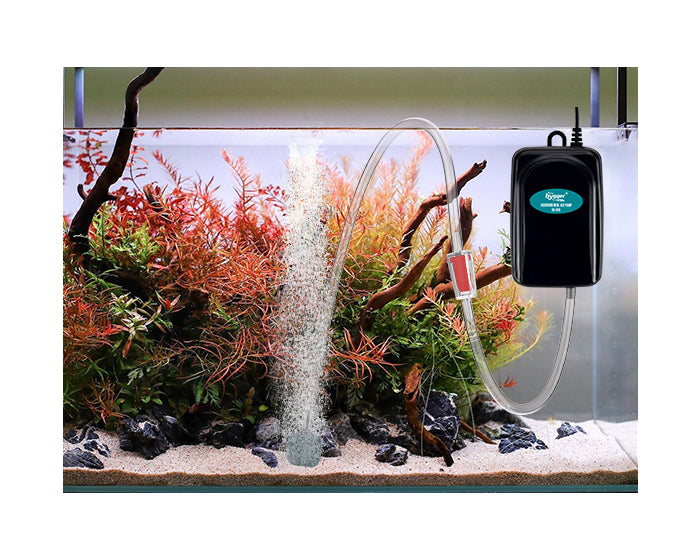 Strong Airflow and Low Consumption
Our 1-watt small betta air pump is very energy-saving with a max flow rate of up to 50 gallons per hour, capable of operating a small sponge filter and large air stone, creating tons of tiny bubbles, increasing water movement and circulation.
Widely Application
Powerful, lightweight, low noise, along with long service life. For use with air-driven aquarium accessories like air stone, ornaments and small sponge filters. Mini Aquarium Air Pump only measures 3.5 x 2 x 2 inches.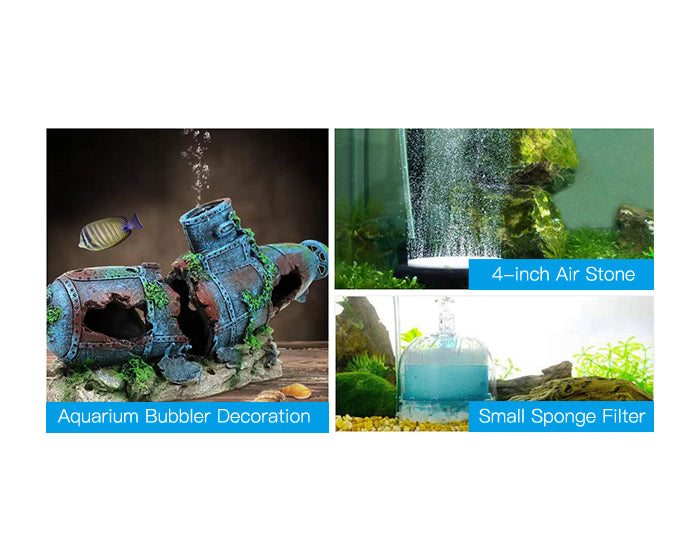 Product Parameters
| | | | | | | | |
| --- | --- | --- | --- | --- | --- | --- | --- |
| Model | Power | Voltage | Max Output | Pressure | Cord Length | Dimension | Application |
| HG-949 | 1W | AC 110-120 / 60 Hz | 50 GPH | 0.02 Mpa | 3.3ft | 3.5x2x2 inch | Up to 20 Gal |
Packing List
Air Pump x1
Air Pipe x1
Check Valve x1
Air Stone x1
User Manual x1
Question:
Any place i can see instructions? Do i have to cut the tube?
Answer:
My came like that too. The video and manual makes it seem like the tube was supposed to come in two. I cut my tube in half and it seems to be fine!
By Mamahaz on August 22, 2021
Question:
Does this pump come with necessary attachments to hang on the tank?
Answer:
The unit has a keyhole you can use to hang. Nothing else.
By L. Iacono on September 14, 2021
Question:
Do I cut the tubing midway in order to install the air valve?
Answer:
Yes you can install between the air stone and the pump.
By bj taormina on February 8, 2021
Question:
Does the pump run on 110 volts?
Answer:
Yes, it does. 110V
By usmagob SELLER on April 18, 2021